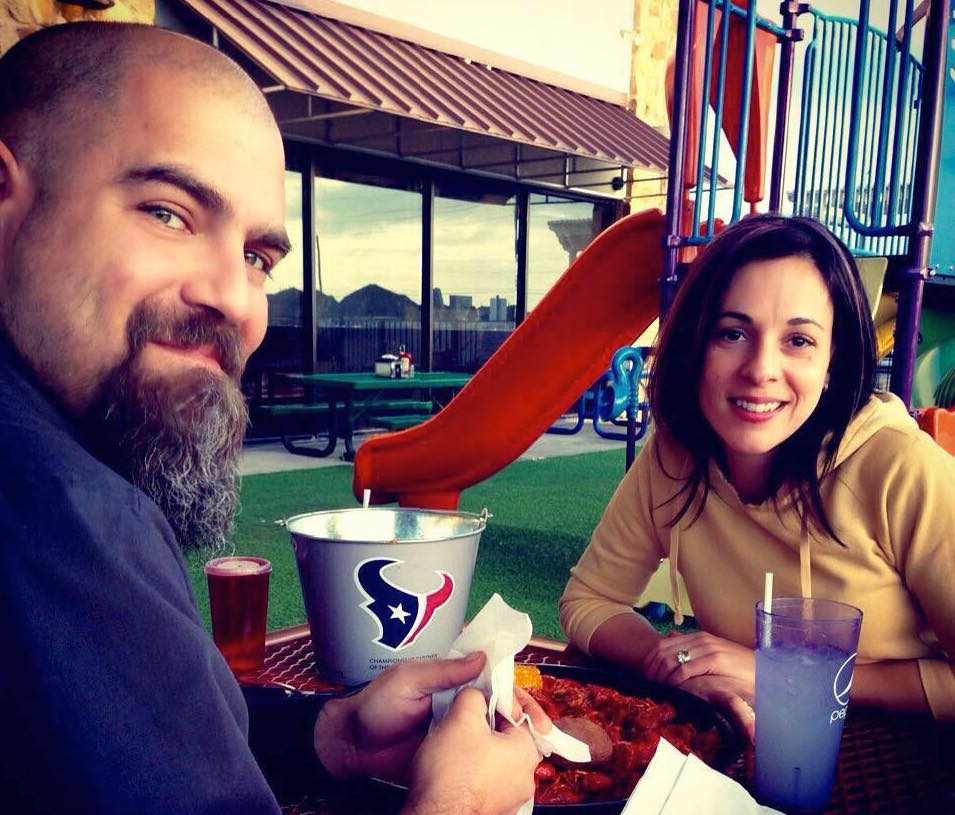 What led to Jeremy Raju Srinivasan a Texas man with an affiliation with a gun violence group murdering his wife, their two children and then himself?
Fort Bend County, Texas authorities are trying to understand what led to 37 year old Katy area man, Jeremy Raju Srinivasan shooting dead his wife, their two young children and then himself.
Killed in the murder suicide Tuesday morning was wife, Natalie Altier Srinivasan, 35, the couple's six-year-old daughter, Siena along with their two-year-old son MJ.
In a premonition that all was not right at the family household, Jeremy's father alerted police upon receiving a text from his son just before the triple murder suicide, circa 8.45am which read, 'Everything is not OK. Please call police. Goodbye.'
Offered Fort Bend County Sheriff Troy Nehls via KHOU: 'We're interviewing neighbors and family members and others to try to piece together exactly what took place here. We're investigating this right now as a murder-suicide,
Adding: 'Anytime you have children involved like this. It hits close. It's hard.'
Reacting to the family shooting, neighbor Barbara Loven told Click2Houston: 'Oh my goodness it's terrible. I've got a granddaughter in bed sobbing. A grandson upstairs just staring at the wall. Kids are just devastated. They don't understand. The chaplain has been over and that has been very helpful. It's hard to explain that to a 12-year-old and a 13-year-old when they see these kids every day and play with them.'
Awful #breaking news in Katy: family of four, including 2 kids, dead in suspected murder-suicide. #abc13 #hounews pic.twitter.com/d8S0u5c4L0

— Miya Shay (@miyashay) April 19, 2016
Potential clues as to what may have set Jeremy Srinivasan off come via a regard of the man's Facebook page in which Srinivasan advocated guns as well as his staunch support of the police force and the American military.
Of note the family man took exceptional dislike to Planned Parenthood, the Obama administration as well illegal immigrants and ISIS, as observed in several critical statements on Jeremy Raju Srinivasan's Facebook page.
Of note, Jeremy Raju Srinivasan belonged to a gunviolence archive which described itself as a 'not for profit corporation formed in 2013 to provide free online public access to accurate information about gun-related violence in the United States.'
Of question is if there had been a history of domestic violence or any other incidents at the family home, with police yet to tell whether any altercations may have taken place.
According to his facebook page, Jeremy Srinivasan and Natalie Altier having married on December 11, 2009, in Texas after Jeremy divorced his first wife. 
A regard of Jeremy Srinivasan's linkdn page reveals the family man starting his own company in 2013 called LED Shop of Texas which installs lights in trucks. A regard of Natalie Altier Srinivasan's facebook page described the murdered mother was a former cosmetologist and stay at home mom.