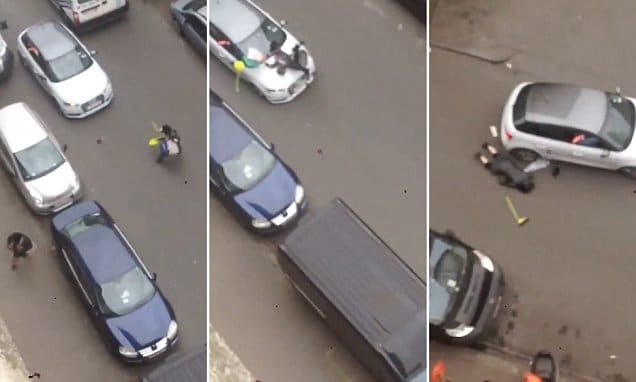 Molenbeek Muslim woman run over: Tensions continue to escalate in the days since the Brussels bombing as anti immigrant protesters now target Muslims in the quarter.
A Molenbeek Muslim woman has been run over in a hit and run incident in the Brussels district Saturday afternoon.
The incident caught on video (see below) shows the horrific moment a driver participating in an anti-Islam rally disobeyed police cordoned off sections when they ploughed through, deliberately knocking the woman head on as she crossed the road.
In footage caught from one of the protesters, the woman is seen thrown off a white Audi's bonnet and skidding along the road as the driver continued driving forward, appearing according to a report via the dailymail to run over the Molenbeek Muslim woman's legs.
Adding insult to injury, and showing how pernicious and bad intentioned the driver was, a passenger in the Audi leans out of the window to take a photo of the fallen woman.
To date the identity of the woman has yet to have been revealed.
Video further shows the woman remaining conscious as medics tended to the badly  injured woman who had streams of blood pouring down her head as he lay motionless on the street.
The incident according to rt comes whilst several hundred people had gathered as part of right wing protests in defiance of the ban in the troubled neighborhood of Molenbeek, which has become known as the 'jihadi capital of Europe' after it emerged that a number of the Brussels and Paris terror attackers had connections with the district. 
The gathering of 400 anti-immigration activists come off the back of recent terrorism attacks in the city which recently saw two calculated attacks at the airport and Maalbeek Metro station. That double attack led to the death of up to 34 individuals and the serious injury of over 200 persons, many with severed limbs.
As masked activists chanted anti-Islamic slogans, Muslims, who make up two in five of the district's residents, also took to the streets. Riot police put up cordons to separate the sides and maintain order. Nevertheless one car however drove straight into the center of the action, purposefully targeting a Muslim woman wearing a hijab as she sought to cross the street.
The perpetrator, who the Belgian media say is a resident of Molenbeek, has since reportedly been arrested.
► VIDEO: Tensions high in Brussels as fresh clashes break out in Molenbeek – https://t.co/hkX577Wtkh pic.twitter.com/eEWz8fUPgf

— Irish Times Video (@irishtimesvideo) April 2, 2016
Shocking: woman hit by car during riots in Brussels Molenbeek. Driver arrested. https://t.co/upODzfcoRm pic.twitter.com/IQ3UNCukw0

— End of Europe (@End_of_Europe) April 2, 2016
Car hits woman in #Molenbeek as banned anti-Islam demo takes place https://t.co/oUmPLMMWXS pic.twitter.com/4hMg5zkPNY

— Ruptly (@Ruptly) April 2, 2016
Car charges at police, runs down woman, during #Brussels anti-Islam protest (VIDEO) https://t.co/AKATSkB9Df pic.twitter.com/WaD9N08856

— RT (@RT_com) April 2, 2016
Shocking hit and run during #Molenbeek unrest today pic.twitter.com/QHseHx1JuC https://t.co/4D42zCCu9a

— Bojan Pancevski (@bopanc) April 2, 2016