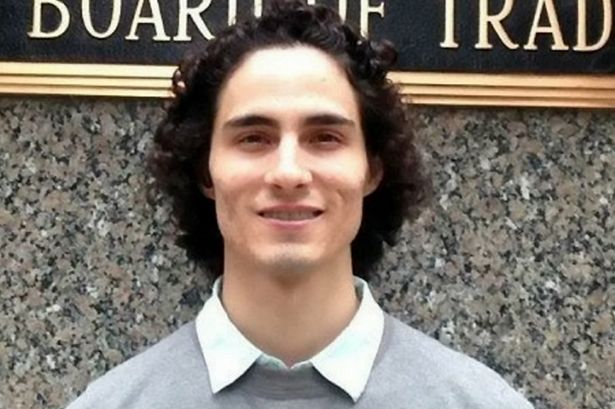 Josh Sanchez-Maldonado suicide death: Did a failure to land a job at a London financial shop reignite feelings of self loathing, distress and self abandon after a failed relationship?
Josh Sanchez-Maldonado a 24 year old self employed trader has killed himself after jumping onto the roof of a speeding train after failing a job interview in London.
The aspiring trader's suicide death comes as Josh Sanchez-Maldonado was last seen jumping onto a passing train near Feltham station, in west London, before CCTV video footage showed the man hitting a bridge and dying from chest and head injuries.
A report via the dailymail tells that the Californian aspiring trader was found a week later by a caretaker at a local school who saw his body lying in undergrowth by the tracks.
At the time of his death, local reports told of Josh Sanchez-Maldonado being last seen leaving St Giles Hotel in Feltham on October 22, at around 12.35pm, prompting his family to fly to the UK and issue a plea for information after the San Francisco based trader failed to to return to the United States.
Prior to his suicide death, the aspiring trader had flown to the UK from Japan on October 21 for a job interview.
He was due to travel to San Francisco via Dublin on October 22 but did not board the flight, raising the concern of the man's family, who subsequently flew to the UK looking for him.
During an inquest into Josh Sanchez-Maldonado's death, a West London Coroner's court heard how the man had been receiving therapy at home following the break up of a long term relationship six months before.
At the time, the man went traveling and had applied for jobs, landing an interview in London where he had aspirations to work in the stock market.
Giving evidence the trader's father Jose Sanchez said: 'Josh was more than a son to me. Josh was my best friend.
'Josh was a person who cared a lot about family, about his friends, and he helped a lot of people.
'And that was witnessed by when we buried him. There was a lot of people attending, friends, families, teachers.
'He was such a loveable person and he always had some goals in mind. He always had a plan, and a contingency plan in case that one didn't work.
'He worked hard at school. He woke up very early every day, because he was interested in the stock market. He was interested in the UK stock market.'
A graduate of the University of Puerto Rico, Sanchez-Maldonado had been living with his mother, Lucette Maldonado, in the US Caribbean territory while working on his MBA in finance and as a self-employed commodities and foreign exchange trader. 
Reiterated the father: 'He wanted to continue to develop his intelligence in the market and just realizing himself as a professional and in life.'
Yet the demise of his romantic relationship led to Josh Sanchez-Maldonado being deeply traumatized and seeking the savor of a suicide helpline, which led him to get therapy.
The father told of the therapy seeming to be working, with the son once again beginning to focus 'more on his goals'.
Josh Sanchez-Maldonado decided to go traveling, and flew out to Puerto Rico in September.
Offered Coroner Chinyere Inyama: 'During the course of his travels he applied for a job which fell through.
'That can be very disappointing. It would be normal if he expressed disappointment.'
Responded the father: 'He wasn't crying or anything, he was just disappointed.'
He said his son was 'very methodical', and didn't do things 'on impulse'.
Adding: 'I just miss him so much.'
DC Gerry Griffin, from the British Transport Police's fatality investigation team, said CCTV footage captured the son as he jumped on to the train.
He said: 'There was a witness who phoned in afterwards and she actually saw Josh on top of the train.
'Where the school caretaker could see the body, there is another footbridge that goes from the school.
'What we believe is Josh has come into contact with the bridge, and the bridge has knocked him off.
'He landed on to the embankment, but did not go under the train,' he added.
Reiterated Gerry Griffin: 'From the CCTV, it appears to be a deliberate act. It was extremely dangerous.'
A post-mortem later foundJosh Sanchez-Maldonado had died from head and chest injuries.
Coroner Inyama recorded a verdict of suicide.
Summing up, he said: 'There is no evidence of a third party involvement.
'I need to decide whether I can be sure whether it was with the intention to end his life.
'More importantly, in terms of states of mind, the evidence I have is until he left the country to go travelling, Josh was receiving treatment from a psychotherapist regarding the loss of a relationship.
'So there had been a time frankly, shortly before his death, he was feeling so down he actually mentioned suicidal ideas so I think it is probable he intended to end his life. '