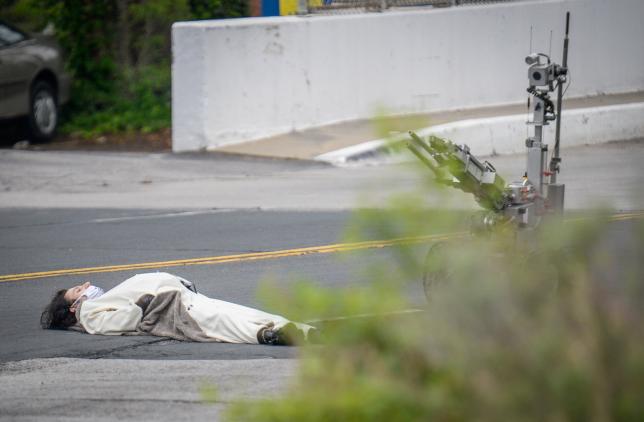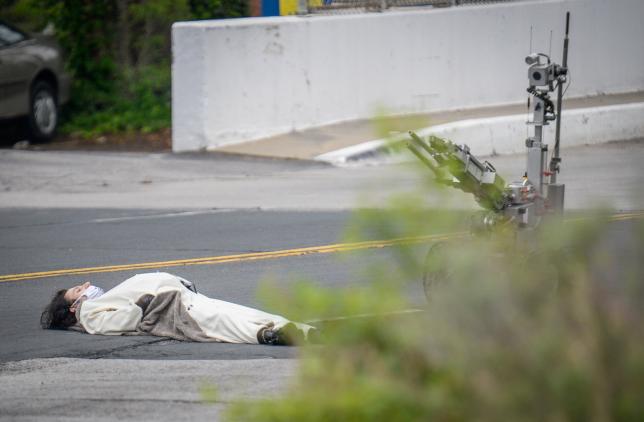 Baltimore TV station evacuated after an individual demanding that Fox45 share on air a flash drive that he'd brought, discussing astronomy and comparing it to the Panama Papers.
A Baltimore TV station has been evacuated after an unknown man dressed as a hedgehog entered the facilities of Fox 45 claiming to have a bomb strapped to his chest and threatening to blow up the building.
Initial pictures courtesy of WBFF-TV showed the unidentified suspect dressed as some believe in a 'panda suit' standing outside the building at Baltimore's TV Hill wearing a white onesie with grey ears, leaning against the wall of the lobby.
Images also appeared to show the man wearing a white medical mask and glasses.
After a brief stand off Baltimore police told of a sniper shooting the man after refusing to show his hands.
Why did Alex Brizzi threaten to bomb Fox 45 Baltimore TV station?
A report via ABC told of Department spokesman T.J. Smith saying the man was alive and conscious and communicating with authorities through a robot designed to detect explosives.
Police told officers and paramedics couldn't approach the man until determining whether he had an explosive device or until any such device has been neutralized.
An earlier report via CBS Baltimore told of the man walking into the lobby of a Fox television affiliate and making a complaint about the government. Police say the suspect walked outside, followed by heavily armed officers 
Smith says the suspect was shot after he refused repeated demands to show his hands.
KFVS12 News & Weather Cape Girardeau, Carbondale, Poplar Bluff
Robot trying to get suspect to show his hands. pic.twitter.com/ekDM4i3qGm

— Shelley Orman (@ShelleyOFox45) April 28, 2016
@i5gornascimento Susp… https://t.co/O00MCyAVbt via @i5gornascimento #i5gornascimento | https://t.co/gIiSudSfFA pic.twitter.com/Z2xgCx0SpU

— oi (@oioiiiiiiiiioio) April 28, 2016
Further reports told of the unknown man initially walking in and showing a contractor a flash drive along with revealing wires attached to a device on his chest.  
Shortly after the building was cleared, the unnamed individual left and walked towards heavily-armed SWAT officers outside the building.
After a stand-off where he ignored police orders, he was shot by a police counter sniper.
Bomb technicians have since been sent to the scene to analyze the device on him as the still conscious man lays in the middle of the road. Latest reports have told the man being escorted to hospital.
Reports suggested the man told employees he had a flash drive holding 'important information'.
A security guard told WJZ the memory stick had information a regarding astronomy, including a government conspiracy on space and black holes.
He demanded that the information be released, but the security guard managed to diffuse the situation and the man left.
Employees were told to stand outside in the car park while law enforcement cordoned off the area.
Told the station's security guard, Joural Apostolides: 'At first, I thought it was a joke, he was wearing a Hedgehog onesie. But then he kept saying he didn't want to hurt anybody.'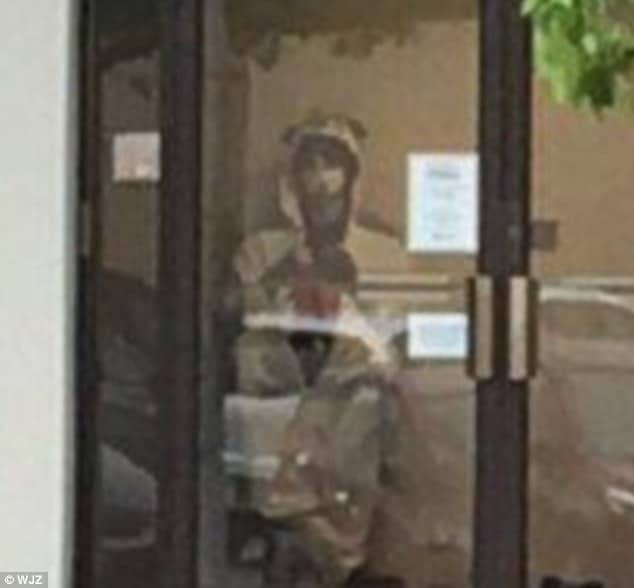 The incident comes after FOX45's news director Mike Tomko gave earlier details on the situation in which he told of 'someone' coming into the front of the building and saying they had some information they wanted to get on the air.
Told Tomko: 'I came down at one point not knowing the person was in the lobby, near the vestibule area. He talked to me and was wearing what appears to be a full body white panda suit, surgical mask and sunglasses. He had a flash drive, said he had information he wanted to get on the air," he said. "He compared it to the information found in the Panama Papers. I told him, 'I can't let you in, you're going to have to leave the flash drive here and slide it through the opening.' He wouldn't do that. Apparently he had made some threats before.'
Authorities have also told an engine fire in a car parked outside the TV station.
Police said a rag had been stuck inside the petrol tank and set on fire.
Robot has removed "onesie" from man shot by police outside Fox 45. Still appears to be moving pic.twitter.com/zJQFa3HtIO

— Jayne Miller (@jemillerwbal) April 28, 2016
Fox 45 security guard spoke to the man for about an hour: "This is not a joke. I have a bomb." via @ShelleyOFox45 pic.twitter.com/10ExfFnxGt

— Joshua Chavers (@JoshuaChavers) April 28, 2016