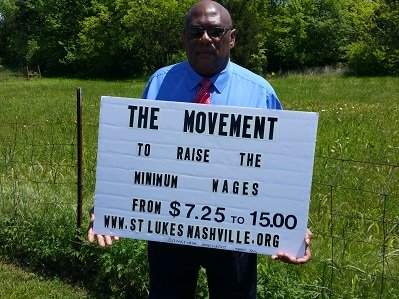 Did Larry Russell Dawson, a Tennessee pastor seek to confront US Capitol Hill over labor market perceived inequities? A history of run ins exposed.
Larry Russell Dawson a self described 'prophet of God' was today shot by US Capitol police after the Tennessee pastor attempted entering the Capitol building Monday with a gun.
The 66 year old man's shooting comes after having previously disrupted congressional proceedings in October of last year.
During Monday's confrontation, Larry Dawson was alleged to be armed with a pellet gun when he was shot. At the time of Dawson's shooting, Capitol police told that the man known to them from last year's confrontation appeared to be drawing his weapon.
A report via nbcwashington tells as Dawson was going through a metal detector his gun was detected, leading to the man allegedly 'drawing' for the pellet gun.
The U.S. Capitol Police described the incident as a 'potential security threat.'
Subsequent to his shooting, The Washington Post reports that Larry Russell Dawson being taken to the Washington Hospital Center where he remained under police guard after undergoing surgery after being wounded with non life threatening injuries.
At the time a report via WUSA quoted officials who told that he capitol and the visitor's center were both locked down
Monday's incident comes after a series of confrontations with the US Capitol center going back as far as October of last year, when Pastor Larry Dawson interrupted a House of Representatives session.
Video of U.S. Capitol shooting suspect Larry Dawson interrupting a House session last year (C-SPAN) pic.twitter.com/we1IS2bNAi

— Matthew Keys (@MatthewKeysLive) March 28,
2016
At the time according to a report via nbc, the  one-time funeral director and embalmer from Antioch, Tenn., stood up, and began shouting bible verses while identified himself as a 'Prophet of God.'
While initially resisting arrest, Larry Russell Dawson was eventually restrained and according to a report via the dailybeast charged with assaulting, resisting or interfering with a police officer and disorderly conduct on U.S. Capitol grounds.
The following day Larry Russell Dawson was ordered to stay away from the Capitol and all the congressional buildings surrounding it.
Orders that the man is alleged to have refused to yield to.
#ThisJustIn #Capitol Visitors Ctr #shooting suspect #LarryDawson's letter he wrote to court @wusa9 pic.twitter.com/0b5MAj6XQd

— Stephanie Wilson (@SWilsonProducer) March 28, 2016
Come January, after Washington D.C. court officials sent a letter to his Tennessee address notifying him of an arrest warrant, Dawson responded with a letter describing himself as 'a Minister and True Prophet of God.'
Told the man's letter in part: 'I have been called chosen and sent unto You this day,'
'Therefore, I will not comply with the court order, nor will I surrender myself unto your office. No longer will I let myself be governed by flesh and blood, but only by the Divine Love of God!!!!"
Terrorist? Nah, not Muslim. U.S. Capitol Shooter Larry Dawson Shouted 'I'm a Prophet of God' Inside The House https://t.co/yCNtGAKV5F

— Dean Obeidallah (@Deanofcomedy) March 28, 2016
Sorry, Larry Dawson, the only way your name is going to survive more than a day or two of news cycle is if you've converted recently.

— Hend Amry (@LibyaLiberty) March 28, 2016
Of question is what may have inspired Larry Russell Dawson into a confrontation at the US Capitol, especially given the pastor's history of confrontation. 
Answers to that question may in some part lie in the religious man's history, where the pastor at at St. Luke's Community Church in Nashville, had once tried to raise money in a bid to travel to Washington, D.C. to call for a higher minimum wage of $15 per hour.
Although Monday's disruption probably had little to do with raising consciousness with respect to the minimum wage, commentators on the web believe the man may have acted in the hope of bringing God's will to the government office, even by lethal force if necessary.
Notes a statement on Dawson's church website:
THE MOVEMENT NOW IS TO GET THE U.S.CONGRESS TO RAISE THE MINMUN WAGE FROM $7.25 TO $15.00."
I HAVE BEEN TO WASHINGTON, DC. THREE (3) TIMES THIS YEAR PUSHING FOR A RAISE IN THE MINMUM WAGE.
"WE ASK YOU TO HELP US, BY GIVING A DONATION OF ANY AMOUNT, AS WE BEGAN OUR MINISTRY. AND PUSH FOR THE RAISE IN THE MINMUM WAGE.
THANK YOU FOR YOUR SUPPORT. MAY GOD BLESS YOU IN YOUR GIVING.
Dawson also writes on the website, "We thank God for past accomplishments, and for all the Elders and Saints that prayed us through. Now we look forward to a new and brighter future in Christ Jesus. We invite everyone to come and join in and worship with us. Our spirit filled services will be a blessing to you. I love each of you, and I thank you in advance for supporting the vision that God has given to this house."