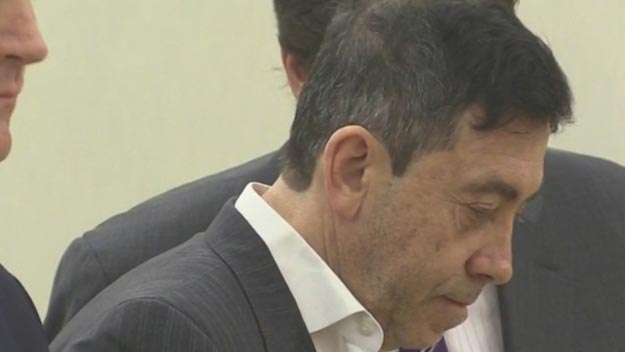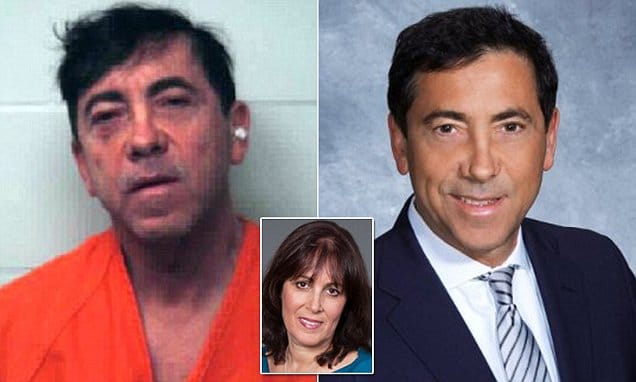 Julius Reich Scarsdale law partner accused of ambushing his wife during bitter divorce.
Appearing at a White Plains, Westchester County court arraignment on Tuesday, Scarsdale lawyer, Julius Reich, the husband of prominent pediatrician, Robin Goldman he has been accused of murdering vehemently denied stabbing to death his wife.
The indictment charges of second degree murder come after police told of discovering the mutilated body of Dr Robin Goldman on the morning of January 20th in which Westchester County District Attorney James McCarty described as an 'ambush' attack on the man's wife.
During testimony, the prosecution told Goldman, 58, was stabbed 22 times with an 8-inch kitchen knife, suffering a punctured lung, heart, diaphragm, liver and kidney. 
During a hearing in January, it emerged that Jules Reich, a partner in a financial services company, paused to smoke a cigarette during the frenzied attack on his wife before calling 911.
Jules Reich stabbed wife 21 times, smoked a cigarette before calling 911
'I wanted a divorce' Jules Reich charged in Dr Robin Goldman stabbing death
Why did Jules Reich stab Robin Goldman Reich to death?
At the time of the woman's murder, the estranged couple were in the middle of a contentious divorce. Of question is whether the pair still lived at the home together after Goldman had recently changed the locks of their 6,400 sq ft, $2.8 million Scarsdale, Westchester house.
On the morning of her murder, Dr Robin Goldman was home alone, getting ready for work when her husband made his way into the residence where he managed to get inside and allegedly 'ambushed' his victim in the shower in a knife attack.
Told Assistant District Attorney John O'Rourke: 'He grabbed her from behind in the shower and stabbed her.'
Julius Reich then allegedly walked into the kitchen, 'leaving a trail of blood,' and smoked a cigarette before dialing 911 to alert emergency services that his wife lay dying, prosecutors said.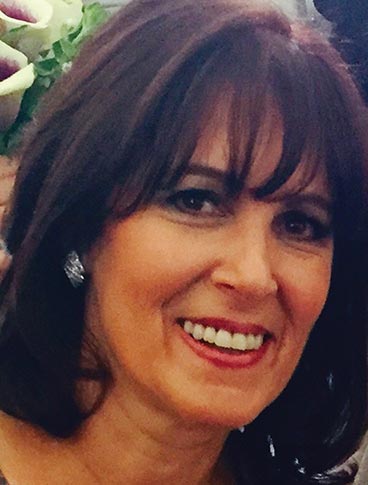 When first responders arrived at the couple's sprawling residence, they found Julius Reich with bruises on his face and injuries to both hands. He was arrested on a second-degree murder charge and ordered held without bail at Westchester County Jail. 
Dr Goldman worked as a pediatrician at the Comprehensive Family Care Center in the Bronx, was also affiliated with Montefiore Medical Center and was an assistant professor in the Department of Pediatrics at Albert Einstein College of Medicine.
Court records cited by CBS New York show that after their daughter's wedding last summer, Julius Reich filed for a divorce from Dr Robin Goldman.
According to Julius Reich's biography on his place of employment's website, WeiserMazars, the accounting/law partner specialized in 'advising corporations, startups, venture capital and private-equity firms in a broad range of industries on critical topics including mergers and acquisitions'.  
Reich received his law degree from Benjamin N. Cordozo School and Law and his Master of Law degree from New York University Law School.  
Over course of his 20-year career in the financial industry, the partner's bio noted Reich having been involved in transactions totaling more than $45million.
Responding to the charges against his client, lawyer, John Pappalardo, told reporters gathered outside Westchester County Court today that the case 'is a tragedy for everybody that's involved.' 
He added that his client's main concern now is 'for his family, primarily for his children and their well-being.' 
Reich's next court appearance will be April 5. If convicted, the husband could face up to 25 years to life in prison. 
The couple are believed to have four children who are all in their 20s.