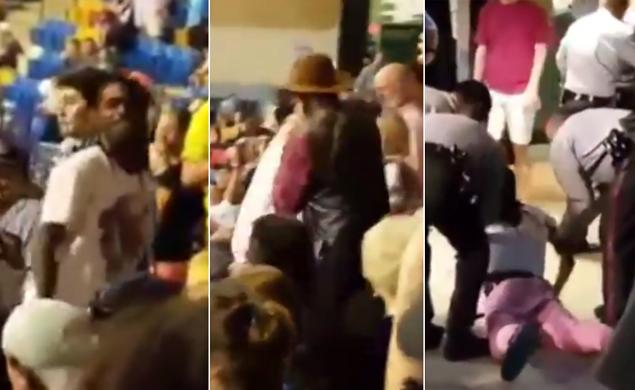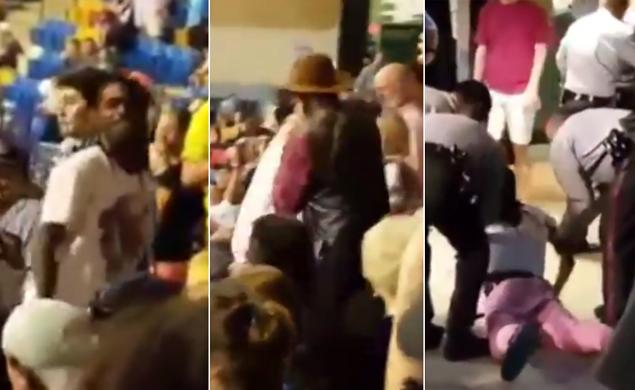 John McGraw Trump supporter: What's led to an increasing spate of violence at Donald Trump rallies?
What to say, what to think? Matters in the political arena continue to disintegrate as yet another act of violence makes its way at Republican GOP candidate, Donal Trump rally, this time involving Donal Trump supporter, John McGraw roughing up a protester along with threatening said protester's life.
This weeks fun and games came to happen last night when McGraw was caught on film, sucker punching 26 year old protester African American man, Rakeem Jones square in the face as the man was being escorted out of a Trump  rally at Fayetteville, North Carolina on Wednesday night.
Prior to being arrested, McGraw told Inside Edition that he assaulted Jones because 'we don't know if he's ISIS'.
A point of contention underscoring the deep talent pool within the Trump supporter base and the cunning ability of the real estate developer who has been able to tap into voter fears and their need for a Messiah figure to deliver them from modern day America ills- hint it is not ISIS. But more probably this.
But it gets better, as John McGraw was leaving the Cabarrus Arena, he was asked why he sucker punched Jones, responding:
'Well, number one, we don't know if he's ISIS. We don't know who he is, but we know he's not acting like an American and cussing me … and sticking his face in my head. If he wants it laid out, I laid it out.'
Adding: 'He deserved it,'
'The next time we see him, we might have to kill him. We don't know who he is. He might be with a terrorist organization.
'You bet I liked it. Clocking the hell out of that big mouth.'
While McGraw sucker punched Jones in open view, it was Rakeem Jones who cops took down at the scene.
Despite neither man being detained at the scene, pressure built overnight to have McGraw arrested, with the man now charged with battery and disorderly conduct.
Yesterday's incident has led to cops 'investigating' why the protester was taken down by cops but not his attacker.
Told Jones a 26-year-old inventory associate who sought to attend the rally as a 'social experiment' via the Washington Post: 'After I get it, before I could even gain my thoughts, I'm on the ground getting escorted out. Now I'm waking up this morning looking at the news and seeing me getting hit again.' 
Jones said he attended the rally with a group of anti-Trump protesters, including a Muslim and a gay man. 
While conceding shouting during Trump's speech, Jones said it was a woman in his group which drew the anger from the crowd. 
Told Jones: 'She shouted, but at the same time, they were shouting too. Everyone was shouting, too. No one in our group attempted to get physical.'
It is not the first time a protester has been attacked at a Trump rally, with Jones blaming the police for not stopping the assault.
'It's happening at all these rallies now and they're letting it ride. The police jumped on me like I was the one swinging,' he said.
'My eye still hurts. It's just shocking. The shock of it all is starting to set in. It's like this dude really hit me and they let him get away with it. I was basically in police custody and got hit.'
The latest violence harks back to previous comments Donald Trump has made at rallies with the aspiring politician telling supporters at one rally in February, that 'he would like to punch in the face a protester who was escorted out of one of his rallies.'
Needless to say, perhaps we shouldn't be too surprised that supporters have resorted to violence at rallies (along with racist jingoes towards minorities and Muslims) underscoring the deep animosity, culture divide and fissure of living in modern day America.
Fissure that Trump was initially able to tap into, but fissure that ultimately may be the real estate developer's undoing as it becomes apparent that what Trump and his supporters are essentially aiming to do is swap one brand of deep anxiety for another more lethal and omnipresent kind.
And then there was this remark courtesy of campaign spokeswoman, Hope Hicks, that made me wonder: 'We have no control over what Trump's supporters do,'
'We obviously discourage any kind of physical contact or engagement with protesters.'