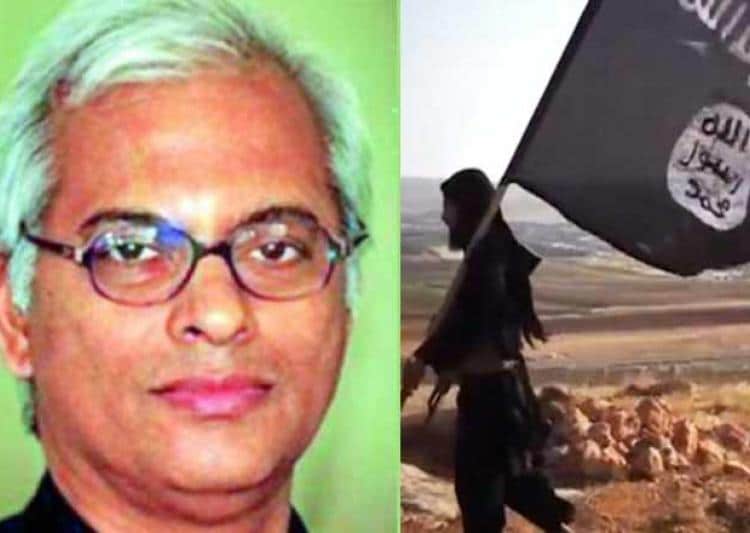 Unsubstantiated reports have told that ISIS has crucified Catholic priest  Father Tom Uzhunnalil. Yet new unfolding reports point otherwise.
Debate has come to the fore with claims that abducted Indian Catholic priest, Father Tom Uzhunnalil, 56, kidnapped earlier this month in Yemen was crucified on Good Friday at the hands of ISIS.
The man's abduction on March 4 at the hands of Islamic gunmen came after operatives attacked an old people's home in Aden, southern Yemen operated by Mother Teresa's Missionaries of Charity.
At the time at least 15 people were killed in the take down.
Notice of Father Tom Uzhunnalil's puported crucification on Good Friday came after it was alleged ISIS threatened to carry out the man's murder earlier last week. Replicating the crucification of Jesus Christ by the Ancient Romans.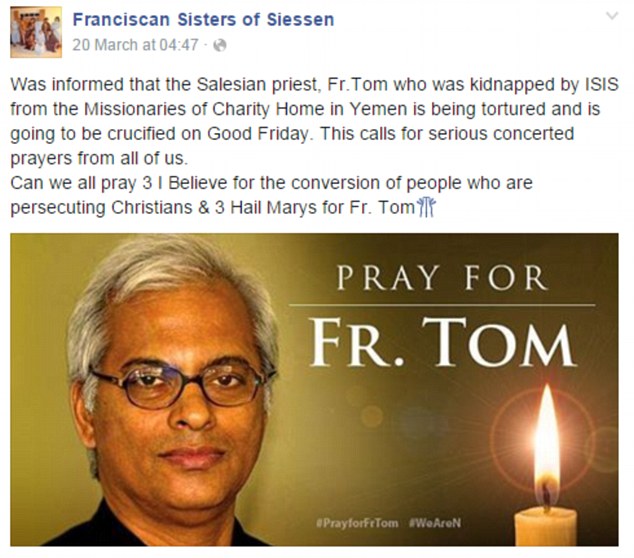 Told a facebook posting via the Franciscan Sisters of Siessen: 'Was informed that the Salesian priest, Fr.Tom who was kidnapped by ISIS from the Missionaries of Charity Home in Yemen is being tortured and is going to be crucified on Good Friday. This calls for serious concert prayers from all of us.'
The priest's purported murder was also noted  by the Archbishop of Vienna, Christoph Cardinal Schönborn, when the holy man told of Father Tom Uzhunnalil's crucification during Easter Vigil mass at Vienna's St. Stephen's Cathedral.
Offered a statement via the Arhdiocese Vienna's head of media relations, Michael Prüller: 'The cardinal based his statements on news published on Arabic language web sites. The validity of this information has, however, not been confirmed.'
Whilst adding: 'The cardinal doesn't himself have any sources that have confirmed the death of Father Tom.'
'Thus, for the time being, there's still basis for hope that Father Tom is alive.'
At the time of the March 4 take down at Mother Teresa's Missionaries of Charity, Yemeni authorities told of four gunmen posing as relatives of one of the guests at the home, with one of the operatives bursting inside, killing four Indian nuns, two Yemeni female staff members, eight elderly residents and a guard.
In turn the operatives kidnapped the Catholic priest. Of question is if the operatives had specifically come to take Father Tom Uzhunnalil or had thought to hold the man for ransom upon learning of his status and influence?
Reports that Father Tom Uzhunnalil, a catholic priest fm Kerala, was crucified by ISIS on Good Friday in Yemen. strange how little coverage

— Inigo Gilmore (@InigoGilmore) March 28, 2016
Clock ticks for Indian priest Tom Uzhunnalil abducted by ISIS. Will be crucified on Good Friday: Religious groups https://t.co/XVz6ccBspf

— NewsX (@NewsX) March 25, 2016
A report via ibt tells of ISIS having previously attacking Christians and Christian leaders in the past. Most recently, U.S. Secretary of State John Kerry accused ISIS of committing genocide against Iraq's Yazidi minority, Shia Muslims and Christians.
Told a statement by a Yemeni security official at the time of the March 4 abduction: 'According to our information, the extremists who attacked the elderly care home in Aden have kidnapped priest Tom Uzhunnalil, a 56-year-old Indian, who was taken to an unknown location,' 
'We are aware that no group has yet claimed the criminal attack… but information points to the involvement of Daesh.'
However, members of  Father Tom's order have denied that he was due to be crucified, saying they have no information on his health or whereabouts.
'We have absolutely no information on Fr Tom,' Father Mathew Valarkot, spokesman for the Salesians' Bangalore province, told UCANews.
Adding: 'But even today we do not know who has taken him and what their motives are because no one has claimed responsibility.'
A report via Newsweek on Monday told of the Indian government of not have received updated information on the priest's fate.
'I have strong indications he's still alive,' said Bishop Paul Hinder, according to a tweet Monday by Cindy Wooden, Rome bureau chief for the Catholic News Service.
In the interim, a report via the dailymail tells of the Vatican's Secretary of State Pietro Parolin having told earlier this month that Pope Francis 'was shocked and profoundly saddened' to learn of 'this act of senseless and diabolical violence.'  
The latest violence comes after the city of Aden had come to be racked by lawlessness since Hadi supporters, backed by Gulf Arab military forces, drove fighters from Yemen's Iran-allied Houthi group from the city in July last year.
The Yemeni government has repeatedly vowed to restore security to the city but so far had had little success.  
Al-Qaeda and IS have stepped up attacks in Aden, targeting mainly loyalists and members of a Saudi-led coalition battling Huthi rebels and their allies since March last year.
Al-Qaeda distanced itself from the mass shooting Friday, saying it was not responsible.
President Abedrabbo Mansour Hadi has declared Aden to be Yemen's temporary capital as Sanaa has been in the hands of rebels since September 2014. 
To date ISIS has not taken the responsibility of the attack on the old age home run by Mother Teresa's Missionaries of Charity, while Yemen authorities maintain that ISIS affiliate group was behind the attack.
Bishop says he believes priest kidnapped in Yemen is still alive https://t.co/SBr2r3Jygf pic.twitter.com/LdiEYCrjjs

— Catholic Herald (@CatholicHerald) March 28, 2016