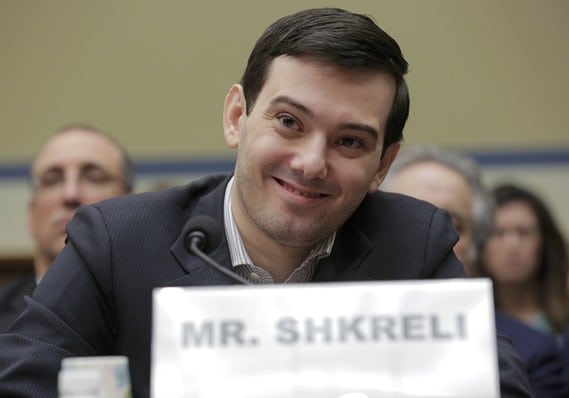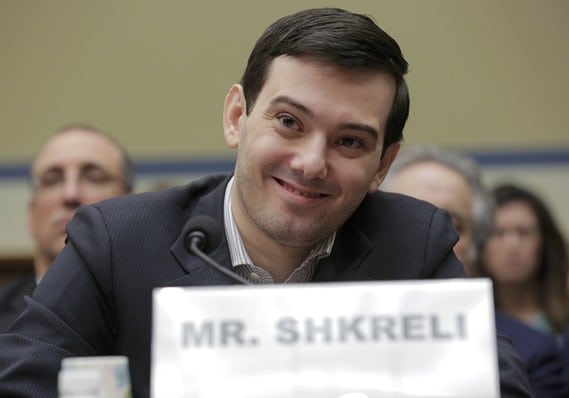 'Pharma Bro' Martin Shkreli has pled the fifth in his appearance before congress today after being called to account for a massive 5000% price gouging on lifesaving medication Daraprim recently acquired by the former Turing Pharaceuticals CEO.
Appearing before congress in a house meeting, the self avowed capitalist declined to answer questions relating to the drug used in the treatment of deadly parasitic infections, insisting on keeping mum, only to take to twitter immediately after to call US Congress a bunch of imbeciles.
Tweeted the outspoken executive: 'Hard to accept that these imbeciles represent the people in our government.'
Martin Shkreli perp walk arrest hoodie becomes hot selling item
'How my Ponzi scheme imploded': Martin Shkreli arrested securities fraud.
The pharmaceutical chief had declined to answer questions relating to the now $750 Daraprim (which he has yet to lower in price despite earlier promises to do so), instead invoking his fifth amendment right against self incrimination due to separate security charges he is facing.
The pharma chief who faces securities fraud charges related to another drug company he owns, incited the outrage of both Republicans and Democrats as he nonchalantly laughed off questions.
"Pharma bro" Martin Shkreli just got schooled at a congressional hearing.https://t.co/Mrqga1bWcc

— AJ+ (@ajplus) February 4, 2016
I had prior counsel produce a memo on facial expressions during congressional testimony if anyone wants to see it. Interesting precedence.

— Martin Shkreli (@MartinShkreli) February 4, 2016
Told Rep. Elijah Cummings, the top Democrat on the panel: 'I call this money blood money … coming out of the pockets of hardworking Americans.'
Only to add moments later as the disgraced executive shrugged his shoulders, laughing: 'It's not funny, Mr. Shkreli.'
Cummings' remonstrations did little to stop Shkreli who continued to laugh, twirl a pencil while now yawning.
Undeterred, Cummings remarked: 'You can go down as the poster boy for greedy drug company executives, or you can change the system.'
The comment would only elicit another yawn from Shkreli while making faces.
Told Representative John Mica, a Florida Republican: 'I don't think I've ever seen the committee treated with such contempt.'
During questioning, Turing Chief Commercial Officer Nancy Retzlaff told the House hearing that the outlet acquired Daraprim because it was 'priced far below its market value' and that the company was committed to investing revenue into new treatments.
The Federal Trade Commission and the New York attorney general are investigating Turing for possible antitrust violations. A state of affairs that the pharmaceutical industry as a whole is placing very close attention to along with the beleaguered American consumer who has been socked with hefty price increases over the years. 
Martin Shkreli's attorney: "…Shkreli, the one I am getting to know very well, is a genius, is a scientist."https://t.co/rFE6vsdBWF

— CNBC (@CNBC) February 4, 2016
The hearing with @MartinShkreli was hilarious. Whose the bigger fool, a shady CEO that rips off patients or posturing members of Congress?

— Rick Ignarra (@Rickter) February 4, 2016
Every time Martin shkreli smirks one of my vital organs starts to shut down

— lil king trash mouth (@EmilysKnotHere) February 4, 2016