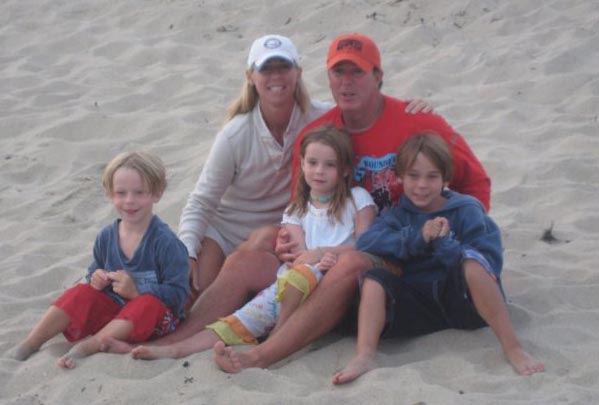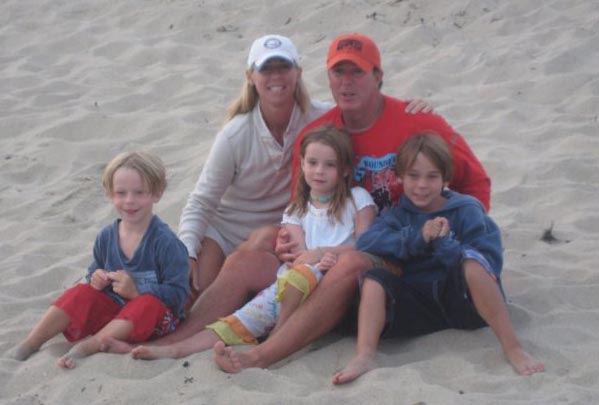 How did a well respected Fairfield, Connecticut lawyer, Christopher Andrews suddenly snap? Or was this 'domestic incident' one of many?
Christopher Andrews, 51, a NY law partner at Manhattan firm Andrews and Andrews has been shot dead after attacking his wife, Kathleen Greaney Andrews, 50, and their three children in a domestic incident early Tuesday morning.
The lawyer was gunned down, Tuesday morning at 6am outside of his well to do Fairfield, Connecticut home after ignoring police orders to stop walking towards them as he brandished a knife.
Pursuant to the shooting, neighbors told of hearing yelling and five to six shots fired.
'I was broke' Christopher Andrews lawyer who attacked family
According to News 12, the attorney inflicted severe stab wounds on his wife, Kathleen's face, along with striking his 12 year old son in the face with a baseball bat and then attacking his 13 year old daughter. All are expected to live.
Yet necessarily understood is why the law partner turned on his family?
News of the incident led to neighbors expressing shock, with many in the community believing Christopher Andrews to be a 'nice' man and well respected in the community.
Told neighbor Shari Nerreau via the Connecticut Post: 'They were really good friends with a whole group of other neighbors; they spent a lot of time together,'
'It was just a really nice family, really nice guy and it's all very confusing.
'We tried to process it and make sense of it … I'm sure that information will come out, and I think right now we're just praying for the family, whose members are still, you know, they're still not in great shape.' 
Offered Steve Bogan, a family friend of the well liked Fairfield youth basketball coach via WFSB: 'It's unbelievable, hard to believe. It's impossible to believe. 
'They're very nice people, kids are great. I was just with him a couple of days ago and they were as happy as could be.'
Reiterated neighbor Jeff Vogt via the Hartford Courant: 'It's awful, just awful,'
'They were the quietest, nicest neighbors.'
The law partner, Christopher Andrews first got his start after growing up in Rockaway, Queens, and graduating from St John's University in 1992 and admitted to the bar according to his state law license.
One man is dead after an officer involved shooting in #FAIRFIELD. Shooting followed domestic dispute @NBCConnecticut pic.twitter.com/klZevV1ucg

— Leslie Mayes (@LeslieMayesTV) February 16, 2016
Of note, the law partner's brother Michael Rourke Andrews is believed to have died on 9/11. How his brother's death may have somehow inspired the lawyer's violence isn't necessarily known.
A report via the Connecticut Post noted Christopher and Kathleen Andrews were renting their 2,000-square foot ranch home at 22 Mountain Laurel Road. They had lived there for ten years. Issues of possible finance woes have yet to be revealed.
Police investigations have yet to reveal a motive for the domestic incident with cops telling that no firearms were found at the home. There was no history of violence in the family. Of question is whether despite a lack of police reports if there was a history of domestic violence at the home?
A statement by Connecticut State Police read in part: 'When the first officer arrived on scene he was immediately confronted by a male suspect who was in possession of a weapon. The officer discharged his firearm, striking the suspect.'
'Additional officers arrived on scene and assisted with providing medical care to the wounded suspect and checked the residence for victims. While checking the residence officers located four injured victims. Officer provided medical aid to these victims and requested ambulances. 
'The suspect was transported to Bridgeport Hospital where he was pronounced deceased. The Office of the Chief Medical Examiner has been notified and will conduct an autopsy to determine the cause and manner of death.'
Court records haven't revealed any pending or closed cases involving either Christopher or Kathleen Andrews. There are also no pending civil cases in state court involving the couple, matters which have only intensified speculation as to what may have set off well to do law partner, Christopher Andrews off?
Lawyer, Christopher Andrews fatally shot by cops after attacking wife & kids https://t.co/cniSyKVlzo

— Fawzia Suleman (@Fawzia786) February 17, 2016