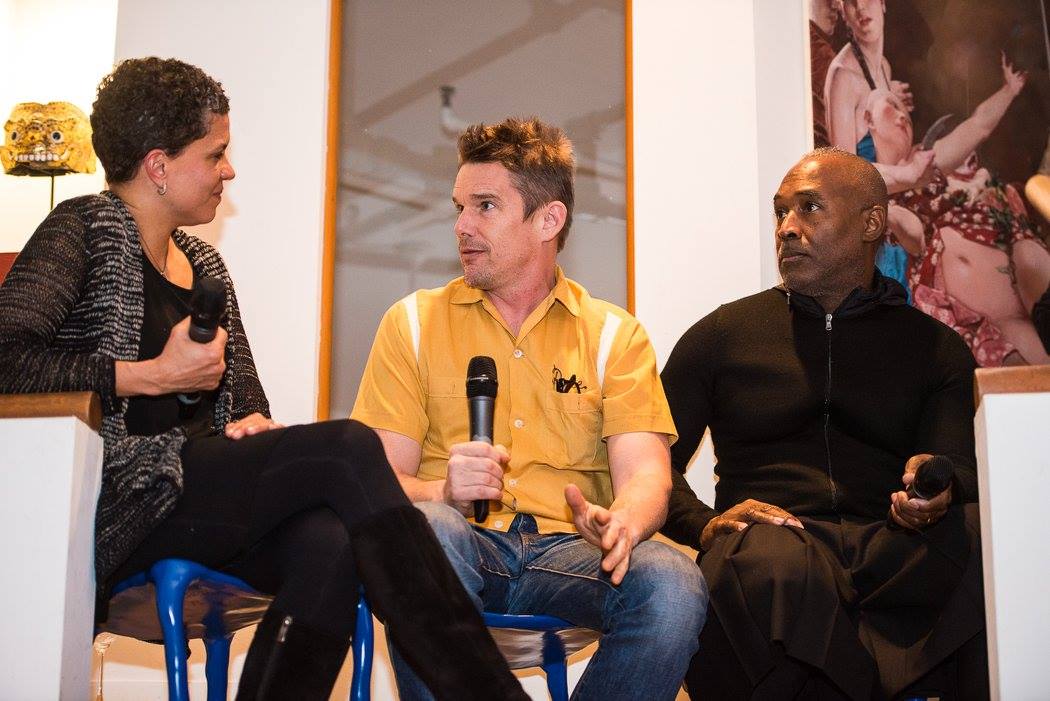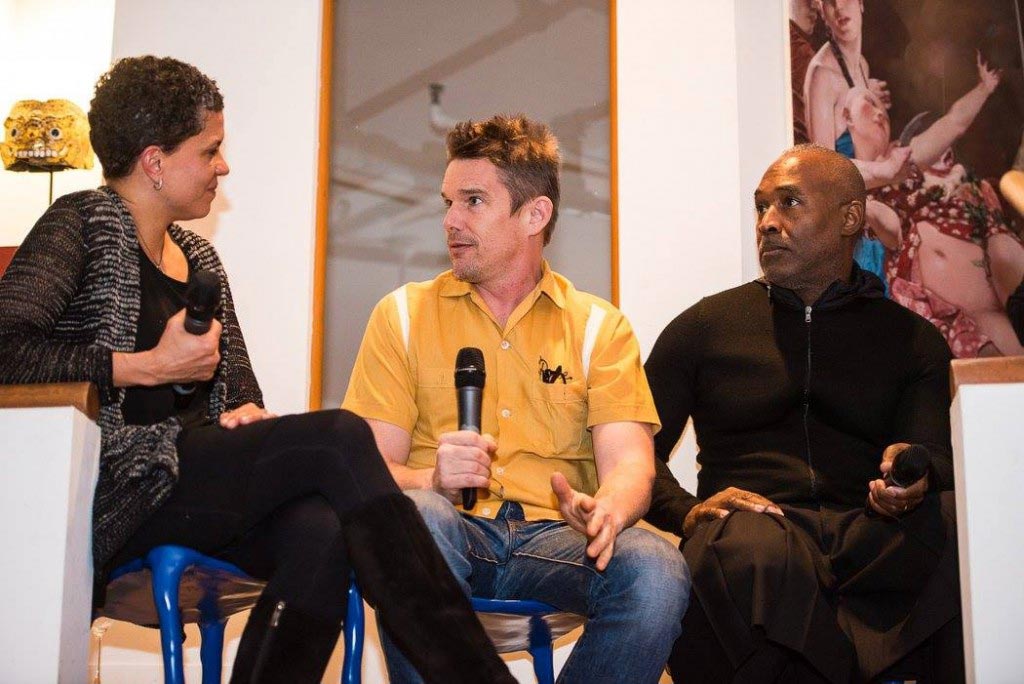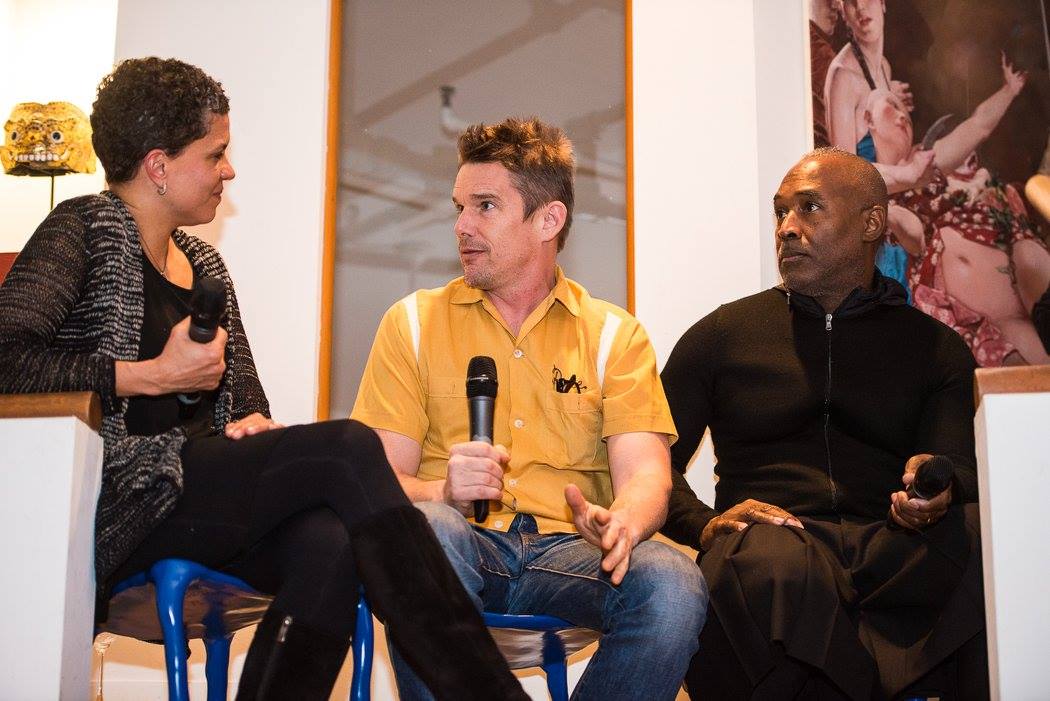 How does a society combat inequity? Address embedded polarization towards minorities and an unflinching status quo, and give rise to unrelenting injustice? Or how about the task of nurturing emerging artists and writers seeking to address such themes?
The above were some of the thoughtful themes on show last week at the kindred Soho, NYC loft home of doyen and Curatious founder Holly Hager as a who's who of the art world, civil rights activism and Hollywood showed up to support Artbridge and Demos.
Honored last Thursday evening amongst a bevy of cocktails and delicious snacks ( I did go back for a second helping…) was actor and writer Ethan Hawke, civil rights activist, lawyer and author fame, 'The New Jim Crow,' Michelle Alexander along with Nick Cave, acclaimed visual and performing artist and guiding light to those seeking a voice.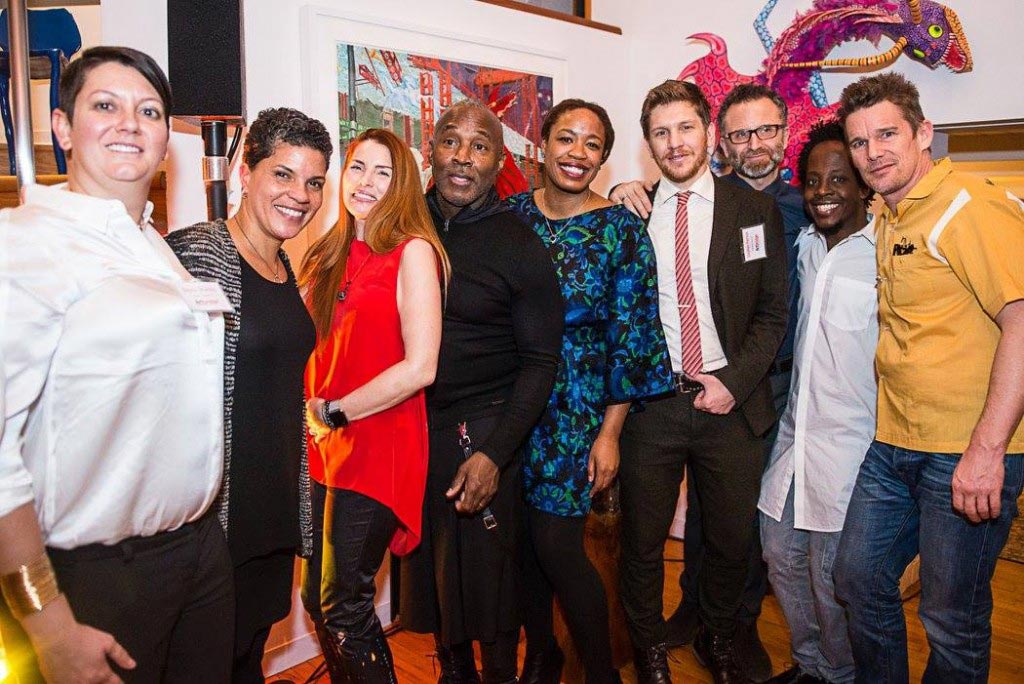 The evening consisted of a salon type reportie as hosted by Artbridge honorary chair Arnold Lehman ( who used to run Brooklyn Museum) who imparted a melange of thoughtful questions to the honorees in front of Holly's packed loft. And I do mean packed.
What proceeded for the next 45 minutes was a thoughtful regard of how one can begin to champion more inclusive dialogues as to the status quo, the role of the artist, the role of the curator in championing such voices (be it visual or the written word) and perhaps most importantly the role of forums and venues that can foster those voices which hopefully can impart more reflective nuances as to how all of society (not just the rich and famous and gilded) get to live and what we can in a multicultural and tightly woven society can contribute.
To often pop culture is synonymous with blockbuster, the opaque, the disingenuous (no Kim Kardashian you did not break the internet and never will…) and dare one suggest utter distraction and as actor Ethan Hawke pointed out too often a concentrated attention of what 'white elite' folks think.
Which is fine until one also remembers there's the 99% rest of us who are also looking to exact a voice, and actively participate in the cultural, social and political landscape. Ideas that sadly get scant attention in the media (I should know…) and are often discarded and marginalized and reduced to google trending bullet talking points (until we are all chasing the next trending key word that day…) before another news flash of another naked Kim Kardashian picture.
Yes sometimes you get what you deserve.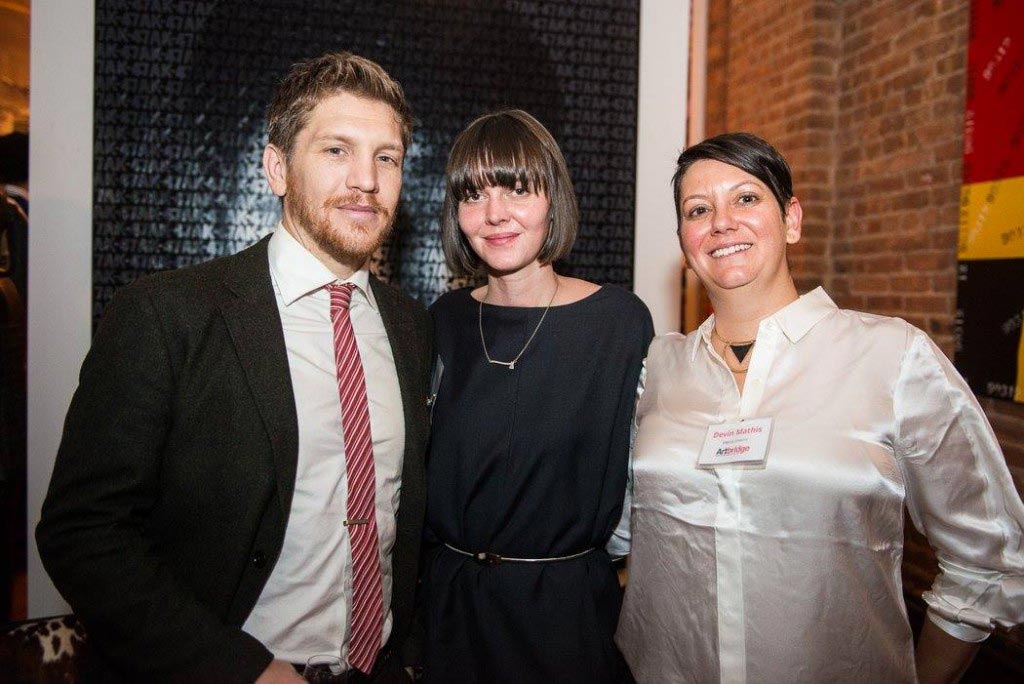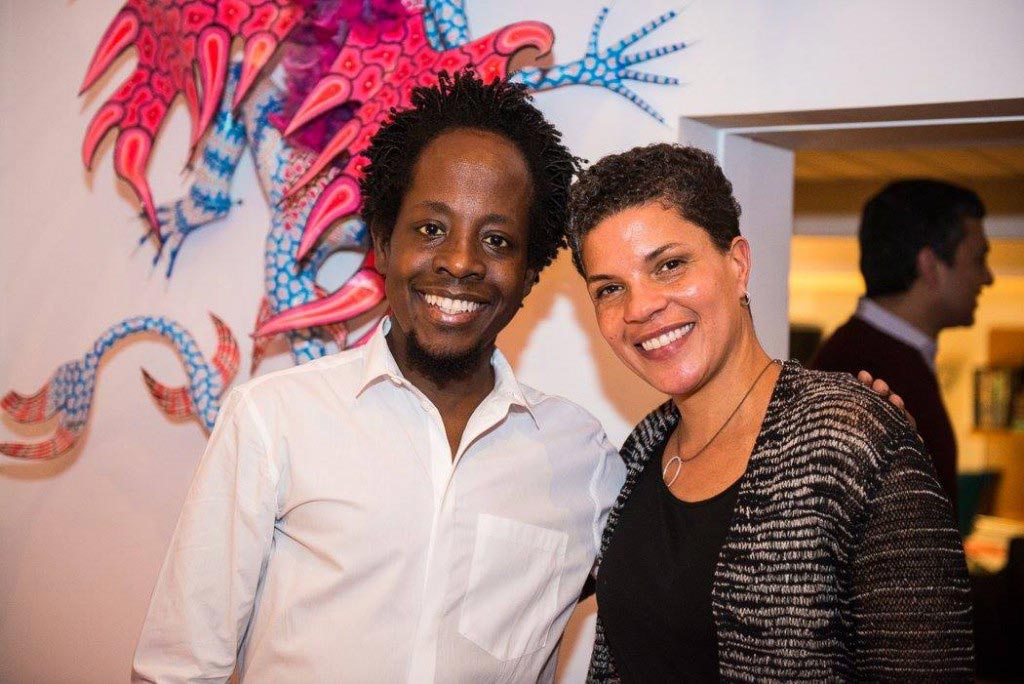 For those of you who don't know much about Artbridge, as headed by the ever thoughtful and gracious Stephen Pierson, here's a link that I implore you to click on and support. One of the ongoing present engagements includes painting the entire scaffolding of NYC with original art work (yes all 192 miles of it). But it just doesn't happen by itself. But thank goodness Stephen and his crew do most of the hard yak, but then again you ought to consider lending your financial support if you are in a position to do so.
If you would like to champion founder Rich Benjamin's Demos (Greek for 'the people'), here's a link you should visit as well. It's a fellowship that nurtures emerging and thoughtful writers championing wider discourse and challenging us all to reflect on what's at stake in society. If we are brave enough that is to reflect on such themes and I hope we are.
One of those writers (let's see if I can get him to chip in with our tabloid outlet?) attending included millennial rising star, Donovan Ramsey who has already written a bevy of thoughtful essays on race relations, discord within society and and the resurrection of our civil rights. Here's a provocative read, here and here that will whet your appetite.
I'll leave you these parting thoughts: 'Be the change you want to see. Participate in the wider culture and dialogue that demands your presence and awareness. Support and embolden those who are brave, foolish and stubborn enough to insist on making such work and discussions their life mission. Because one day, this day, your freedom, your mobility and democratic, social and economic mobility will be utterly dependent on it.'
Much thanks to Casa Dragones Tequila to keeping many guests in a good mood and Alexis Bittar for donating your exquisite jewelry to be auctioned off for Thursday's fundraiser.