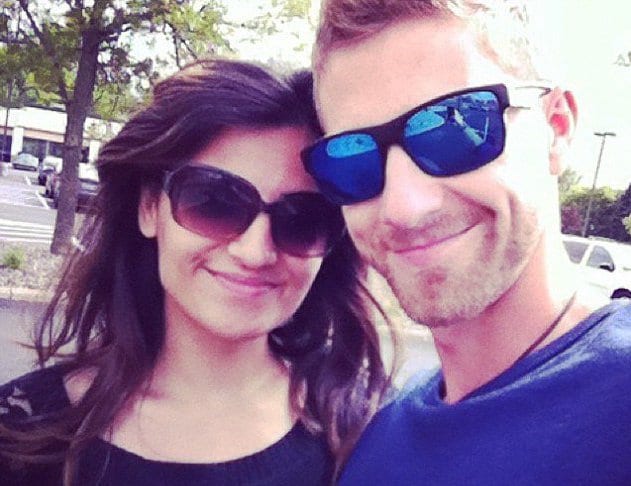 David Crowley murder suicide: Were the clues all too obvious?
The files of a seemingly happy suburban husband and father, David Crowley has been released, in which documents describe the moments leading up to the former Christian army veteran executing his former Muslim converted Christian wife, their daughter, before then killing himself.
Killed was the man's Pakistan born wife, 29 year old dietician Komel Crowley and their five year old daughter Raniya at the family's Apple Valley, Minnesota home.
Why did David Crowley, food blogger wife and child commit murder suicide?
A neighbor eventually came across the family's decomposing remains in January of 2014 in which the bodies were completely ravaged by their family dog.
At the time, next-door neighbor Collin Prochnow told the Minneapolis Star Tribune of not having seen the family before Christmas.
Ominously authorities told of finding the Arabic phrase 'Allah Akbar' (God is Great) written in blood on the wall of the family's home.
At the time, police also found a spiral notebook which had the words, 'Submit to Allah NOW,' written on it.
The notebook also had the words 'open "The Rise"  and 'most recent version,' written on it.
In describing what led to David Crowley 'snapping' a report via Twincities.com cites police records describing how Crowley, an aspiring documentary filmmaker, was working on a project called 'The Rise' about the 'Gray state model.' The film's story line focused on a police state, martial law crackdown and social breakdown.
An expose of the family reveals wife, Komel having been raised Muslim in Pakistan and converting to Christianity when she married David Crowley. They married after meeting when he was stationed in Texas for the Army in 2008.
In the aftermath of the murder suicide, cops believe that Crowley's choice of Arabic words was a sarcastic jab at his late wife's background.
In the kitchen police found a laptop with the words 'I have loved you all with all of my heart.'
On the floor of the kitchen were Crowley's bloody footprints.
On the floor next to the dead bodies was blood smeared all over a Quran that had a Muslim forgiveness prayer for the dead.
Offered Valley Police Chief Jon Rechtzig at the time of the discovery of the murder suicide scene: 'It was just a gruesome scene that anybody who came in contact with had to face,' 
'You had this terrible loss of life — an entire family wiped out, three people.' 
Adding: 'He was in a very dark place,'
'He had a lot of stressors on him and was working on a very dark topic — basically about the fall of society and FEMA troops taking over the U.S.'
Of note are reports that David Crowley having sent a note expressing concerns about his film to a friend a week before murdering his family.
In an email, Crawley told Los Angeles filmmaker Jason Allen that they lost most of their financial backers.
Adding that he was 'exhausted from carrying and managing this burden for so many years.'
It was also revealed that a company that a film prop company Crowley co-owned was going out of business and he was stressed about that.
Police capt. Bermel said that Crowley kept an online journal but nothing in it indicated that he would commit suicide.
'Our hope was that we'd find a note or something, and we didn't,' Bermel said. 'There was nothing there that would give an indication about his state of mind. 
Police also tell of having met with Crowley's father, mother, and sister who told that in recent months, communication with the couple and their daughter had all but stopped. 
Reflected Bermel: 'There did not seem to be a reason for this other than that Komel had told (Crowley's sister) that they were going through some personal issues and were going to work it out alone as a family.'
Spurring conjecture is an email that the slain wife wrote a month before her murder, in which the woman attempted to explain the family's increasing distancing.
Wrote the dietician in part: 'Of course there is a reason for the recent silence — we obviously don't get any form of pleasure withholding communication from our own family. I didn't think it was necessary for either David and I to spell it out, but this is all I choose to share: we are dealing with an endless list of deeply personal issues silently as adults, as lovers, as partners and parents.'
The family's death came whilst David Crowley in the weeks ahead continued to maintain a social media account in which he posted pictures of himself holding weapons and wearing hunting attire. 
He was also filmed in a video for the Bullet Exchange, a supplier of military and police film props.