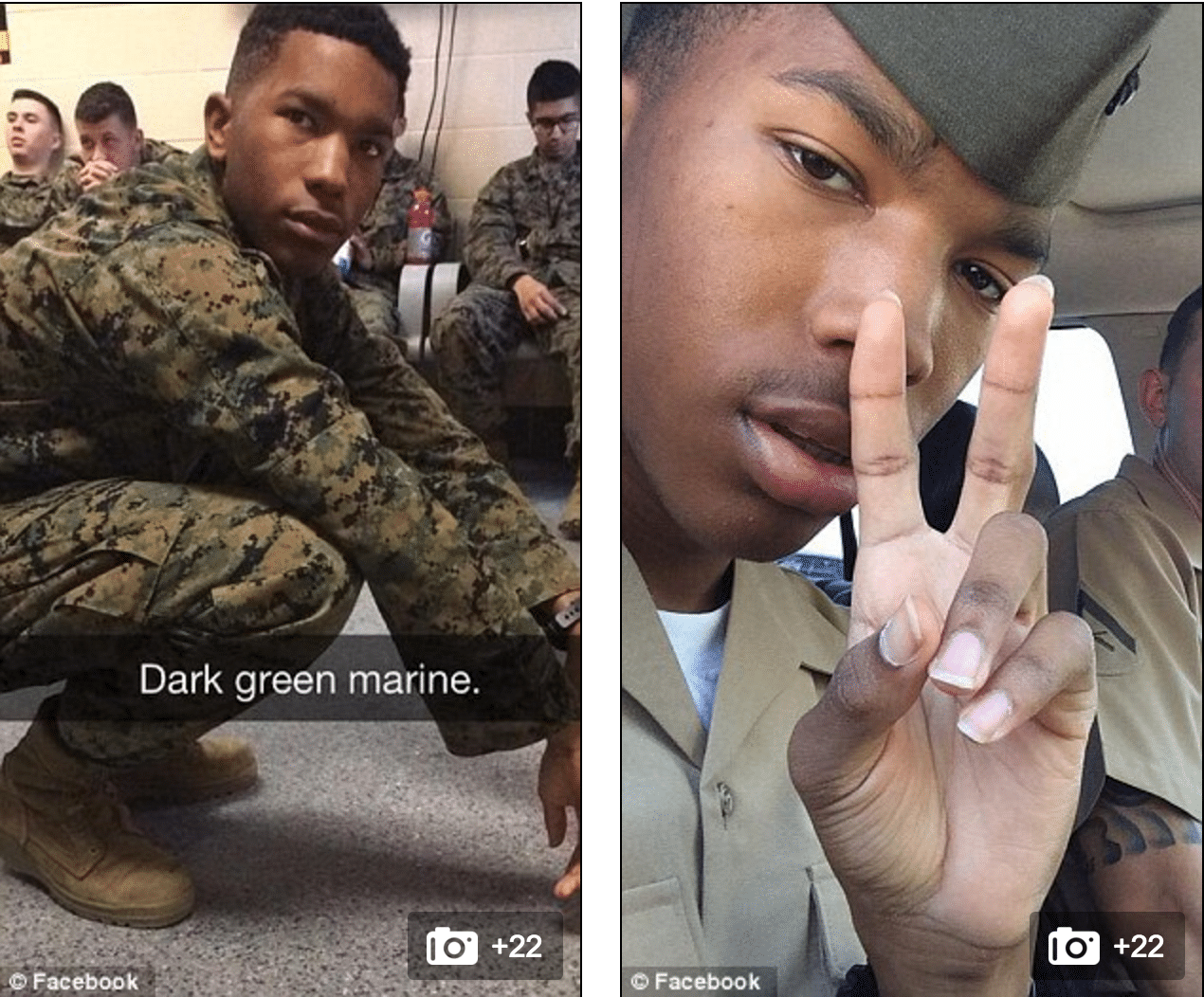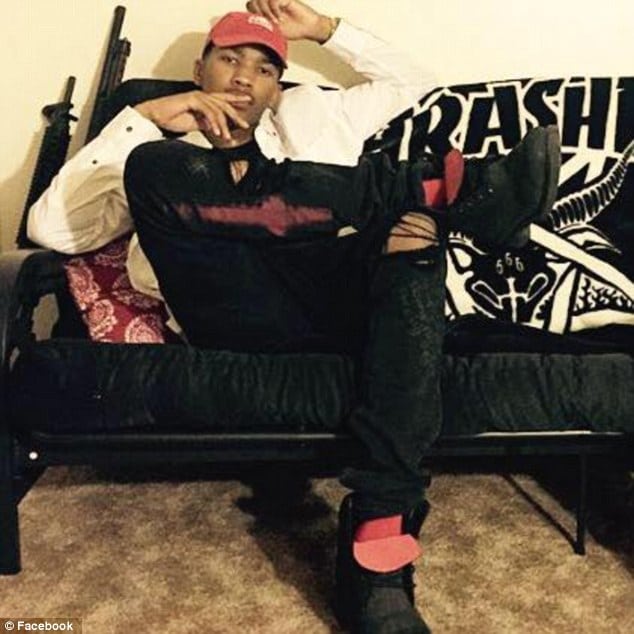 Cpl Eric Jamal Johnson an active marine has been arrested in connection with the death of 20 year old sorority sister Sara Mutschlechner. The man's arrest comes after the shooting road rage death of the University of North Texas college junior after the pair had separately attended a New Year's eve party earlier that evening.
The arrest of Eric Jamal Johnson of Marine Aviation Weapons and Tactics Squadron-1 comes 5 days after the philosophy major's murder whilst driving her friends home after a night of partying. At the time, the sophomore sister was the designated 'sober' driver.
Why did Eric Jamal Johnson kill Sara Mutschlechner in road rage shooting?
Media reports tell of the 20 year old assailant, who doubled as a rapper known as Santana Sage being an administrative specialist who had been stationed at Marine Corp Air Station in Yuma, Arizona since August 12, 2013.  Johnson's arrest Tuesday morning would take place near his stationed base.
Mutschlechner's death came early Friday morning circa 2am after Corporal Eric Johnson, driving along with what witnesses cited as 5 other African American individuals in a black SUV pulled up next to the vehicle that Sara Mutschlechner was driving.
At the time the girl's group was driving along Texas' West University Drive, when the occupants of the black SUV  began mouthing off a series of sexually charged remarks before Johnson fired off a series of shots, killing Mutschlechner.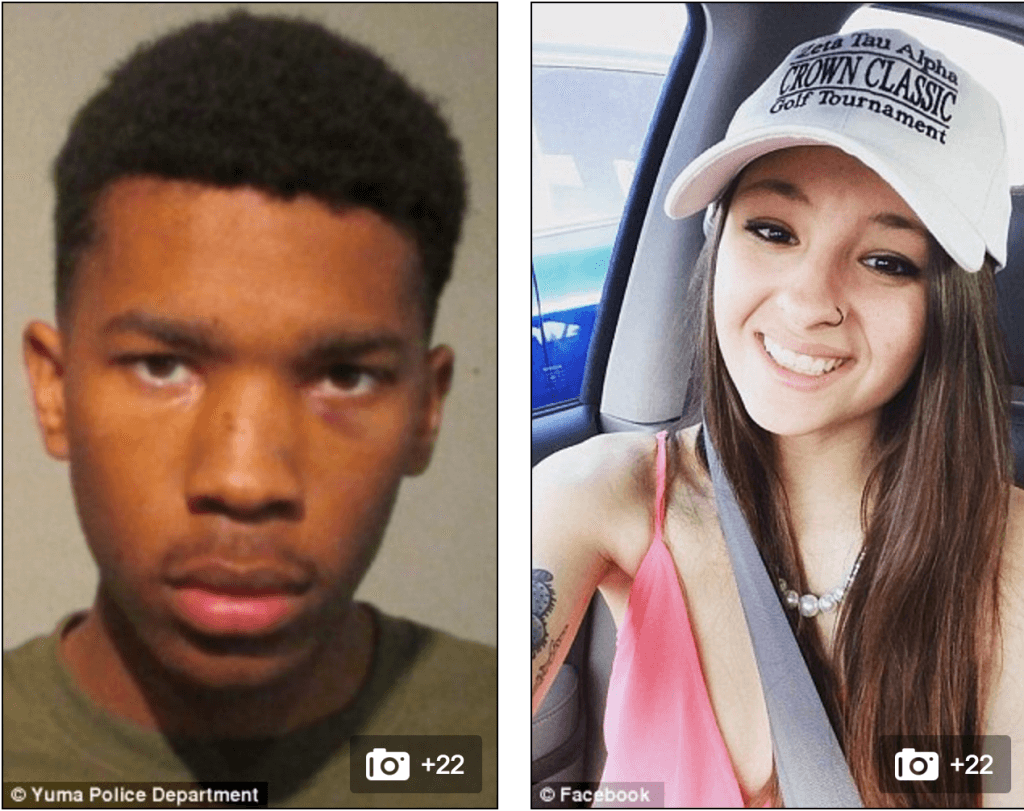 Leading into Mutschlechner murder, the college junior and her group had been at a nearby party on Crisoforo Drive which hosted a number of musicians, including local rap collective The Daytona Boyz. The group would leave before 2am.
Also attending the party was Cpl Eric Jamal Johnson. 
Authorities told of the 20 year old man leaving around the same time as Mutschlechner with two of the Dayonta Boyz – known as Tay-K and F***PimpyZ – along with two other African American males in a black SUV.
It would be whilst both vehicles were driving through Denton when Johnson's black SUV pulled up alongside Sara's sedan. 
From there members of Johnson's group started shouting that they wanted to 'f***' the two girls in the car.
Responding to the taunts, two of Sara's passengers, both male, told the passengers in the black SUV that their comments were inappropriate. In turn one of the men in the SUV told one of the male passengers he would 'beat his ass' whilst Johnson taunted, 'I'll shoot your ass', before 'displayed a handgun'.
According to cops, Sara's party did not make derogatory comments during the stand off and drove off.
Yet as Sara's group proceeded to cross the intersection at West University Drive, gun shots from the SUV began to be fired, hitting Sara Mutschlechner in the head.
Losing control of her sedan, the hapless girl veered into a parked car before  crashing into an electrical pole.
Rushed to hospital, Mutschlechner would die a few hours later on New Year's Day.
Also injured was a female passenger, breaking her collar bone, who was also taken to hospital.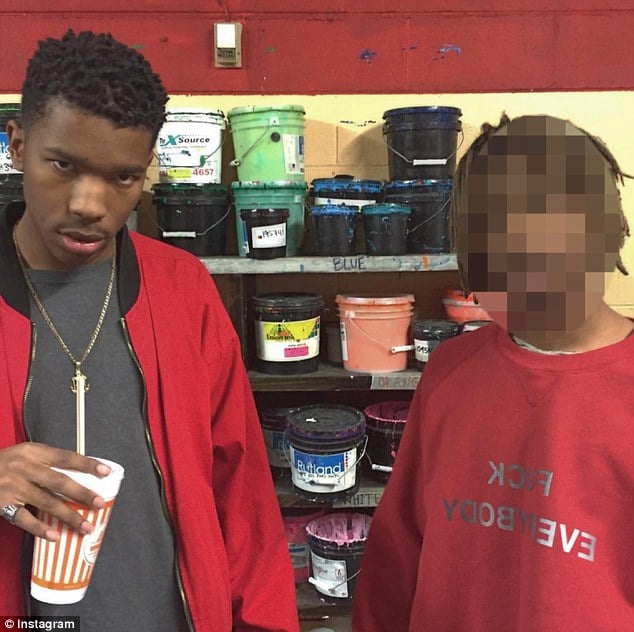 Since Friday morning's incident questions have been raised as to whether the separate groups had interacted during earlier festivities and whether Johnson and his entourage purposefully followed Johnson's group as they left the party.
A report via the dailymail quoted the assailant's 'shocked' stepfather, Darryl Joseph, 49, who told the tabloid, 'Eric's a great kid. He's never had no problems.' 
A neighbor of Eric Johnson's mother Sheryl Joseph, Virgil Turner, 49, who had known Eric Jamal Johnson for six to eight years also expressed shock.
Told Turner: 'When we got here they were already here. I know Eric a little bit. When we moved here him and my kid used to play. They used to skateboard up and down this street. Then he took off and went to the military.
'He was a nice boy. I'm very surprised.
'I know his mom. She's a very nice lady, very friendly, never had a problem with her.'
He added: 'I'm just shaking with this news. I'm very surprised. He was a very nice boy from a very nice family.
'I haven' t seen him but he was back here for the weekend.'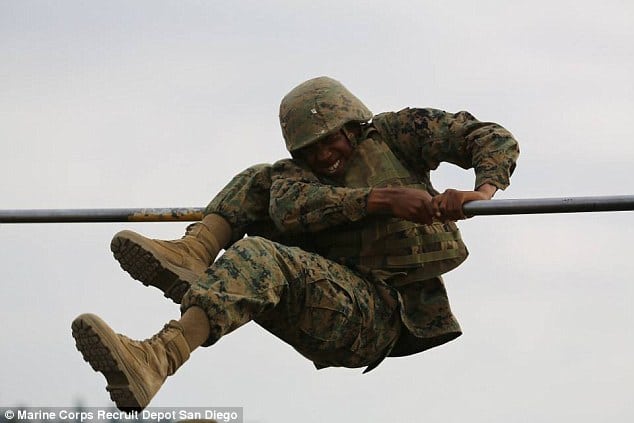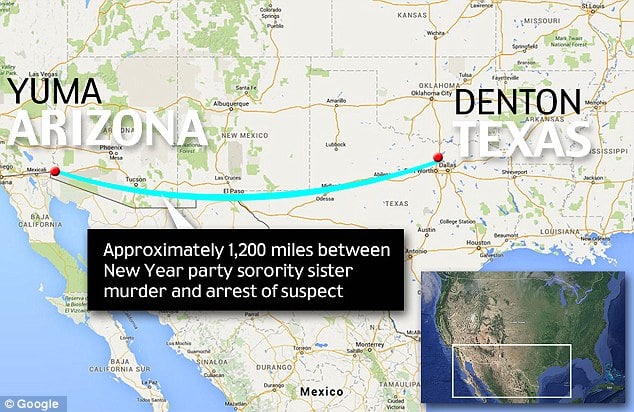 Offered family friend Jason Blackhawk, 38, 'The mother is really nice. She's a single mother. I feel bad for her. Their youngest son was a perfect gentleman he would come over and check on us whenever one of my roommates had to go to hospital.
'The family are really nice, they're real good people. It's kind of a shame what's going on. It's a very quiet, peaceful neighborhood. This right here is a surprise to us. Everybody keeps to themselves but are friendly.
'My brother who is the owner of this house and has been for about 10 years he always had good things to say about the neighbors especially the people across the street there.' 
Speaking with Fox 4, the parents of Mutschlechner said their daughter had dreamed of being a film director or producer.
Her father Clay called the killing 'senseless and tragic' while her mother Gloria said: 'All I could think about was her and this horrible thing that happened to her. She did not deserve this.'
Paying tribute to Mutschlechner on Saturday, her sorority – Zeta Tau Alpha – posted on Facebook: 'Our thoughts are with the sisters, family and friends of Gamma Phi Chapter (University of North Texas) member Sara Mutschlechner, who passed away in a tragic accident this weekend.'
Since Sara Mutschlechner's death, one of her organs has been donated to a fire burns victim.
Charged with first degree murder, Eric Jamal Johnson has since been detained in Yuma County Jail until his extradition to Texas.