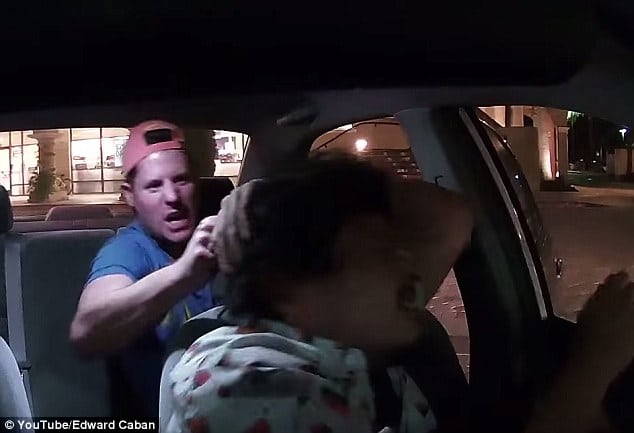 Benjamin Golden a former Taco Bell executive caught on film beating up an Uber driver has sued the man he beat up for $5 million after a video of the beating led to him being fired.
In filed papers, the 32 year old former mid level brand manager claims his firing should never have happened cause the altercation with Uber driver, Edward Cahen, 23 was recorded without his consent.
At the time of the incident last year, Golden had apologized for his errant behavior but in a new twist the executive insists Cahen owes him damages for spraying him in the eyes with pepper spray.
To boot, Golden is also attempting to have the video footage barred as evidence in the criminal case against him on charges of assault and battery. 
The legal battle between the pair began after Golden got into Caban's cab on Friday October 30, shortly after 8pm, having called him to a Mexican restaurant in Cosa Mesa, California.
Caban described Golden as 'incredibly intoxicated', telling that the passenger refused to provide the full address of where he was traveling to.
In previous claims, the Uber driver told Golden 'insisted on telling me where to turn,' whilst fading in and out of consciousness and being 'belligerent', 'aggressive', and 'refusing to put his seat belt on'.
Golden is also alleged at swearing at Caban, telling him to 'f****** turn this piece of s*** around.'
Distressed, Caban said he pulled into a parking lot and asked Golden to get out.  
Before doing so, Caban said he grabbed a container of pepper spray and put it under his right thigh before flipping a camera on his dashboard to face into the car rather than out at the road.
From there the driver claims Golden slapping him, grabbing his hair and slamming his head against a window after refusing to get out.
In the video, Caban can be seen using pepper spray on Golden, before shouting: 'Yeah, that's what happens. You got maced, motherf*****. Uber drivers don't get paid enough to deal with this s***.'
The incident led to Bejamin Golden being charged with assault and battery, with Caban launching a civil suit seeking damages in excess of $25,000 for  assault, battery, and infliction of emotional distress.
Caban said he was forced to quit his job as a driver following the attack, while adding he 'lived in fear' following the confrontation. 
Video of the incident would soon go viral leading to Benjamin Golden's 'abrupt' dismissal.
Yes, welcome to a brave new world, Benjamin Golden….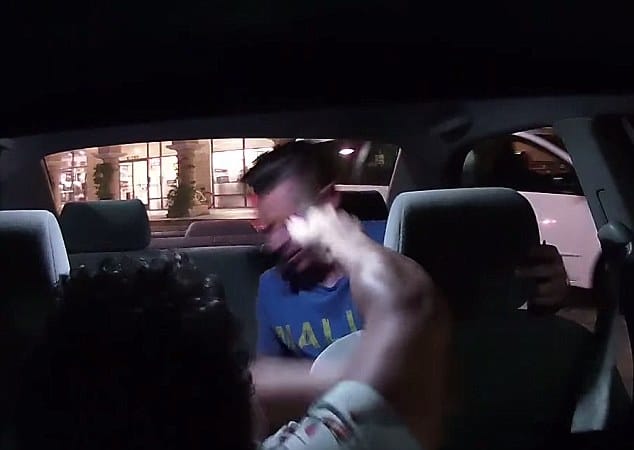 At the time, Golden said he was 'too drunk to remember' the incident properly, and his lawyers said he wanted to 'sincerely apologize' for his behavior and was 'extremely remorseful.'
But it seems the former Taco Bell's apology has fizzled after now blaming Caban for letting him into the car in the first place despite him being visibly drunk. 
Golden also denies causing any harm to Caban, arguing, that if any harm was caused, it was due to 'the negligence, fault or carelessness' of Caban himself.
He also claims that the video of the incident was recorded illegally under California state law which prohibits the recording of conversations without the agreement of all parties.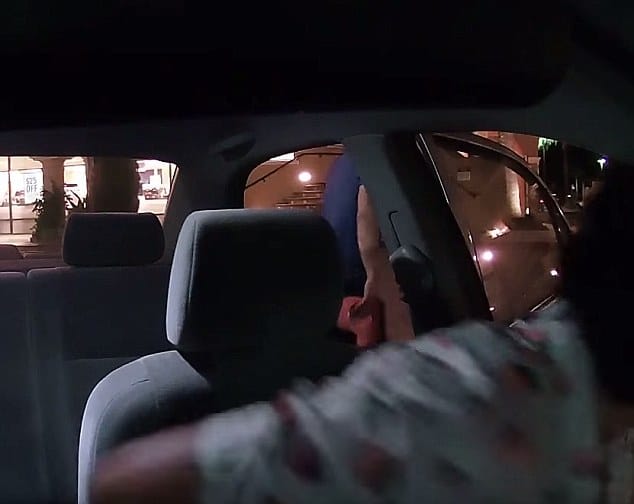 Golden is claiming damages for 'emotional distress, humiliation, anxiety, fear, pain and suffering and the loss of his job'.
Further, Golden is also seeking damages against 'unknown third parties' who helped to circulate the video online. 
Responding to Caban's claims of 'emotional distress', Golden's lawyer, Courtney Pilchman, branded Caban 'quite the opportunist' (you suppose?) saying she 'doesn't believe' he is suffering from emotional stress.
Meanwhile Rivers Morrell III, representing Caban, branded Golden's lawsuit 'disingenuous' and 'totally bogus.' 
And then there were these comments on the web that made me wonder. See what you think?
What expectation of privacy could the passenger have being in a taxi used for public transportation? Buses and subways are under surveillance and footage of criminality caught on tape is routinely released for public viewing.
I agree, disseminating the recording created the problem but not recording itself.
What an idiot of that fired exect! The recording is more than legal as it recorded the criminal action by the rider as a proof. It is sickening of the attitude of the fired exect as he is fully deserved.
Hey Benjamin Golden! The video didn't get you fired. Your own poor behavior reflecting badly on your company got you fired.
Further, when you go out in public, you have no expectation of privacy.
Also, the video came on when you began to act up. The driver has a right to make use of such equipment in his own car, on a public street, for his own legal protections.