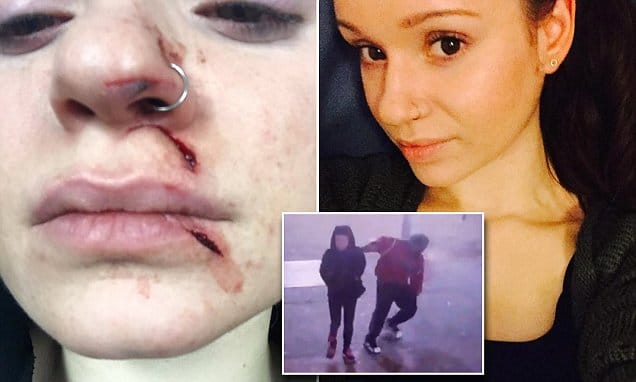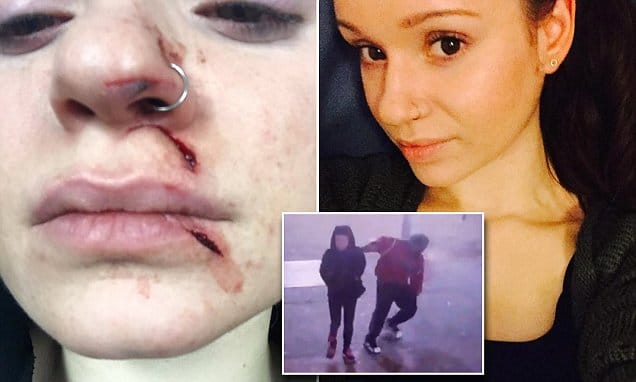 Amanda Morris a 24 year old Brooklyn woman has told of the moment a stranger came up behind her and slashed her on the face during an early morning assault along the streets of Manhattan.
The attack came as Morris was making her way to work at Chelsea Whole Foods at 6am along Seventh Avenue when the woman become aware of a 'suspicious' man ahead of her.
Slowing down the assailant allowed Amanda Morris to pass by him only to then turn and lunge on her, slashing her across the face with a sharp crude object.
Covered in blood, Morris ran into the nearby 24-hour Malibu Diner on Seventh Avenue near West 24th Street for help, saying she was attacked on the sidewalk.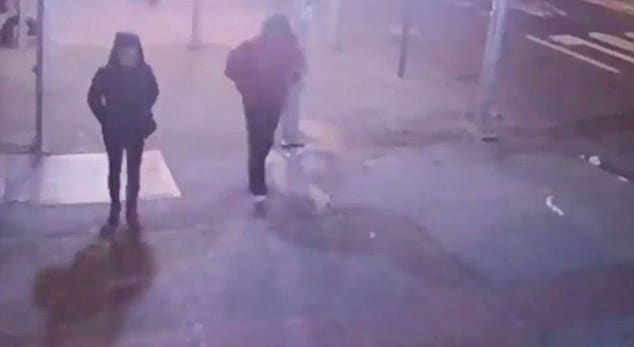 Remarking about Wednesday morning's early incident, Amanda told on her Facebook page that she'd had a bad 'gut feeling' about the stranger, who appeared to her to be drunk or on drugs, from the moment she spotted him.
Wrote Amanda: 'Today was a difficult day that I never thought I would have to go through, I was simply in the wrong place at the wrong time and put in an unfortunate situation, but I would like to do what I can now to raise awareness. I was attacked by a stranger on my way to work early this morning. I was slashed on my face with an unidentifiable object (thought to be a razor / box cutter). It was unprovoked and I did not have any association with this man prior to the incident, we have never seen each other before. The NYPD was able to find street footage of the man but we are unable to make out his face at this time.'
'I want everyone to know that I did have a bad feeling about this man as soon as I saw him. His walk was irregular and he appeared under the influence by his body language and stance. Always, always trust your gut instincts. Even in a safer neighborhood such as Chelsea you should always stay alert and aware of your surroundings. Had I crossed the street this could have been avoided; never feel that you have to stay in an uncomfortable situation out of politeness/fear/etc.'
Perpetrator:
Black male thought to be 5'7″ to 5'10" age 25-30. Last seen wearing a red NBA sports jacket, white Jordan's and green hoodie in front of Malibu Diner in Chelsea, NY.
If you believe you have seen this man please contact:
Detective Richard Dixon, NYPD
212-477-7444 / richard.dixon@nypd.org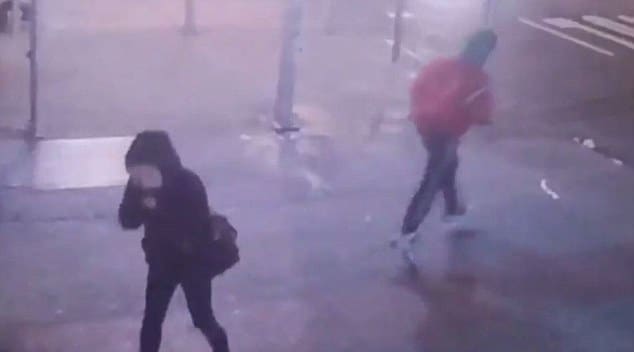 Speaking to the NY Post Amanda Morris told: 'He wanted to scar me, and that's why he went for my face,'
'I felt like I got punched in the face,'
'It was like, 'oh that's weird, why would someone punch me?' Suddenly blood was all over my hands, and I started crying.'
Adding: 'I was freaking out, and I didn't really know what to do.'
Told one witness, Alex Ramirez, who works at the diner that Amanda immediately ran into after being attacked:
'She was bleeding a lot, she was crying she walked in and she said that somebody slashed her in the face,'
'She said that she was walking by going to her job and and then a person came out from out of nowhere.'
A member of staff from the diner then helped Morris down the street to her place of work where her supervisor called 911. 
She was taken to Bellevue Hospital where she received seven stitches and was then released.
Detectives are looking at surveillance footage in hopes of identifying the suspect who has yet to be apprehended.
Surveillance footage depicts the assailant as a black male in his 20's or 30's between five-foot-seven and five-foot-ten wearing a red NBA jacket, a green hoodie, Adidas sweatpants and Adidas sneakers.
The crime has since led to commentators wondering whether the unprovoked attack was the result of the man being on substances, whilst others have wondered if the woman was targeted because of her gender, race and sexuality …. as reports of white women being attacked and preyed on by African American men make the rounds.