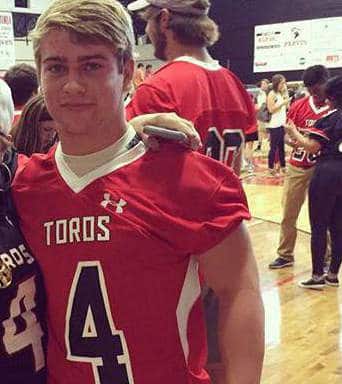 Making foray into national headlines is the tale of Cameron Harrison, an 18 year old Spanish Fort High school running back football player from Alabama who continues to receive unanimous student body support despite bragging raping an unconscious 16 year old at a house party.
Placed on house arrest after posting $45 000 bond and banned from campus and forced to wear an ankle tag the player has seen fellow team players show their unflinching support of the teen.
A recent football match saw friends of Harrison turning up to a game wearing the football player's number, four, written on shirts with the team quarterback, Tyle Johnston holding up a towel with the number four on it.
Read another towel used by another team mate: 'Doing it 4 my boy Cam.'
The actions of the students comes despite Harrison admitting he had sex with the 16 year old girl along with an apology to the victim's family.
Despite threats to punish students who continue to openly support Harrison, the school has had little success in curbing attitudes supporting the alleged rapist. In effect raising questions as to attitudes towards females and the notion that the girl was 'asking for it' (aka slut shaming) as the victim has now become a target on social media, with some going so far as deriding the girl for having passed out drunk and inviting trouble.
According to an affidavit provided by AL.com, a video shows the girl being carried upstairs to a bedroom.
It reportedly then states that this is when Harrison raped her before going back downstairs and boasting about it. 
The girl later awoke suffering severe pain in her vaginal region before seeking medical treatment at the University of South Alabama Children's and Women's medical center in Mobile. 
An investigation led to Harrison being arrested last week and charged with first-degree rape, with the youth allegedly confessing before turning himself into police.
Allegations of harassment led to police spokesman Jason Vannoy saying 'any harassment of witnesses or the victim will be not be tolerated and those involved could face prosecution.'
Reacting to the ongoing support of the indicted student, School superintendent Eddie Tyler told the dailymail: 
'I am making it clear that I, as superintendent, the board nor this school system will tolerate or condone bullying, intimidation or publicly supporting the violation of law or school board policy. We will deal with such actions appropriately.'
Since Harrison's arrest, Baldwin County Assistant District Attorney, Chalea Tisdale, argued that Cameron Harrison's apology to the family was 'more about him than it was about her. It was an admission.'
Reiterated Tisdale via  Fox10: 'You cannot rape an unconscious girl. It doesn't matter if you're a high school athlete star, it doesn't matter what your future holds. It doesn't matter you cannot do this.'
The incident led to Cathy Roberts, 58, on Monday being charged with with allowing minors to drink alcohol after it emerged she hosted the party.
She was placed under house arrest at home in Daphne, Alabama, and given an electronic ankle bracelet as she awaits trial.
The incident has led to an avalanche of commentary, some of which made me wonder. See what you think?
This superintendent should be careful with his mouth, the students can support the person accused and still be against rape. Innocent until proven guilty, Tyler comes across like a Gestapo thug.
I know the big issue here, but shouldn't we be a little concerned about 16 year olds passing out drunk at parties.
Why is it that you automatically assume he is guilty of what he is being accused of? She could have been drunk enough to go along with it and participate but not even remember it or barely remember it. People do get so drunk and party on but don't remember the next day half of what they did after a certain point.
In fairness, there is some truth to the fact that women, especially college or young career women, put themselves in harm's way when they hum "I am Woman" while trying to outdrink a big college guy in front of his buddies or allow themselves to be out-of-control when out with someone who hasn't earned their trust yet. There's also the thought that passive women who want more physical attention than they are getting may drink to excess to give the guy an opportunity to "get some" (for both of them) and an excuse later for being as loose as some of the ladies she herself labels as cheap sluts when she talks with her friends
All they think is that it's funny when a female is violated by an athlete. They think that taking advantage of someone passed out is OKAY.  I guarantee you that if it had been a woman taking advantage of a boy who was unconscious, all hell would break lose and there would be a shooting war. It is pathetic that the male dominance in this region of the country is still overwhelming to the point that you will speak so disrespectfully of the victim and in favor of a jock who will one day reveal even more of his nature