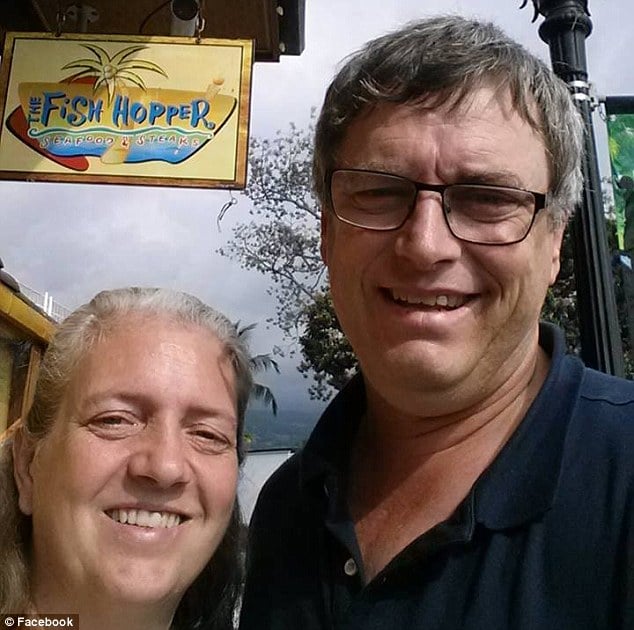 Michael Johnston, 57, from West Jordan, Utah has been identified as the American Airlines pilot who died after suffering a heart attack mid flight en route from Phoenix to Boston, Monday morning according to a report via savvystews.
Taking control of the airbus after Johnston becoming 'incapacitated', the first officer sent a panicked radio message (listen below) to emergency ground control demanding permission to land as an air stewardess – a former nurse – fought to save his life.
Passengers told CBS News they felt a sharp drop and some turbulence before the co-pilot announced the captain was 'feeling unwell'.  
Following the pilot's death, his wife, Betty Jean, posted a statement on his Facebook page on saying he died 'doing what he loved'.
She says airline officials told her he suffered from a heart attack. She told KUTV that her husband has been flying for more than 25 years, along with having had double bypass surgery in 2006.
The setback mandated the pilot having to undergo a physical every six months to make sure he was healthy enough to fly.  
The plane carrying 147 passengers and a crew of five landed in Syracuse, New York, at 7.13am ET.
According to passengers, the EMTs did not appear to rush on to the airplane. Airlines cannot legally pronounce somebody dead in the air.  
Passengers, at first, were only told that the pilot was sick.
Told passenger, Peter McSwiggin: 'The flight attendant came on and told us to fasten our seat belts…Her voice was quivering,'
'So, I knew it was way beyond an illness.'
In an email statement, American Airlines told: 'Unfortunately, our captain passed away. We are incredibly saddened by this event, and we are focused on caring for his family and our colleagues.
'We also took care of our customers and sent a replacement crew to [Syracuse] to get them to Boston.
'They arrived safely and without incident at [approximately] 12.30pm local time in Boston.'
The plane departed Phoenix, Arizona, at 12.08am mountain standard time.
Eerily the moment the first officer radioed in the emergency can be heard in an audio recording obtained by Live ATC.net which provides live air traffic control broadcasts.
'Medical emergency, captain is incapacitated, request handling for runway 108,' says the pilot. 
It wouldn't be until after the plane landed that passengers were told what had happened in observation of air regulation ruled which forbids airlines from pronouncing somebody dead in the air.
In the aftermath of the tragedy, one passenger on board the flight took to Twitter to express her sadness at what had happened.

Louise Anderson, from Boston, said: 'The pilot died on our redeye back to Boston (leading to 4h in Syracuse). life is short. do what you love before it's too late.'