A possible love triangle involving former boyfriend of recently murdered Dallas pediatric dentist, Dr Kendra Hatcher may have led to the much admired 33 year old woman's callous murder.
According to newly released search affidavits, cops are now questioning an ex girlfriend of the slain dentist's boyfriend, a 33 year old dental hygienist who had allegedly tracked Hatcher's movements using an iPhone after suspected accomplice, Crystal Cortes, was paid $500 for the victim's purse.
Who did Crystal Cortez assist murder Kendra Hatcher, Dallas dentist?
Who killed Kendra Hatcher? Dallas Dentist gunned down in cold blood
The revelation comes after the unnamed 33-year-old woman was implicated in connection to a man only known as Ricky on the murdered woman's facebook posts, after Ricky ended a two-year relationship with Hatcher's love rival earlier this year, suggesting a possible romantic rivalry between the two women with may have led to the dentist's death.
According to her Facebook, Hatcher had been in a relationship since early June and has uploaded several pictures with Ricky Paniagua. To date, Paniagua has not been named as a suspect. 
As of early Wednesday morning, the rival girlfriend has not been charged with any crime.
The dallasnews notes that public records show the implicated woman having been previously charged with speeding and for allegedly failing to have valid car insurance — both class C misdemeanors. All those cases, which are years old, have been dismissed.
The latest developments comes after the arrested of 23-year-old Crystal Cortes on capital murder charges after she admitted that she was paid $500 to drive a man to Hatcher's apartment building, where he killed and robbed the 35-year-old popular pediatric dentist.
Police said two days after the slaying at the high-end Gables housing complex, they got a call from a man who said he had recognized his 1996 Jeep Cherokee from news reports about the murder, reported WFAA. 
The tipster further revealed that prior to Hatcher's killing, he had loaned his vehicle to the ex-girlfriend of Hatcher's current boyfriend.
Intriguing matters, during police questioning, the 33-year-old woman confirmed that she had borrowed the man's Jeep but said that she then let Crystal Cortes use it.
Yet that's not the story, Cortes is telling cops, telling instead that she was paid off by the boyfriend's ex to drive an unknown man to rob Kendra Hatcher. Of question is whether the man has been brought in to custody as cops decline to keep information closely held.
The 23-year-old murder suspect admitted that she had taken the man to the parking garage and watched him shoot Kendra Hatcher and rob her before the two of them fled the scene.
Cortes further implicated her alleged female co-conspirator by telling cops that an iPhone was used to follow Hatcher, with the ex offering to pay her $500 to bring her the dentist's driver's license, according to report via the Dallas Morning News.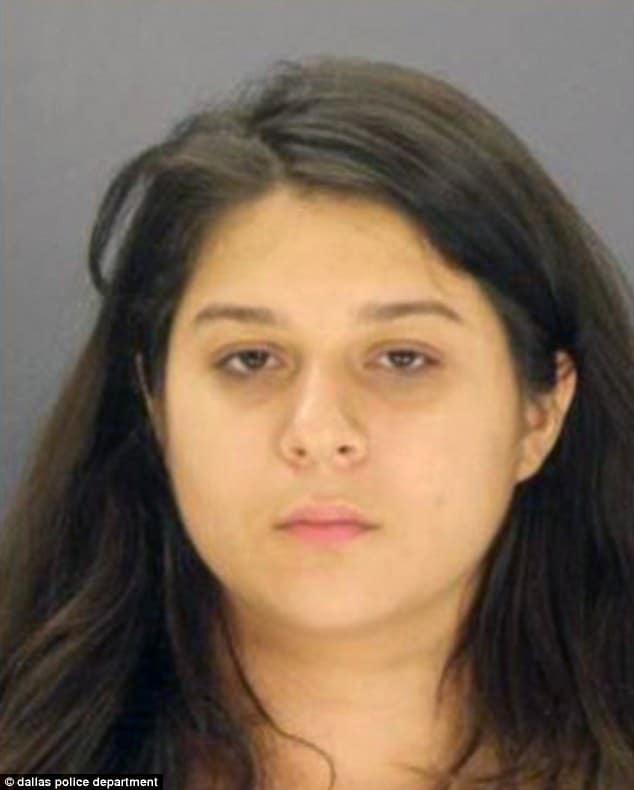 Cops have since executed a search warrant at the unnamed ex-girlfriend's apartment and seized a laptops and some documents.
Reiterated Dallas Police department major Max Geron of the September 2 slaying: 'Sometime prior to her arrival, a vehicle of interest described as an older model Jeep Cherokee with damaged or faded paint on the hood and displaying a paper buyer tag, pulled into that garage – following another vehicle through the gate.'
Hatcher parked her car inside of the Gables Park 17 garage when someone got out of the Jeep and approached her.
Witnesses told police that they heard a single gunshot.
Police say the suspect got back into the Jeep and drove out of the parking garage.
Hatcher, who was a University of Kentucky College of Dentistry graduate, was found dead next to her car.
'We believe the occupant or occupants of that vehicle likely have information related to the offense and are asking for the community's help in locating the vehicle and any occupants,' Geron said.
The victim's brother, Neil Hatcher, told KXAS that his sister was one of five children and her murder is 'absolutely unfathomable'.
Hatcher went on to say that his sister had recently visited San Francisco and planned to buy a home in the city and that he didn't believe the woman's murder was an arbitrary one. What led the brother making the claim isn't necessarily understood, suggesting that a pattern of ominous behavior may have played itself out prior to the shooting.
And then there was this comment on the web that made me wonder:
The jealous ex-gf of Kendra's boyfriend Ricky borrowed the jeep from some guy. The ex gf got someone to pay Crystal Cortez $500 to drive the robber/shooter to steal Kendra's driver's license. I don't know whether the robber intended to just rob or was it a robbery gone wrong where he shot Kendra and wasn't planned. It also could have been a premeditated murder. I even read the ex tracked Kendra down through her iphone and had some things in her computer. I know Kendra was going to be moving to San Fran pretty soon to be with her boyfriend. Her fb page was very public it probably put the ex on edge. From what I read the ex-gf lived 2 miles from Kendra's fancy apartment. People have said they seen that jeep there before. They must have been watching her.