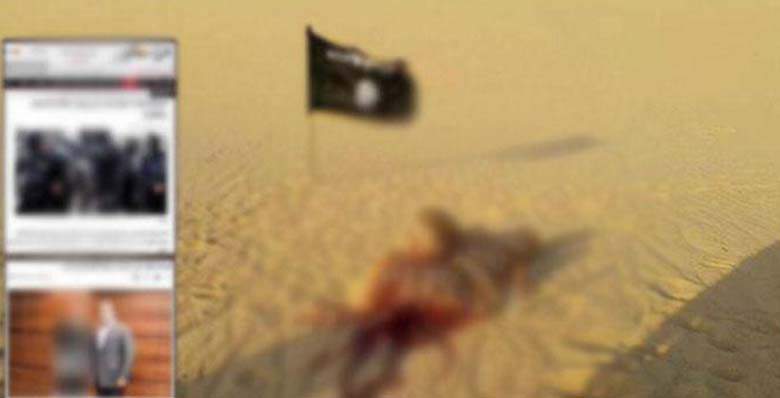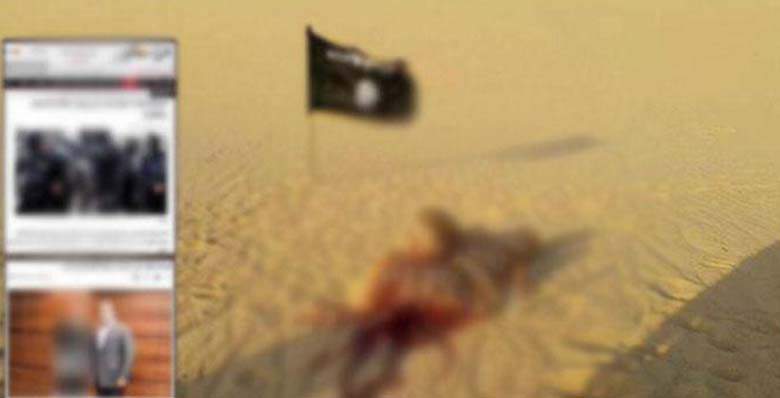 Islamic terrorist group ISIS have carried out another beheading, this time on Croatian prisoner, Tomislav Salopek after a bounty for the man failed to be delivered.
Gruesome images have since been released of the decapitated man, including one with the man's head placed in the middle of his back and a knife plunged in the sand next to him.
Tomislav Salopek photos: ISIS wanted $30 million ransom.
Reads one caption in Arabic: 'The murder of Croatian prisoners, his participation in the war against the Islamic State.'
Another tweet says: 'Dolh Klavh and Aah Saina killing of Croatian prisoner. After the expiration of the time limit and the Government abandoned his apostasy and his Egyptian.'
An alleged ISIS-linked Twitter account, claimed to be based in the north African Sinai desert region, appears to name two people, Dolh Klavh and Aah Saina, as the Croatian's killers.
Authorities have not yet confirmed whether the man in the picture is father-of-two Tomislav Salopek, 30.
Video: ISIS executes ten prisoners by forcing them to kneel over bombs
Cubs of Caliphate Video: Ten year old ISIS child beheads Syrian army officer
NSFW: ISIS execution video shows prisoners in mass graves machine gunned to death
Video: ISIS children execute 25 Syrian regime soldiers at Palmyra
ISIS release drowning prisoner video: Foaming at the mouth
Photos: ISIS dangle gay man by his ankles before dropping him 100ft
Here is a baby sleeping beside handgun and grenade underneath ISIS blanket
NSFW: New ISIS execution video of 30 Ethiopian Christians emerges
Pictures: ISIS stones to death couple accused of fornication before marriage.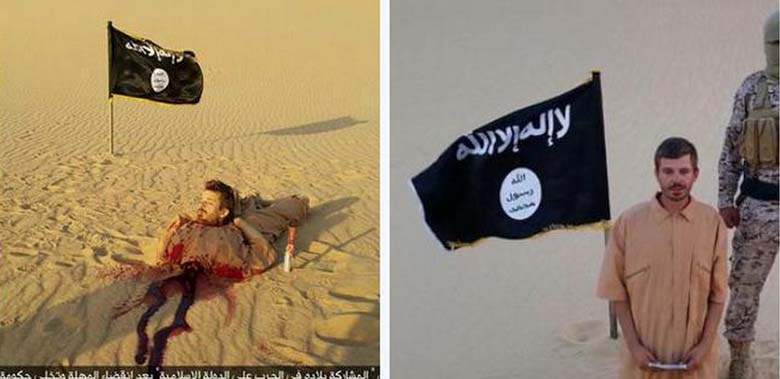 The Croatian topographer was captured by ISIS on July 22 as he travelled to the offices of the French company he worked for in Cairo as a surveyor.
The man's slaying came after a video circulated on Monday, in which ISIS had demanded 30 million dollars ransom to release him and threatened to execute him within 48 hours if their demands were not met.
Initially, ISIS were thought to have demanded the immediate release of Muslim women locked up in Egyptian jails but they did not clarify who.
In the initial ransom video showing Salopek, the captive father-of-two gave ISIS's demand for his release. He said: 'They want to substitute me for the Muslim womans arrested in Egyptian prisons. 'These matters have to be achieved before 48 hours from now; if not, the soldiers of Sinai Province will kill me.'
Egypt had no plans to follow through with ISIS' demands and the deadline passed. The demands came from 'Wilayat Sinai', or the State of Sinai, a portion of the Sinai peninsula currently occupied by the Islamic State.
A spokesman from the Egyptian Interior Ministry's press office said: 'We have seen this news online but are currently making our own checks. If we confirm that it is indeed true, we will inform the media through a statement.'
Pictures: ISIS beheads three gay men in Iraq. Two were a couple.
Yemeni boy locked in cage and set alight in ISIS imitation by children.
ISIS throw off another gay man from top of building. Crowds cheer.
Next generation of ISIS video shows 5 year olds training learning how to kill
Pictures: ISIS mob drag three Syrian soldier corpses through streets
Video: ISIS beheads 21 Egyptian Christians in Libya.
Video: ISIS parades 17 Kurdish fighters in cages. Promise to burn alive
Video: ISIS execute Syrian prisoner shotgun point blank.
Video: ISIS behead man for witchcraft. Large crowd gather.
NSFW: ISIS burns captured Jordanian pilot alive video and photos
NSFW: ISIS throw man off roof for being gay then stone him.
NSFW: Female Kurdish freedom fighter Rehana beheaded by ISIS
How Jennifer Williams became the ISIS pin up girl. Blonde tattooed girl from Texas
Aliaa Magda Elmahdy, Feminist activist defecates and bleeds on black ISIS flag
Video: Exiled Iranian women pose nude to protest against sexual oppression
#ISISmediaBlackout: James Foley beheading. Should the media blackout ISIS propaganda?
ISIS orders female genital mutilation in Iraq. Girls from 11 and up
NSFW: Why is ISIS posting mass killing of Iraqi soldiers?