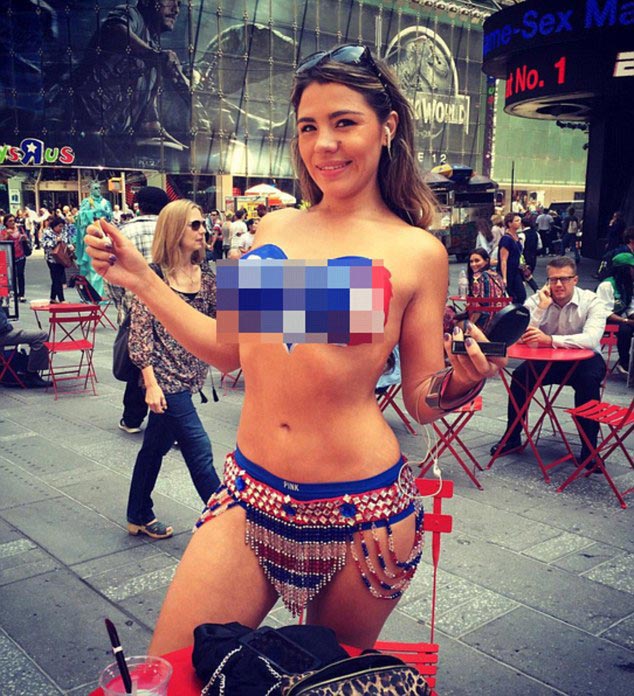 Outrage has come to the fore over an influx of painted topless women prancing in NYC's Times Square and charging tourists to be in photos, with many deeming such action to be inappropriate and offensive, especially as the topless women even now target unsuspecting children.
Perturbing parents is a practice where women cover their bodies in paint, typically wearing nothing save for a thong (being topless is legal in NYC, if it is not for commercial purposes) where they then set out to ask for money for passerbys to pose in photos with them. Which raises the question, are such women skirting the law or are they clinging to the idea of 'artistic' expression? 
According to a report via the nydailynews, the number of topless women gathering in the heavily trafficked tourist area has more than doubled in the last year with about 40 women walking about on the weekends. With some arguing that the increased practice is affecting the quality of life in the area (whatever happened to the grimy seedy NYC we all used to love?) and accusations that the exhibitionists are becoming increasingly aggressive to foraging money out of tourists. 
Whilst some tourists are more than happy to appear in 'holiday snaps' (at a 'suggested' cost of $10), many have increasingly begun to express their ire at what they regard a 'hazard' and the questionable behavior of women who 'carry on' in front of young children.
Offered 38 year old mother, Odessa Leitch, when the women 'performed' in front of her 12 year old son and daughter: 'It's inappropriate.'
Said parent of a four year old, Sarah Lorei: 'It is offensive,'
'It doesn't make me feel so angry that I want to leave, but I wasn't really expecting to see anything like that.
'Naked women walking around is for Las Vegas, not New York.'
Told parent, Parfait Mutimura: 'I understand New York is all about self-expression but there are a lot of kids out here,'
'They could keep these women in a different spot, away from the Disney characters, but they wouldn't make as much money. 
'That's what this is about, right?' 
Chris Oliveri, 25, who works with one group of women, added: 'It's not a business, it's a hustle.
'If you're not working from every angle, you're not making money.'
Never mind the over sexualized billboard images that make up long stretches in Times Square in full view of old and young alike
Mason Hunt, 37, who paints a group of the women each day, also had his own personal theory as to why the number of women drawn to topless posing for cash has gone way up:  'When you have something so good, it's going to explode,'
Adding with a caveat:  'It's artwork, expressing the most beautiful thing in the world — a naked woman's body.'
Time will tell if exhibitionists will find themselves the subject of future vilification and the gaze of authorities or whether they will simply all disperse once the weather starts getting cooler in the weeks ahead as we enter the last weeks of another hot 'sexy' summer in NYC.