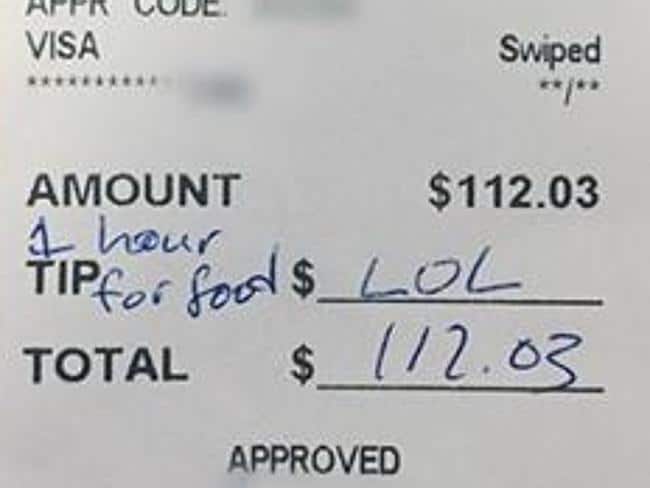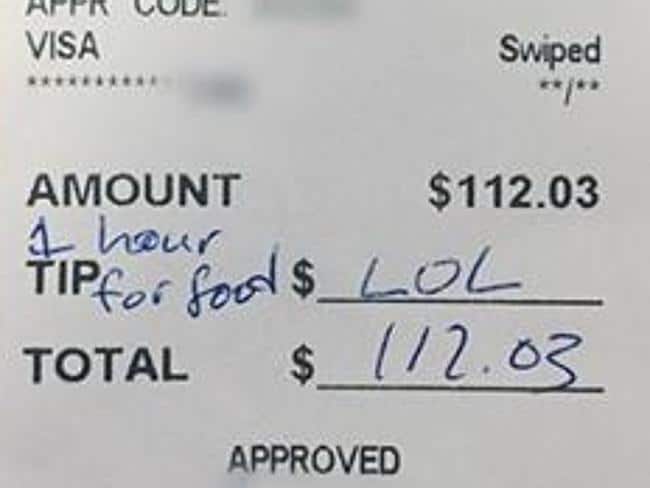 Jessica Jones a NJ Rutgers college student working as a waitress to put herself through school has spoken up after a party of eight diners stiffed her on a $112 restaurant bill and leaving a 'LOL' in the place of a tip when paying. 
In a Facebook post since shared more than 8, 900 times, the student posted a copy of the $112.03 bill from D'Jais Bar & Grill in Belmar, New Jersey.
In her post, the waitress pointed out that though their kitchen was 'a bit busier than normal,' resulting in an hour's wait, during which time Jones did everything she could to keep her guests company. This while earning a scant $2.50 per hour.
Jersey's minimum for non-tipped jobs, meanwhile, stands at $8.38. So much for being a server in an environment when the tables aren't churning or guests aren't acknowledging social protocol.
Wrote the waitress in part: 'Most of my paychecks are less than pocket change because I have to pay taxes on the tips I make. I need tips to pay my bills. All waiters do,'
'We spend an hour or more of our time befriending you, making you laugh, getting to know you, and making your dining experience the best it can be. We work hard, and we really do care.'
Added Jones: 'I would have preferred a '$0' tip than a 'LOL' tip, but as a waitress, bad tips and harsh notes are all part of the job,'
'Even though they did wait an hour to eat, they remained satisfied with filled drinks and proper notice that the kitchen was a bit busier than normal. I've worked in the service industry for five years and I take pride in providing great service for my customers.'
Jones summed up her experience waiting on the taunting table of eight as 'cruel and unnecessary but sadly it's not uncommon.'
In her since viral gone post, Jones asked that others be mindful and 'good to your waiters.'
'I know it's annoying when things aren't right. I know how aggravating it is to receive a hefty bill when all night you've been wondering why the table that came in after you was served before you. But waiters are mere messengers most of the time, and it's wrong to shoot them, however bad the news.'
Among those sharing her post was the city's mayor who called the diners' behavior 'ridiculous.'
'If you visit Belmar please treat the hardworking men and women in our service industry with the same respect you would expect at your job,' Mayor Matt Doherty posted.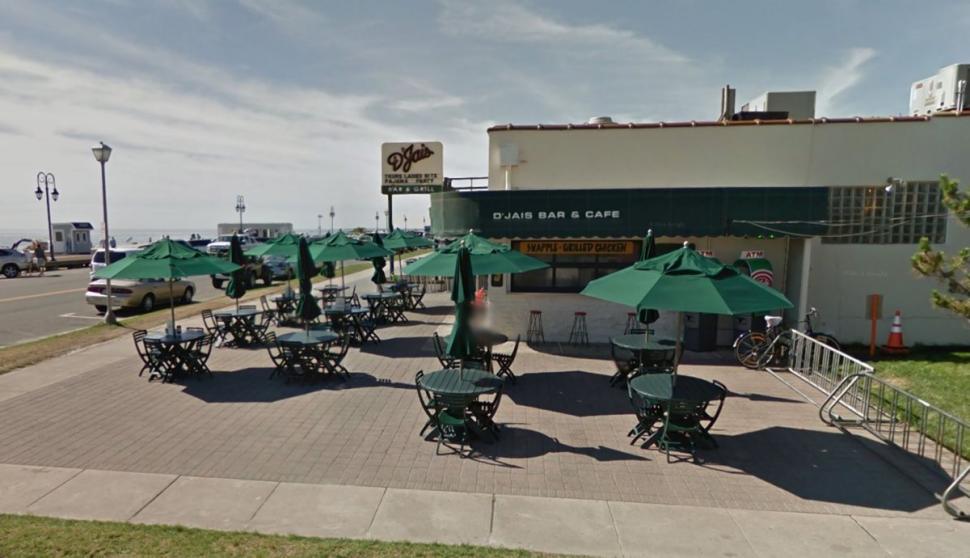 The incident has once again prompted debate as to how servers ought to be compensated and who ought to bear culpability if diners are inconvenienced and what counts for good dining behavior. What do you think?
Here are some comments on the web that made me wonder, see what you think?
Poor/good service is the responsibility of the restaurant, management, staff. These customers received poor service. Isn't it about time restaurants take responsibility for that which they control? Did the restaurant comp drinks, appetizers for the long suffering diners? No? Sounds like a management issue to me. Get a job in a well run restaurant; tips, to insure promptness.
Quite honestly, I don't wait my waitress's company, I don't want her to make me laugh, I don't want to get to know her. I want her to listen to my order, get it right and bring me my food and help me if I need anything. I don't think it was right to not tip her but I wonder was she honest with the patron? Did she aplogize for the long wait? Did she explain they were having trouble in the kitchen? Perhaps this patron should have complained to the manager and maybe gotten their meal comped or the bill lessened, and then could have tipped the waitress. Just not tipping is the coward's way out.
The waitress doesn't prepare the food, the chef does so why penalize her when she was upfront with you from the beginning? This message should have been for management if you weren't such a coward or cheapskate!
A tip is for good service which these people obviously felt they had not received. Well within their rights. As a side issue why does the richest country in the world pay people $2.50 an hour and expect customers to tip regardless to ensure staff have a living wage. Pay the going rate for the job. I HATE the tipping culture in the US