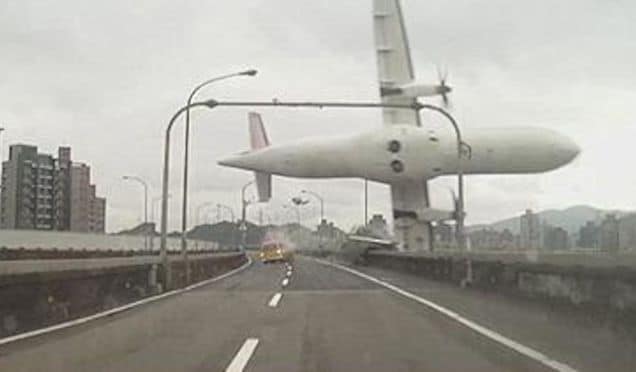 A report has been released detailing the moments before a TransAsia Airways plane crashed into a river in Taiwan in February and killed 43 out of the 58 on board.
According to investigators, the Tapei harbor crash could have been averted, when one of the engines suddenly cut out upon take off, had one of the two pilots not turned off the wrong engine.
An acknowledgement that a TransAsia pilot is heard saying in black box recordings conceding that they turned off the wrong engine in an attempt to prop the ailing plane.
Told the pilot, Liao Chien-tsung, 42, moments before flipping over a bridge and into the harbor, 'Wow pulled back the wrong side throttle.'
Mayhem would take place after the ATR 72-600 model plane when one of the twin engines of the aircraft stopped producing thrust just after take off from Taipei Songshan Airport.
The report courtesy of Aviation Safety Council determined that Chien-tsung thought there was a problem with the left engine, which he shut off less than a minute later.
The crash would lead to 43 deaths, including the pilot and the co pilots. At the time there were 53 passengers, three crew members and two flight attendants. Two individuals driving would also be injured by the debris.
Interestingly Thursday's report stops short of laying blame although referencing human error of one of the pilots.
The report also notes the pilot failing a simulator test in 2013. Although he passed a subsequent makeup exam, the report notes the pilot had 'insufficient knowledge leading to hesitations during oral tests about what to do during an engine shutdown on takeoff or loss of electronic engine controls.'
Since the crash, Taiwan's Civil Aeronautics Administration has put all 55 of TransAsia's ATR pilots through oral proficiency tests on how to handle an aircraft during engine failure.
All but one of the pilots passed the tests, although some needed more than one attempt. The lone failure was demoted in rank to vice captain from captain.