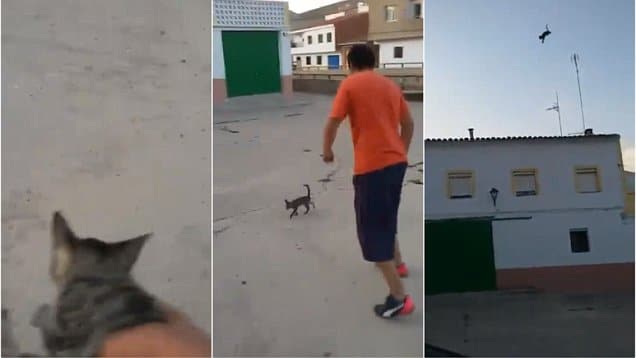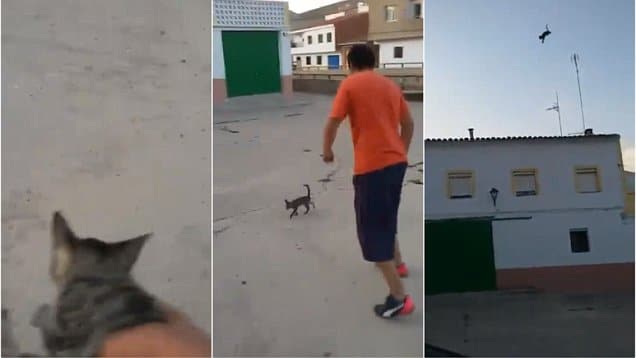 A video (see below) of a cat being kicked high into the air by an unidentified individual has caused Spanish animal rights activists to see red and demand the identification of said individual and their immediate arrest.
The clip, published on Facebook, shows the unsuspecting cat being booted high into the air and then then an audible thud as the animal comes crashing down to the ground.
The cat is initially thrown in front of its tormentor, before he takes a run-up and kicks it with devastating force.
The cat after flying high into the air is then observed landing on the concrete ground on its back, clearly writhing in agony. 
As the incident plays out, bystanders can be heard laughing.
Witnesses would later tell according to a report via the dailymail, the animal suffering broken ribs along with a broken back.
Shortly later the cat died.
Whist the individuals responsible have not been publicly named, Animalist Party against Mistreatment to Animals (Partido Animalista Contra el Maltrato Animal; also known as PACMA) said the culprits involved are two 15-year-old boys.
The Spanish organization was founded in Bilbao and claims to be the only political force in Spain that fights for animal rights. 
Since the video having gone viral, the animal rights group is wanton to have the boys punished and have issued a complaint with the local office of the Spanish prosecutor for minors.
The incident is understood to have happened in the town of Fuentes, in the Cuenca province of central Spain.
The clip was published a few days ago by Spanish user Elena Cabello Vega from Cordoba.
According to her, the cat died because of the ferocity of the kick.
The video has been shared widely on Facebook, with users hoping the attackers are identified and punished according to the law.
At present it is not necessarily understood why authorities have dragged their investigation in bringing arrests forward.