Rita Mattos a 'sexy' Rio De Janeiro, Brazil street cleaner has found herself being dubbed 'sweet babe' after images of the woman posing seductively in her orange overalls were posted online.
With images of the street sweeper going viral after images of Mattos first appearing on WhatsApp the woman has suddenly found herself becoming a cult favorite and new internet sensation.
Adding to the Rio street cleaner's photogenic allure are new photos of Mattos from her Facebook also making the rounds, since galvanizing that nation's avid fascination with the 23 year old.
That said, Mattos who earns around $622 a month has criticized her new found exposure, saying that fans have discriminated against her less beautiful colleagues.
Told the woman via Brazil's Extra newspaper: 'People are surprised when they see a pretty girl working as a street cleaner. 
They say that I could find a better job than sweeping and weeding. But why should street cleaners, necessarily, be ugly? There is a prejudice against them. 
'I'm very proud of what I do. Apart from working very hard, I have a lot of fun too.' 
Mattos, who began her job in March last year according to a report via the dailymail wakes up at 4.20am every morning and works shifts of up to 12 hours, cleaning streets and unblocking drains in the western Realengo district of the South American beach city. 
She said she was used to hearing wolf whistles and comments from men as she worked, wearing Rio's street cleaners' recognisable orange uniform, but she never expected that her job would ever make her a national sex symbol. 
The woman who has been dating another street cleaner for the last seven years, said she was shocked when she first discovered that her photos had been shared hundreds of thousands of times. 
A day later she posted an angry message on her Facebook page telling fans to 'stop sending me requests and asking for my Whatsapp. I won't accept anyone and much less give my number… ok??? 
'It seems like people have never seen a bum, legs and breasts before. I'm a normal person like anyone else. I'm not famous, I'm just a street cleaner. So please stop following me.'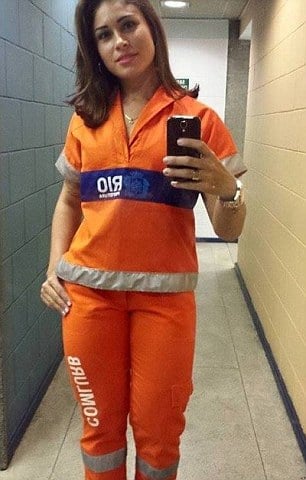 But it seems Rita Mattos may now have had a change of heart as she seeks to take advantage of her new found cache and publicity buzz and try her luck as a model. Indeed.
Reiterated the budding model via Brazil's Extra newspaper: 'At first I thought it was all a joke in bad taste, that people were criticizing me. 
'But later I saw that the comments were positive, praising my beauty. So I'm now taking it well, and hoping that all this exposure will bring me a good opportunity to find modelling work. 
'A lot of friends have congratulated me and told me I deserve this recognition. I've always dreamed of being a model, but I also don't want to build up my hopes.' 
Ms Mattos, who already has an agent, said she is open to any modeling jobs, even posing without clothes. Hmm..
Reiterated Rita: 'I'm here for any opportunities that might arise, it will depend on the offer,'
Nevertheless the street cleaner insists that she won't give up her day job (not just yet …)  which she says helps keep her sculptured body in shape. 
Telling: 'It's hard, physical work, good for a firm body. I also go to the gym every day after I clock off. I'm not the type of person who diets or doesn't eat what they want to. 
'I have to take care of my body for the beach. Looking good on the beach is everything. Lying in a bikini in the sun is all good for me.' 
Adding: 'I'm very independent, I've been working since I was 16. I've always liked to conquer my own things. I hope that will accomplish all my dreams.' 
What do you think? Will Rita Mattos soon be making a new found entry in your dream stakes, gawk at the photos above and below and decide for yourselves …