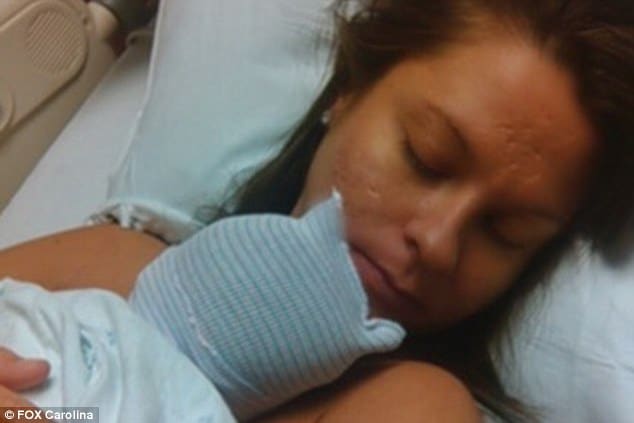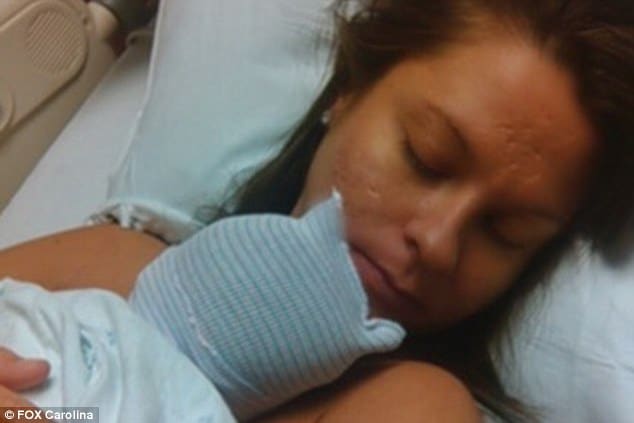 Questions have been raised after new mother Kimberley Rossler's new born baby son was taken from her and given to her adoptive parents despite the Mobile, Alabama mother changing her mind before the child's birth.
Things first came to be when Rossler, 25 discovered she was pregnant with her on and off boyfriend Greg's baby in October last year.
Deciding to put the as of yet unborn child up for adoption with non profit entity, Adoption Rocks, the mother was then put in touch with attorney, Donna Ames who informed the expectant Rossler that she had the 'perfect' adoptive mother for Rossler's child.
In subsequent days, Kimberly was introduced to the adoptive mother – Katherine 'Kate' Gilliard Sharp, a 'single businesswoman' from Birmingham – and agreed for her to adopt her unborn son.
According to a report via The Huffington Post, Rappler claims Ames told her that she would sort out 'all the legal stuff and paperwork', including her 'monthly gift' – a special allowance that would be paid to Rappler by Sharp, as agreed by a judge.
According to Rossler, the lawyer assured her the expectant mother 'nothing was final until the baby was born' – and that the pre-birth agreement she signed in court would simply ensure she received her 'gift'.
She was told that she would have five days to withdraw her consent after her son's birth, she says.
Over the next few months, the expectant mother and Sharp formed a close friendship, sending daily text messages to each other.
Nevertheless at the same time, Kimberly Rappler began to change her mind about giving her baby up, going so far as to confide Sharp about her concerns.
'I began confiding in her about my emotions. I felt myself growing depressed and found myself sleeping day in and out, crying about what life would look like once I gave my baby away,' she said. 
'The conflict within became so intense that I knew I needed help. These weeks were so dark, all I could think was 'I hope I die in labor but my son lives. Kate will be happy and I won't feel the pain.' 
After Donna Ames was also told of Kimberly's worries, she apparently found the pregnant woman a counselor, who helped her to rebuild her self-esteem and enabled her to see herself as a parent.
Soon after, Rappler, feeling more confident about her skills as a mother, allegedly approached the lawyer again and said that she wished to keep her baby – despite feeling bad about 'letting Kate down'.
With the attorney now angered over Rappler's desire to hold on to the baby, Ames allegedly declined to inform Rappler how to back out of the adoption.
Told Rappler via Fox Carolina: 'I tried to tell her numerous times and she just brushed it off like this was nothing, like this happens,'
'I didn't think there was any need to sign anything, because she (Donna) told me that paperwork was not final until after he was born.' 
As her son's birth approached, Rappler began posting potential baby names and images of baby clothes on Facebook.
In response, Donna allegedly contacted the expectant mother's counselor and told them that Rappler was mentally unstable and had stolen Kate's money.
The adoptive mother herself also became angry at Kimberly Rappler, accusing her of stealing her cash.
In her defense, Rappler told she'd spoken to her counselor about paying Kate back.
On May 27, Kimberly went into labor and gave birth to her son, James Elliot Rossler.
'Nothing had prepared me for the intense love I felt [for him],' Kimberly said.
'I finally had peace in my life… I had this unconditional love I have always wanted.' 
Kimberly then took her son home. However, three weeks later, while she was breastfeeding the infant, sheriff's deputies turned up and took James Elliot away.
The child was then handed over to Kate.
Three weeks on, Kimberly has yet to see her son since he was taken away – and has now been told that she needed to withdraw her pre-birth consent to the adoption in writing before James Elliot's delivery, not within five days after it.
Her baby was removed from her care because of 'endangerment' due to 'mental instability'.
It was revealed the judge who signed the order apparently did not realize the case was an adoption.
Coincidentally, Judge Don Davis, who signed the adoption consent papers, is on the Board of Directors of Adoption Rocks.
Responding to the case, Chris Kalifeh, a spokesman for the non-profit organization, said the firm was merely 'a catalyst in the beginning' – and is not involved in the custody dispute.
Meanwhile, Donna said that she worked for Kate as a 'private lawyer' and Adoption Rocks 'has no involvement in the case' – and that she was only told Kimberly had changed her mind on May 20.
'Because it was apparent there might be a problem with the adoption, I withdrew from further representation of the adoptive mother in this matter on May 23,' the attorney added.
A pretrial hearing is now set for July 24.
Rappler's friends have since set up a GoFundMe account called 'Help Bring Baby Elliot Home'.
The page aims to raise a total of $20,000 to help cover Kimberly's legal fees.