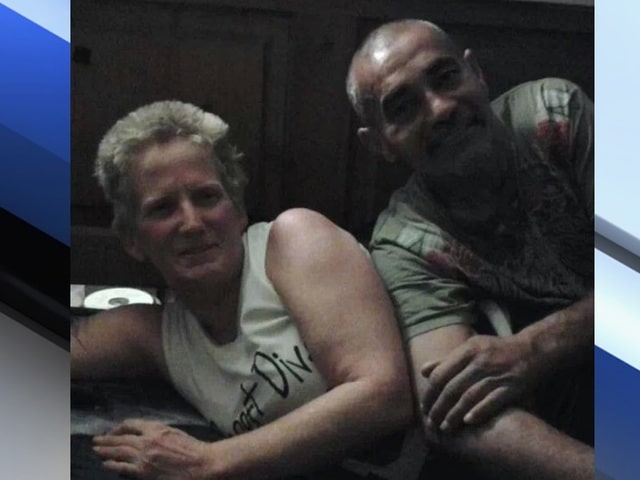 An Arizona man has told that God has forgiven him after a neighbor knocked on the door to check on his friend Trina Heisch, 49 only to be met by the grizzly sight of the woman's husband, Kenneth Wakefield sporting a partially left arm and a missing eye.
When the neighbor, George Loney asked the 43 year old husband what had happened, the husband replied: 'I just killed three members of my family but God has forgiven me.'
Loney told AzCentral.com the man seemed calm and asked him several times for a drag on his cigarette.
In turn Loney ran back home and called cops.
According to investigators, the husband's wife had been beheaded while their two dogs were found cut apart. The apartment's walls were said to be covered in blood to blood. 
Heisch was found in a bedroom closet with the dogs.
Offered Phoenix police Sgt.Trent Crump: 'When officers arrived, they detained the suspect and entered the apartment. There, they found the Heisch's decapitated body inside a walk-in closet. Two dead dogs were also discovered inside the residence.'
Crump closed by saying, 'it was an absolutely horrific scene.'
Crump confirmed the suspect had a 'known mental illness' and that police had handled disturbances at the apartment before. Police also told that the suspect was arrested in 2003 for attempting to kill a family member.
Offered the neighbor via Fox 10 Phoenix: 'It looked like a massacre in her kitchen. Like every other day I go check on them.
'They are mentally ill. [I] went to go check on him…he answered the door; he was naked and there was blood everywhere, so I called the cops.'
Added George Loney: 'I never thought he would kill her," Loney said. 'I never thought that would happen in a million years.'
Family members say the couple married after meeting in a mental-health facility.
According to The Daily Beast the husband, Kenneth Wakefield has been identified by family members but yet to be charged.
Heisch's daughter started a Gofundme page with a goal of $1,000 to help raise money for a proper funeral service and cremation. So far she has raised just $621.
'My mother Trina was found murdered July 25, 2015. We are trying to collect enough funds for her cremation and any services we have for her. Please help fund us to give her the services she needs. please we are asking everybody for their help. she will be greatly missed,' the victim's daughter wrote.