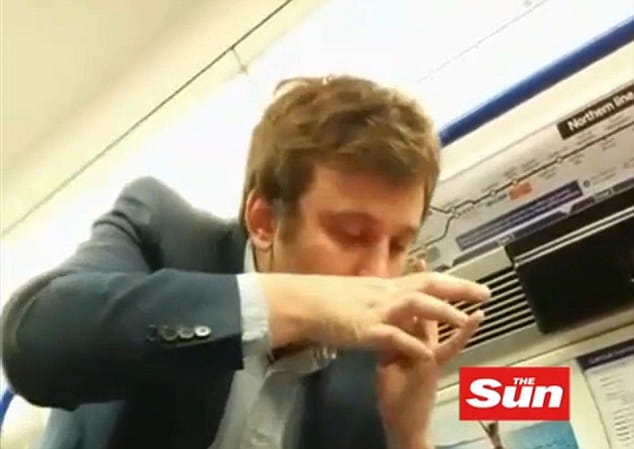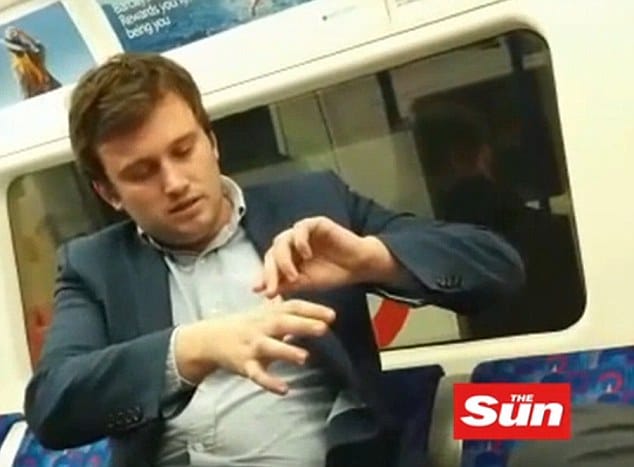 A suited London City worker, Tom Osborne has been videoed (see below) snorting cocaine in front of dozens of passengers on London's underground tube subway.
In the video the 'dazed' drug addict user screams and makes animal noises (I bet…) after snoring the good shit from his hand in the short clip filmed by a fellow passenger.
Incredulously the man makes no effort to hide his actions or offer pretense, even appearing to offer some of the Class A narcotic to those sitting around him.
The video filmed earlier this month and posted by The Sun shows the man seen on a southbound Northern Line between Elephant and Castle and Kennington.
According to the tabloid the man is said to work for a data room provider which help companies store confidential or commercially-sensitive information, was seen making clucking sounds after snorting the drug, before rubbing it into his gums. Naturally. 
Waving a bag of white powder in front of him, the video shows the man telling passengers sitting nearby: 'I just like taking it'. He then adds: 'I'm f****** annihilated'.
The well-spoken man then asks the person filming him: 'You're not a cop, are you?'
According to a report via the dailymail, the man in the video, Tom Osborne is understood to have attended Eastbourne College, a £30,000 ($47K) -a-year boarding school in the East Sussex seaside town, before moving to work in London after a gap year.
The use of cocaine amongst celebrities and artists has been a stable for years but it appears with the riding success and fortunes of city workers and its perception as an 'affluent drug' for affluent individuals, the drug has seen its use by affluent individuals sky rocket.
A report earlier this month named London as the cocaine capital of Europe, with the highest concentration of the drug in its waste water.
Scientists found sewage in the city contained more traces of the class A drug than anywhere else surveyed. It is passed into the network in the urine of users.