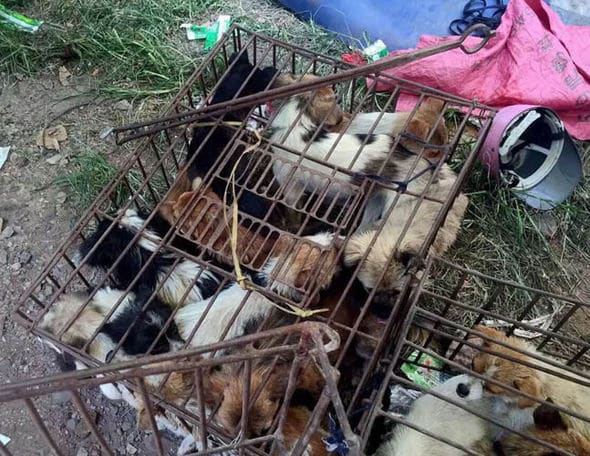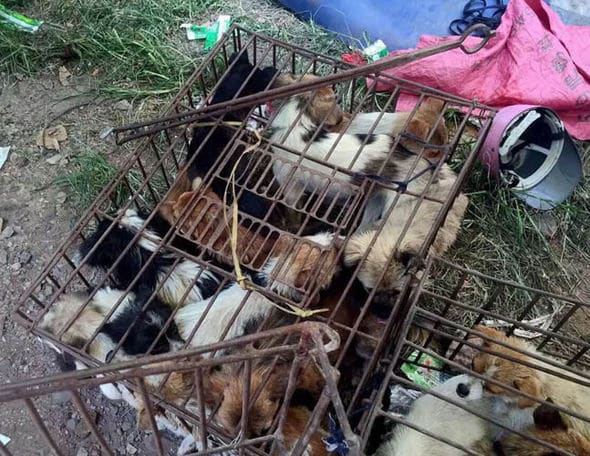 Despite a massive social media campaign, #StopYulin2015 to stop a dog eating festival in celebration of the summer solstice from taking place in China's Guangxi Zhuang Autonomous Region, as many as 10 000 pet dogs, many stolen, have continued to find themselves being slaughtered and the prime 'delicacy.'
Campaigners protesting the festival would on Monday be forcibly dispersed by unidentified men as they attempted to rally outside a government office.  
According to local reports, 10 animal rights activists unfurled banners outside the Yulin government headquarters, before a group of 20 men came and chased them off. 
The campaigners held signs reading 'Crack Down on Illegal Dog Meat Trade' and 'Punish Illegal Dog Transport', nevertheless the banners were quickly torn out of their hands by the unidentified men. 
The slogans are an attempt to appeal to local government officials to enforce existing laws on health and administrative grounds, as there are no rules banning the consumption of dog meat.
Offered Adam Parascandola, director of animal cruelty issues at the Washington DC-based Humane Society:  'Many of these animals are stolen pets, and most of the dog meat trucks coming in are in total breach of China's very clear laws on animals for human consumption,' 
'How much longer can China simply allow the Yulin authorities to flout the law like this?'   
As many as 10 million dogs are killed for food annually in China, with up to 10,000 killed for the Yulin festival, according to the Humane Society. 
Shortly after the protest in another part of Yulin, traders openly sold dogs off the back of scooters as hundreds gathered at a market. Many dogs were kept in tightly packed cages.
Yesterday, undercover footage of the notorious Yulin meat festival, where butchered dog meat is eaten and washed down with lycee wine.
Images have emerged of the stolen family pets and other waifs and strays, stuffed inside cramped metal cages as they are lined up to be sold at the cruel carnival. 
Whether you're an atheist or believer, vegan or hunter, you must agree that torturing a dog then skinning it alive is wrong. #StopYuLin2015

— Ricky Gervais (@rickygervais) June 20, 2015

Despite the festival continuing to take place and the local government doing little to put an end to a practice that has seen many locals and now Western celebrities decrying the practice, including Ricky Gervais and Brazilian supermodel Gisele Bundchen, one local Chinese woman according to an AP report paid $1000 to rescue 100 dogs from the meat festival.
Reports AP: Animal-loving Yang Xiaoyun paid about 7,000 yuan (US$1,100) to save around 100 dogs in the southern city of Yulin on Saturday, web portal Netease reported. The city holds an annual festival devoted to the animal's meat on the summer solstice, which has provoked an increasing backlash from animal protection activists. Reports said that Yang, 65, plans to rehouse the dogs at her home nearly 2,000 kilometres (124 miles) away in Tianjin.
Pictures posted online showed the woman browsing a market in Yulin where the dogs were kept in cages. Activists, who say the festival is cruel, have in the past travelled to the city to hold demonstrations, sometimes buying dogs to save them from the cooking pots.
Locals insist animals are killed in a humane way for the festival, where their meat is then served with lychees.
Nevertheless with more of the population being able to eke out a living and now being in the position to own pets, with an estimated 30 million households keeping dogs as pets, there has been a growing trend to participate in the animal rights movement and put an end to the dog eating practice.
Yulin, the center of the dog meat eating festival has led to the city's government trying to distance itself from the event. '
Some residents of Yulin have the habit of coming together to eat lychees and dog meat during the summer solstice,' the city's news office wrote on Sina Weibo, a Chinese Twitter equivalent.
'The 'summer solstice lychee and dog meat festival' is a commercial term, the city has never (officially) organised a 'dog meat festival',' it added.
Eating dog is not illegal in China, but the government called on meat vendors to respect food safety laws. 'Yulin is an open, tolerant and civilized city,' it said.
'We welcome people across the world to pay attention to Yulin.'
Of the dogs that do survive oppressive storage and carting to the festival, the fate awaiting them hardly renders one of redeeming proportions.
Explains the dailymail: Those who do survive are clubbed over the head and have their throats cut open before they are thrown into boiling water. The butcher then plucks all the hair, removes all the organs and puts the dog on the grill. While it is legal to eat dogs in China, the country has no law protecting the welfare of pets but its Ministry of Agriculture has strict rules which require every cat and dog to have an 'inspection certificates' before they are transported.
A next to impossible task given the reality that most dogs set to be consumed in the days ahead have been stolen. Instead dog meat traders produce 'fraudulent documents' to circumvent local laws Some slaughterhouse owners admitted they did not have 'quarantine certificates' and local health inspectors never visit to check out the animals – many of whom look visibly sick.
That nevertheless hasn't stopped the throngs of festive goers who continue to patron the festival and heartily eat the dog meat on display. Why isn't clearly understood …
What a great civilization is this? #china #StopYuLin2015 pic.twitter.com/amai3165S5 — Miltiadis Benakis (@BenakisM) June 22, 2015
Meet the Chinese butchers #Iseehumansbutnohumanity #StopYuLin2015 #EndYulinFestival #AnimalProtectionLaws pic.twitter.com/Dx5rRan6KU

— Axelle Doumerc (@AxelleDoumerc) June 22, 2015