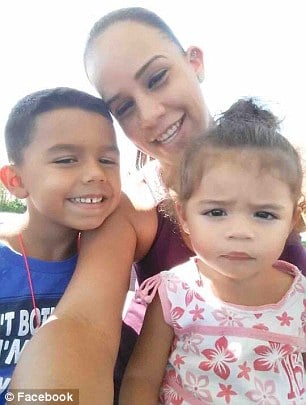 Police are still trying to unearth a motive as to why Florida grandmother, Nilda Sheffield, 53 over the weekend killed her daughter and two grandchildren before taking her own life.
Shot dead was Elizabeth Flores, 30, and her children Xavier Neff, 7, and Sofia Chido, 2, at the family's house in Greenacres, in the 4600 block of Chariot Circle.
The bodies of all four were discovered with gunshot wounds by a family friend on Saturday after they were unaccounted for since Friday night.
According to the Palm Beach Post police have since called the case a murder suicide.
To date cops have declined to tell in what order the deceased were shot and how they necessarily came to the conclusion that Sheffield had instigated the carnage?
Neighbors remembered the family as a quiet bunch, and said that while there have been robberies in the area, they were shocked by the violent incident. 
Linda Pilotti said that she heard loud sounds around 8pm, but thought they were fireworks.
'We heard like firecrackers and I said to my daughter are you sure it was fireworks. She said ya mom it had to be fireworks last night so we didn't think about it,' she told CBS 12.
Offered a neighbor who lived directly next door: 'They were quiet people,'
'That's all I have to say.'
Whilst another neighbor, Jacqueline Sanchez who lives a few houses away from the crime scene offered: 'I think it was just an emotional thing that she must have been going through.'
Another neighbor would add that she wasn't surprised given the 'quality' of the individuals who lived in the area.
A fundraising page for the family has raised $4, 100 for the funerals.
Neighbors said the family had lived in the neighborhood for about five years. Neighbors also created a small candle memorial to the victims.
The homicides are the fifth, sixth and seventh in Greenacres this year.