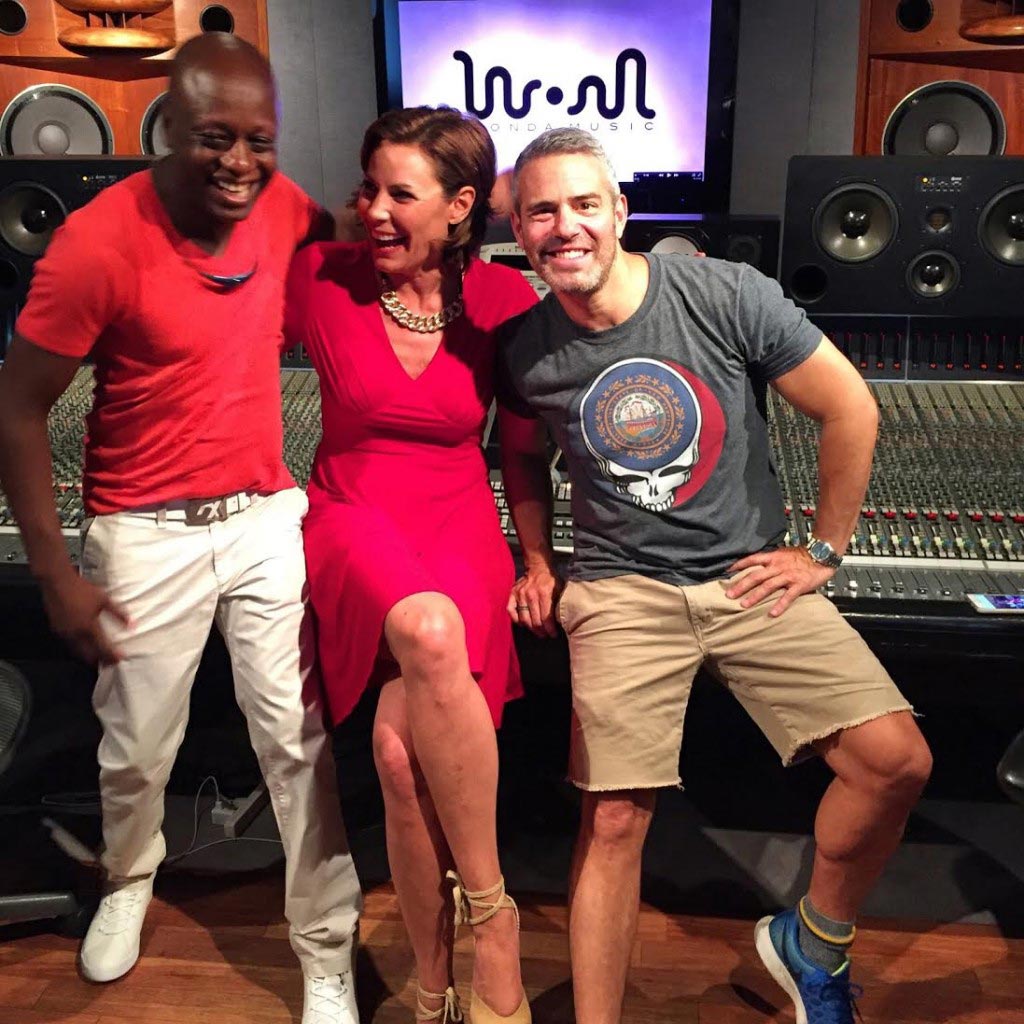 Whilst Luann de Lesseps may have had her ups and downs with previous hits on the reality and music circuit, the diva (and I say that with love…) has (finally…) come out with a winner with her latest hit, 'Girl Code: Don't be so Uncool'  (see video below) with maestro and world class producer Jerry 'Wonda' Duplessis.
Responsible for some of the nation's enduring pop anthems, including Shakira's Hips Don't Lie, Lauren Hill's 'Killing Me Softly' and the producing talent behind some who's who of top recording artists including Justin Bieber, Mary J. Blige, Melissa Etheridge, Akon, Swizz Beatz, Lil' Wayne, Jerry Wonda is often the real unspoken talent who conceives, implements and executes and puts us mere mortals in heaven scent mode.
A visit to Wonda's Platinum Sound Recording Studio off Times Square before Lesseps and Jerry made it to Andy Cohen's Bravo's live telecast last night (isn't Andy looking suave in those sharp shiny suits of his …?) had me in the company of both Luann and Jerry as the Countess was giddily anticipating another foray in front of our collective conscious. 
Yes Luann was made for loving us ….
Reining over a sprawling multi compartment studio, the man who firsted started singing and performing at church in downtown Newark with his cousin Wyclef Jean in 1991 before transferring to the local Booga Basement (and Jerry's mother feeding the thronging congregation with her Haitian fare) before morphing into the Fugees (and the rest is multi Grammy award history…) has since become part of the ongoing cultural dialect.
The man himself is a bundle of combustible energy, his eyes forever darting behind the notes, the syntaxes, the assemblies, the beats, the melodies, the verve and pounding to be let into our hearts. 
He leads me around to his sprawling studios, the many rooms where he sets up his magic, takes a single beat and begins morphing it, arranging it, singularly deconstructing and reconstructing, arranges score, singularly playing bass guitar, drum, each note flooding his ears, old school talent, home grown recipe, where he ultimately builds and flushes hit after hit after hit.
Scallywag: 'How do you do it Jerry?'
That was the first and most important question I wanted to get out.
'I listen, I pay attention. I feel it, I give everything I got. It's always 100%'  responds Jerry.
'Luann she's larger than life and I just went with the flow. Luann had her daughter Victoria come in and we worked with my team Angela Hunte, DJ Buddha, Arden Keyz and Robert Aaron and we just put something together. It's what I do' 
'Can I mention, dear thanks to David Hyrck for bringing Luann to me. It's important to give credit where it's due.'
The song, Girl Code, is a testament to the staying power of independent women who know how to own their lives, get the men and love they deserve (dare I say…) and who aren't shy about announcing their presence and arrival, especially in front of other like minded women along with knowing not to tread on their girlfriend's toes. A misnomer and probably a lost cause for Luann's wacky Real Housewives of NY tv cast mates.
Never mind Luann, I still adore you.