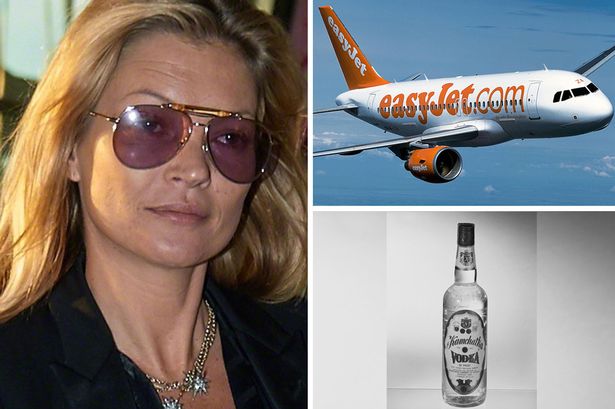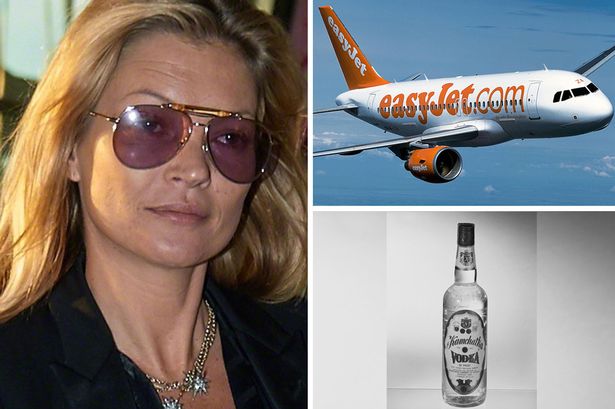 Supermodel Kate Moss, 41, has once again shown us mere mortals how one's looks, money and fame chops can give one the right of way, even if one is totally annihilated drunk, disorderly and prima donna nuisance.
My hero Kate Moss gets trashed (again).
Kate Moss arrives at the Dazed and Confused party utterly drunk out of her mind.
THE DISINTEGRATION OF KATE MOSS.
Told the vodka bated model returning from Turkey whilst on board easyJet flight EZY2232 to the flight's captain after caught swilling from the good stuff: 'Basic Bitch.'
According to the bbc, the honorary slur came as the model was being led off the plane after drinking vodka she pulled from her cabin luggage according to fellow passengers after flight crew had declined to serve her any more of the good stuff.
At the time, the 41-year-old supermodel was flying back from Bodrum, Turkey – where she had been celebrating the 50th birthday of actress friend Sadie Frost – when the model let her alcoholic problem bad manners get the better of her.
In turn, the model was escorted from the plane by police at Luton Airport after becoming 'disruptive' (such a kind non offensive and not too revealing description) causing the pilot to phone ahead and ask officers to meet the flight.
Interestingly no arrests were made.
A fellow passenger who witnessed the ordeal claims our collective hero was refused alcohol leading to her highness pouring herself vodka from her cabin luggage. 
Why decline?
Told the passenger via the UK's dailymail: 'She called the pilot a "basic b****" as police led her off the plane, she was a little drunk and had a disagreement with another passenger on the flight as she was refused alcohol and then went to serve her own vodka from her cabin luggage.
'But she was not aggressive to anyone and was funny really, the easyJet crew was acting out of proportion.' 
added the woman: 'As we left the plane, Kate and her friends were stood with police and another passenger was stood separately talking to another officer.
'This lady was then complaining to other passengers in the baggage hall about Kate. Kate and her friends then arrived in baggage claim.'
She added: 'Whilst on board they kept themselves to themselves but appeared to chat to the family next to them…..including playing hairdressers with a young girl.'
Offered a spokesman for Bedfordshire Police via the UK's mirror: 'We were called to assist staff in escorting a passenger from a flight arriving into Luton airport this afternoon. 
'The passenger had been reported as being disruptive on the flight.
'Officers attended and escorted the passenger from the plane. No formal complaints were made against her and she was not arrested.'
Reiterated an easyJet spokesman yesterday: 'EasyJet can confirm that police met flight EZY2232 from Bodrum to London Luton today due to the behavior of a passenger onboard.' 
The fiasco would coincide with Sadie Frost posting a picture on Instagram of her pals relaxing following what the actress described as an 'inspirational week' in Turkey. Wrote the actress: 'Bye bye Turkey …. Thanks so much for such a girlie yet inspirational week – will remember it forever – you all got me ready for the big half a century!!!' The latest controversy comes nearly a year to the day since the supermodel was spotted arriving at Turkey's Bodrum Airport reportedly looking a little worse for wear. Twitter users shared their shock and excitement to see the star on their flight last July, with a number claiming she looked 'drunk.' One user wrote: 'Just got off my flight with a very drunk Kate Moss.' Another added: 'Seen Kate moss drunk in the airport.'