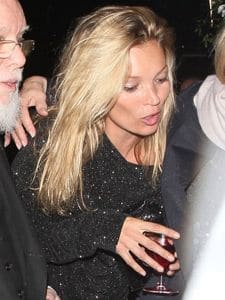 Kids before we continue reading this article out of fairness to Kate I want you to all run to your liquor cabinet and start drinking back to back three of the best bottles of moonshine you can possibly find. Only then can we all find ourselves in the same stupor frame of mind that our collective hawt bixch Kate Moss found herself last night at Daze and Confused's anniversary party in London.
As luck would have it our heroine arrived at last night's fete completely and utterly drunk- just as the waiting paparazzi had wished, who's business it is to to make lots of money as many times as possible from the seemingly misadventures of our collective media whores. Of course in Kate's case this is hardly a misadventure it's a prolonged rite of passage and who are we to deny her the pleasures of a miserable life the good life.
Upon stumbling out of the taxi (with her own glass of red wine- why decline!)  our heroine stumbled into the waiting arms of a homeless drunk, the idea of which must have excited Kate who then in earnest began a long-winded discussion with him to the horror of her high society friends.
Finally pulled aside our highness continued to make a mess of things inside where she spent the night getting to know the bottle of moonshine in her handbag in intimate terms before waking up this morning in chunks of vomit from which she most likely scrawled the following words:
One day when I hold my head up high once again I will giddily smile at the universe with the full knowledge that I did it all my way with a little bit of help of some well aged moonshine.
Such are the affairs of certain supermodels on another night of the town…if only you could be a drunk supermodel too …unless of course you already are.
IF YOU WATCH CAREFULLY YOU WILL NOTICE KATE MOSS IS JUMPING OFF THIS FRENCH YACHT TOPLESS. WOW!
KATE MOSS WANTS TO BREAK DOWN HOW SHE WILL SPEND $800 000 ON HER 3 DAY WEDDING PARTY NEXT FRIDAY.
THE DISINTEGRATION OF KATE MOSS.