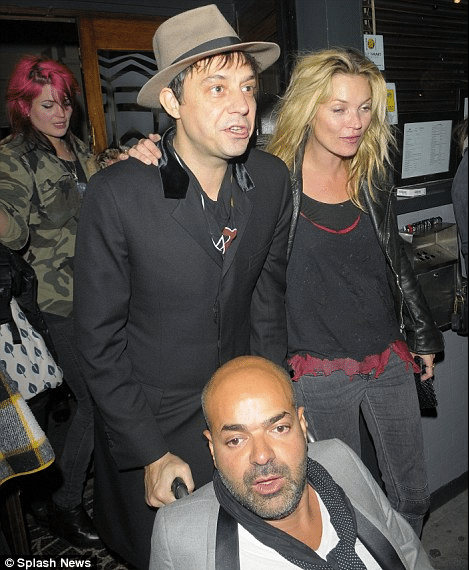 Life in the fast lane…Who said Kate doesn't have a drinking problem?
Kids,me and the chipmunks, Fyodor and Mazeltov have been clapping with joy this morning. Why you wonder? Because nothing pleases us more than the knowledge that our mate Kate keeps the party cruiser, 'I know how to drink more than you,' rearing at full pace.
dailymail.co.uk: If a picture tells a thousand words, then these photos of Kate Moss are a perfect indication of her night out. 
The supermodel has been pictured on numerous occasions in the past looking worse for wear, and these were no different. 
Kate, 37, left the famous Box nightclub in London's Soho district with her husband Jamie Hince and it was clear that she'd had a whale of a time.
Kate having a whale of a time? But isn't that to be expected? What we would think if suddenly we were exposed to images of Kate sitting around in some bookstore quietly sipping camomile tea quietly brooding to herself, 'I must stock up on as many self help books as I can?' That would admittedly be alarming, and not the type of thing that we ought to be talking about.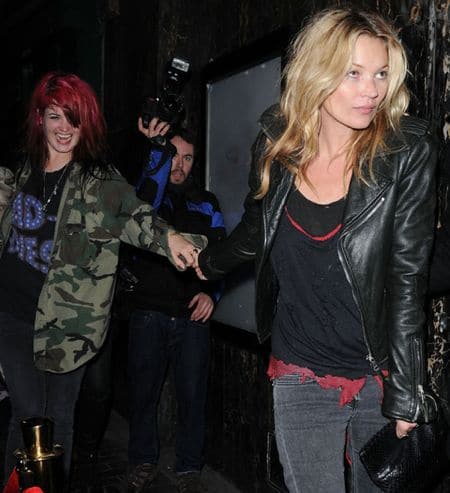 Wearing a leather biker jacket, black top, grey jeans and a pair of black ankle boots Kate exited the club with Jamie's Kills bandmate Alison Mosshart and TV producer Ash Atalla – who they pushed along in his wheelchair. 
But it was her face, and an apparent loss of control of her eyes, that garnered the most attention.
An apparent loss of control? Kate? Hardly. This is Kate in her most supreme moments of self control. In fact I'm willing to bet Kate was so controlled that she managed to walk out with three pina coladas in her purse just to make sure she kept the party going to where ever it was her and her perfect squeeze Jimmy Bobby were going.
Obviously in high spirits in what was no doubt a raucous night out for the gang, Kate in particular appeared worn out to say the least. 
And they couldn't stop beaming as they jumped into a black cab and headed off home, where the party may well have carried on.
Couldn't stop beaming cause frankly there's nothing to cry about; an overtime supply of booze, a lifetime's supply of stale cigarettes, a recyclable cache of durable straws when the sniff moment arises and a bountiful of good will and cheer as the cameras keep rolling. Such are the high jinks you and I can never get enough of.
Don't you wish you could the life of an out of control top model too? Of course you do…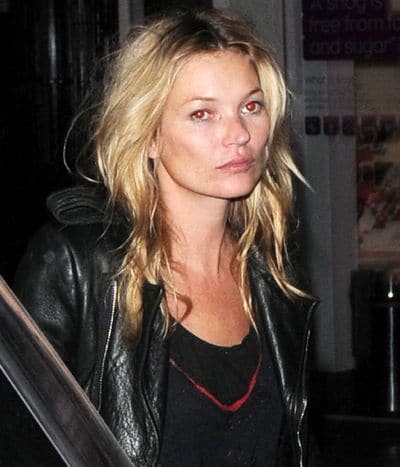 Kate Moss arrives at the Dazed and Confused party utterly drunk out of her mind.
IF YOU WATCH CAREFULLY YOU WILL NOTICE KATE MOSS IS JUMPING OFF THIS FRENCH YACHT TOPLESS. WOW!
KATE MOSS WANTS TO BREAK DOWN HOW SHE WILL SPEND $800 000 ON HER 3 DAY WEDDING PARTY NEXT FRIDAY.