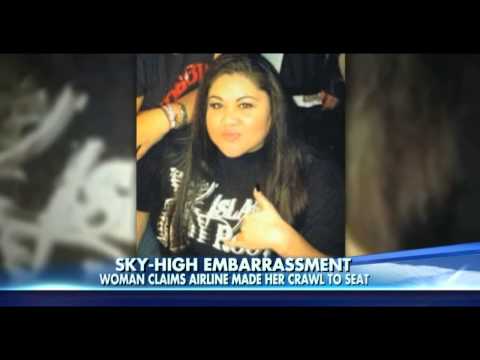 Theresa Purcell a disabled hip hop artist has filed a lawsuit against American Airlines after alleging she was forced to get out of her wheelchair and crawl on to her seat because it was too late to set up a ramp.
In her suit the woman claims she was left humiliated as she crawled to her seat in front of dazed passengers before a commuter flight from San Diego.
Asked why she had been forbidden from being allowed to board from her wheelchair the woman claims a flight agent at the gate told her it was too late to set up a ramp to the plane's door.
In an interview with KHON2, Theresa Purcell said American Airlines had since apologized for the incident, but nevertheless told she is intent on filing a $75,000 lawsuit to prevent the same embarrassment for other travelers who require a wheelchair.
Reiterated the woman: 'I crawled up onto the steps. I crawled into the plane. There was no other way for me to get on the plane so I crawled up to the plane.'
Adding: 'I was humiliated. It was embarrassing to have 50-something people watch you crawl into a plane.'
Theresa Purcell, whose mobility is limited due to a bone disease, said it was the first time she flew with American Airlines, the largest carrier in the US based on passenger traffic.
She claims she alerted the airline ahead of time she would require a ramp, telling she was shocked when she was told she wouldn't be provided with one, even though one was located next to the plane.
Said the woman: 'You wouldn't want to watch your family member crawl on to a plane.
'I mean, come on, this is America. I'm just saying there's always a way.'
The hip-hop artist who frequently travels by plane, said the gate agent told her it wasn't possible to use the ramp she had spotted.
Her lawyer wrote a letter to American Airlines seeking compensation, but the injury claim was denied.
Wrote back the airline on behalf of the woman's lawyer: 'Thank you for your letter of demand on behalf of Theresa Purcell. American Airlines will not be issuing any compensation for your client's injuries claim.'
Not surprisingly, the woman is vowing to never fly with American Airlines again.
Purcell is now suing American Airlines under the Air Carrier Access Act, which protects people with disabilities seeking $75,000 in general damages, plus punitive damages.
What do you think? Was Theresa Purcell given the short end of the stick?
And then there were these comments on the web that caught my attention. See what you think?
First of all, be on time for your flight!! You should know this if you travel often. The airlines always board everyone that needs extra time to board the plane or assistance with boarding, first. You cannot show up late at the gate and expect the airlines to delay the aircraft which could, and usually does, cause connecting passengers to miss their flights, even if you are disabled!! Also, the flight crew will often need to run to another plane to operate another flight from the same airport. The airline world does NOT revolve around YOU!
There was a delayed connection, so she was late to the gate. But you don't seem to be interested in the actual facts of the case, since it's easier to make up your own.
The matter of law is that she arrived at the gate during the window for boarding and was not involuntarily denied boarding by AA – which would have triggered a large cash penalty. Rather, they said she could board but refused to provide the assistance mandated by law.
AA has admitted to this violation.