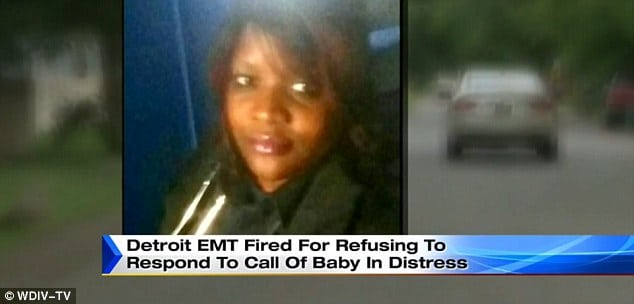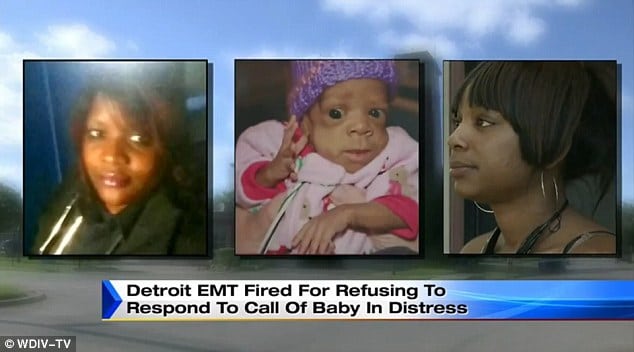 Ann Marie Thomas a Detroit EMT paramedic has been fired after refusing to help a premature baby with a dire medical emergency need who later died.
Things first came to a head when Thomas received a call on May 30 advising that a girl had stopped breathing.
After arriving near the scene the woman refused to save the child, despite the fact she was less than a mile away from the family's home on the west side of the city.
Instead according to a report via WDIV-TV Thomas parked her emergency vehicle around the corner from the house where the baby, Anaya Wright-Trussell lay struggling to breathe. 
Thomas then waited a further six minutes before contacting dispatchers, explaining that she did not want to enter the home because she feared how the family would react to her.
Authorities have not made clear why Thomas hesitated in entering the home and treating the child.
Thomas's reticence would lead to the dispatcher's call pleading with her to help the baby who was just two minutes away being released.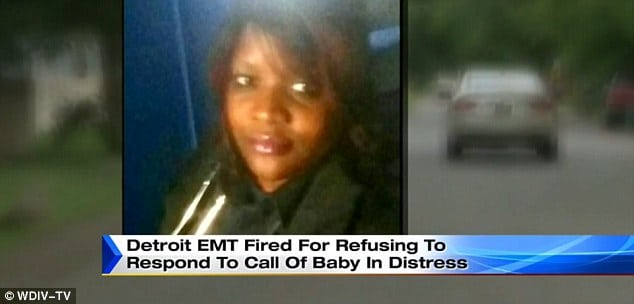 'I'm going to need you to make that scene,' the Detroit Fire EMS supervisor told Thomas. 'You're going to have to make patient contact.' 
Thomas responded: 'I'm not about to be on no scene 10 minutes doing CPR, you know how these families get.'  
Responds the dispatcher: 'Uh, Romeo 33? Updated information that the child is not breathing. The baby was hooked up to an oxygen machine because it was premature. Romeo 33?'
Nevertheless Thomas and her partner refused to budge. Instead the EMT workers insisted on waiting for another crew to arrive.
The little girl was eventually taken to Sinai-Grace Hospital by a different ambulance, but died the next morning.
The baby, who was born premature, relied on an oxygen machine.
Reacting to her child's death, Janee Wright-Trussell, the child's mother said: 'My daughter would have been here if she just came around that corner and responded to my cry for help.' 
An investigation determined that Thomas and her partner were in a SUV which had all of the equipment that an ambulance has. It was designed to help medics get to patients much faster than normal. 
Stated a report: 'The actions of EMT Thomas directly contributed to an approximately 19 minute response time from time of call to Romeo 33 making the scene for a baby not breathing.'
Responding to the firing, Detroit fire commissioner Edsel Jenkins said: 'Today, [Wednesday] we conducted an appeals hearing, which Ms. Thomas requested.
'After reviewing all of the facts of this incident, I have determined that the appropriate course of action is to terminate Ms. Thomas' employment with the Detroit Fire Department effective immediately.' 
Thomas will not face any criminal charges.
And then there were these comments on the web that made me wonder, see what you think?
Ok, after doing cpr for 10 minutes and alone in the house, she turn o the family and says the baby is dead.  Whom do you think will take the brunt of the emotions, anger and pent up hostilities – the EMT…..  EMT work IS dangerous. 
This may come as a shock to you but not everybody in low income neighborhoods are bad people.  There are really nice, honest people too.  And I'm sure the mother just wanted help for her now dead baby and I don't think she cared about anything but saving the baby. 
In a lot of jurisdictions they don't send EMS w/o law enforcement backup. While I'm not defending this woman, you at least have to understand WHY she wouldn't go in alone. There have got to be a LOT of instances where paramedics have been put in danger in this area.
What do you mean she won't face any charges? She willfully ignored this mother's cry for help and should have to pay for that. If this child was my daughter, I would sue her personally and the Detroit Fire department so they will make sure this never happens again.