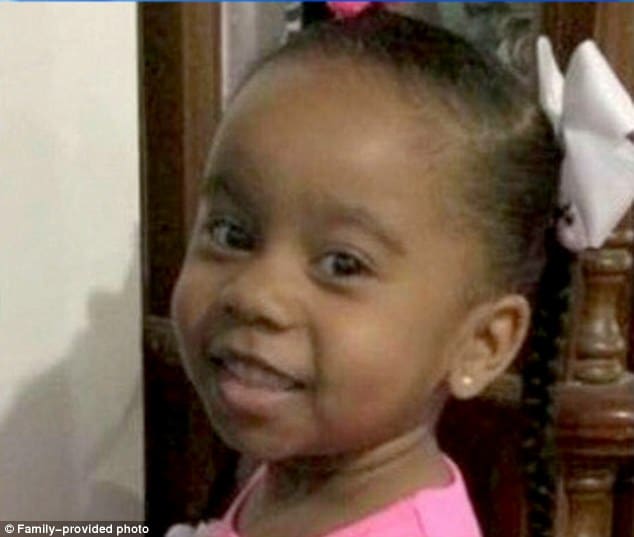 Cops are treating the discovery of a two year old's deceased body as homicide after a dog walker came across the body of Pittsburgh toddler, Adrionna Williams on Saturday night in the woods.
Questions surrounding the girl's death come after the baby infant was found just before 8pm in a shallow ravine near Chalmers Street, a road that has been closed to cars for some time but is accessible by foot.
Swissvale police Chief Greg Geppert said he was told the girl's family said she had walked away from the house, but police do not think the girl walked alone to the spot where her body was found and that she may have been taken there after she died.
Investigators also do not believe the girl had been abducted by a stranger and they are treating her death as a homicide.
Reiterated Allegheny County homicide Lt. Andrew Schurman via the Pittsburgh Post-Gazette:  
'At this point in the investigation we do not believe the child walked to the location where she was discovered,' 
An autopsy begun on Monday has yet to confirm how the toddler came to die.
Adrionna Williams' case came to light after her family reported her missing at 7:05 p.m., telling Wilkinsburg police she was last spotted alive about 6:30 p.m. 
Less than an hour later, a woman who was walking her dog spotted the missing toddler's body.
Cops reported there were no signs that a violent crime occurred where Adrionna's body was found. 
At present police are interviewing friends and relatives of Adrionna, trying to piece together her last hours alive and to determine what happened in the time between when she was last seen and her body was found, and in whose company the girl was last in before she turned up murdered.
Motives for the toddler's death as of yet are not necessarily understood…
Anyone with information is asked to call the County Police Homicide Unit at (412)-473-1300.
LATEST – Homicide of Adrionna Williams, 2, shocks community; a vigil was held in her memory. #wpxi pic.twitter.com/fawkNI6vw2

— Joe Holden (@WPXIJoeHolden) June 16, 2015