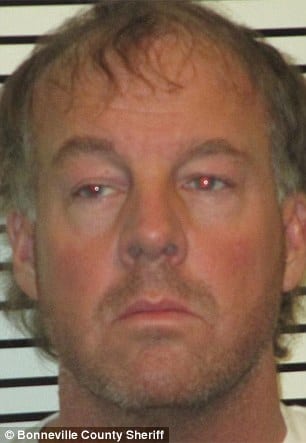 Melvin Savage a 44 year old Idaho Falls man has been sentenced to 19 years jail after setting fire to the home of his ex wife's divorce attorney and her police officer husband.
In front of a packed courtroom the man apologized for his actions this past December which saw him set the home of lawyer Laurie Gaffney alight.
Pursuant to Thursday's sentencing, District Judge Dane Watkins Jr ruled that Savage would be eligible for parole in four years.
In the prosecution's case against the man, the court was told how Melvin Savage arrived at the divorce attorney's home at 1.30 am on December 15 and lit a gas can on fire near a window well.
Fortunately a prompt response by 911 dispatchers led to the family home suffering no significant damage.
Fleeing to Colorado, Savage would be arrested at a motel a day later. Come March the man would plead guilty to first degree arson.
In an interview with The Idaho Statesman earlier this year, Gaffney said the arson had been the culmination of a months-long harassment and intimidation campaign on the part of Savage.
According to the lawyer, Savage had been sending her threatening emails all throughout the yearlong divorce proceedings, which she described as 'hostile.'
It would be later disclosed that during this time, Savage who had been had been incessantly calling his estranged wife and demanding to see his children was struggling with alcoholism.
In November, after receiving one of Savage's menacing missives, Laurie Gaffney filed a complaint and had Savage arrested and charged with misdemeanor phone harassment.
A week after his release from jail, Eric Andersen, Gaffney's husband had one of the tires of his car slashed in their driveway.
The perpetrator, believed by the family to have been Savage, returned twice more in two weeks to cut the tires on Andersen's vehicle.
Told the divorce attorney: 'It got to the point that I couldn't sleep at night,' 
'I was scared for my life and the life of my family.'
Savage says he is embarrassed by his actions. His mother told the Post Register he feels great remorse.