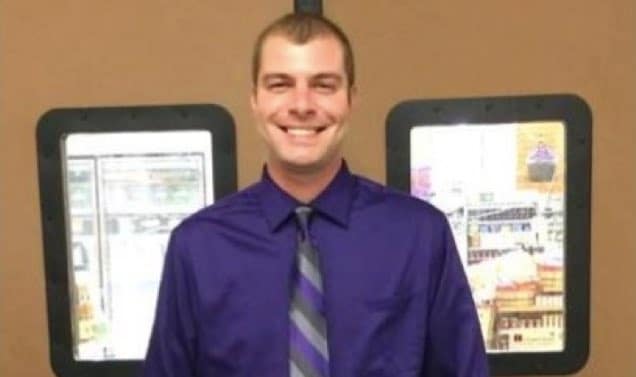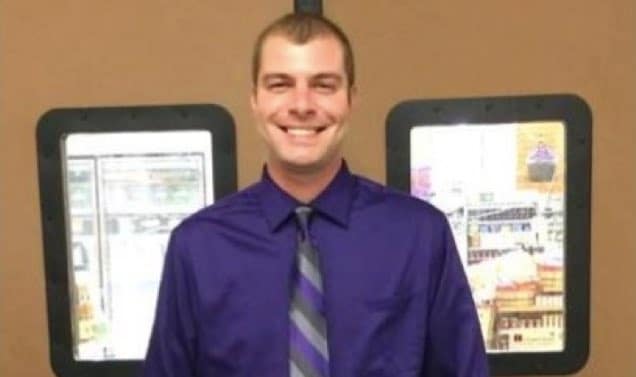 Concerned about the well being of her newly unemployed and inebriated boyfriend who was lying in bed with a large knife and threatening to kill himself, Justin Way's live in girlfriend, Kaitlyn Christine Lyons decided to call for help. When cops finally arrived, they shot him dead anyway.
Explains the dailybeast: Minutes later, two St. Johns County Sheriff's deputies, 26-year-old Jonas Carballosa and 32-year-old Kyle Braig, arrived at the home, armed with assault rifles, and told Kaitlyn to wait outside.
As Kaitlyn waited outside after having called a non emergency line in an attempt to get her boyfriend to check into a St Augustine, Florida hospital she came to hear a gunshot ring out.
What had been a plea for help, to get her discouraged boyfriend who had fallen off the wagon after 5 weeks sobriety had now turned into her boyfriend being shot dead.
In a report given to the boyfriend's father, George Way, cops assert that his son had attacked the two responding officers with a knife.
Except there seemed something off. The bullet had lodged into the mattress with Justin Way's body matter, suggesting that in fact that the son had never threatened anyone. Except perhaps himself.
Reports the dailybeast: Way's parents brought Justin's mattress to the curb after his death. George says he believes there was a bullet dug out of the bed from a hole found in the middle of it. He also said the blood was contained entirely within the mattress, and that it did not hit the walls or the floor.
Told the father: "If Justin was coming after them with a knife, at 6-foot-4, wouldn't there be blood splattered all over the room?"
Way's parents also allege a detective told them 'they told Justin to drop the knife and he didn't—so they shot him because 'that's what we do,'' and implied that Way had committed 'suicide by cop.'
Asked if it was standard procedure to respond to suicidal person calls with police armed with assault rifles rather than medical professionals, Commander Chuck Mulligan of the St. Johns County Sheriff's Office said that 'if the deputies feel that that is the appropriate weapon system to use, then yes.'
And then there's this extra trivia that may or may not help us understand how or why Justin Way came to die on May 11.
Reports gawker: One of the deputies involved in the shooting, Kyle Braig, fatally shot another man armed with a knife last December, and the Daily Beast points out this chilling Facebook comment from the other deputy, Jonas Carballosa:
'Most people respect the badge. Everyone respects the gun.'
Isn't it time you fully respected the badge as well ….?