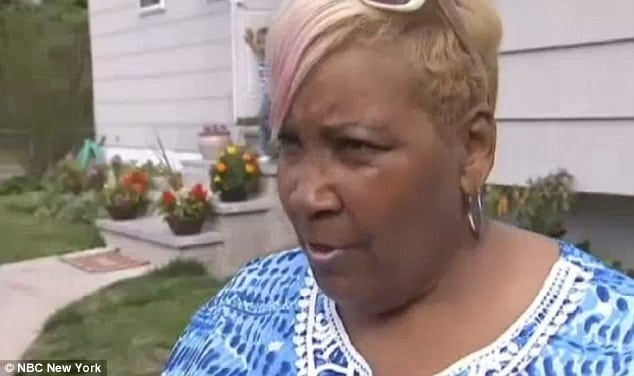 Darcell Copes the matriarch of an African American Long Island family based in Lindenhurst, Suffolk County, NY has received an anonymous letter demanding that her and her grown three children and five young grandchildren move out of the community because 'you don't belong here!!!'
Reads the letter which arrived at the family home on Tuesday in which the woman and her family have lived at for two years:
'Attn: African-American family. This is coming from Lindenhurst community. Lindenhurst is 84% white population. You don't belong here!!!,'
Continued the letter: 'Please leave Lindenhurst as soon as you can. It will be better for all of us. Find the town where there are more people like you. Sorry if this is rude, but it's the truth.' 
Told Copes via NBC 4 on Friday: 'I went from being fearful, protecting my family, to being totally confused, and wanted to know who and why,'
'Today, it becomes even deeper: is it someone in the school district, is it the guy at the corner store, is it my neighbor down the street? Where?'
Her daughter, Ronica Copes, posted the letter on Facebook and dozens of commenters have expressed their outrage by the letter. 
'Sooooo, I'm checking my mail and when I come across this I can't help but laugh… wait, it's not funny though,' Ronica Copes wrote on her Facebook page. 'Where they do that at? Oh yeah Lindenhurst. Unbelievable but then it's not … our daily reality, I've just never seen it in this form.' 
The Copes family in turn said it is the first time they have experienced overt racism since moving to the district over two years ago.
In a statement Babylon Town and Lindenhurst Village said the letter contained 'racist hateful views'. 
Adding: 'The best way to fight bias is with solidarity and we stand with all of our residents in declaring that there is no place for this type of intolerance and hatred in the Village of Lindenhurst, the Town of Babylon, or anywhere in our community,'
'We are, and always will be, a strong diverse community that does not cede ground to hostility, ignorance, or hatred, wherever it may appear.'
The Copes family said that they are not shocked by the letter, telling 'it proves that racism is still very much alive.'
Darcell Copes called the letter writer a 'coward', but says her family is not intimidated and will not be leaving Lindenhurst. She added that she would be praying for the person who sent the letter. Indeed.