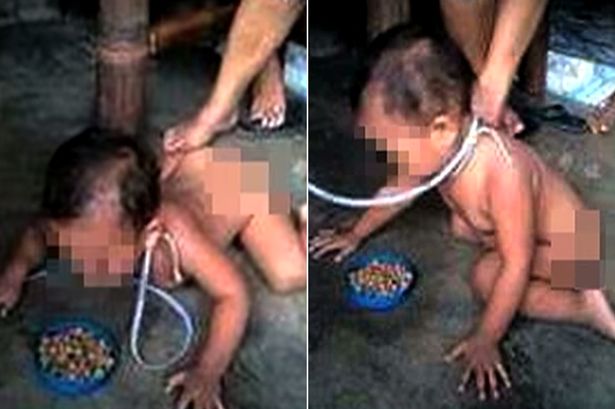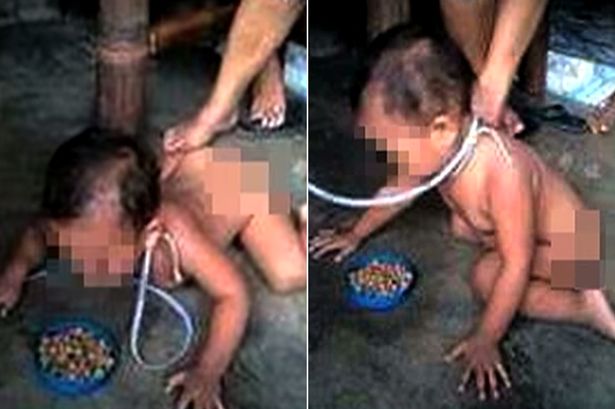 Ayra Dela Cruz Francisco, a Philippines mother has been reprimanded after posting images of her son on a leash being treated like a dog this weekend.
Inexplicably the mother had posted and shared the images on Facebook which in turn led to outrage against the woman and calls to have her tracked down.
Nicole 'Nikki' Kelly suffocates her toddler son and posts pictures on Facebook
Spanish woman posts picture of baby smoking cigarette: 'You're my fucxing life'
In one of the offending images, the mother tied a rope around her son's neck and in another leading the crawling child by the leash next to a blue dog bowl full of food, with the caption 'my newest pet.'
Using location data posted on the social networking site by the woman, authorities were able to locate the mother within 24 hours and put the child into a care facility.
Since having her child being placed into custodial care by the Department of Social Welfare and Development (DSWD), the mirror reports the mother has been taken to be assessed by psychological experts.
Responding to the fracas, Marilyn Tigas, head of the DSWD provincial office in Bataan, the Philippines, said that the images were taken while her son and his cousin were mimicking animals.
She said according to the mother, the images were taken and shared in 'jest'.
Nevertheless state officials are not amused.
Told social welfare secretary Corazon Soliman: 'Even if it was made in jest, it was done in bad taste,'
'The child does not know that it is just a joke.
'No one has the right to treat a child like a toy. Whoever does this can be punished under the law.'
At present it is not necessarily understood whether this was a one time event or an ongoing phenomenon and whether the child's father sanctioned such behavior.
The mother has since deleted her Facebook account.