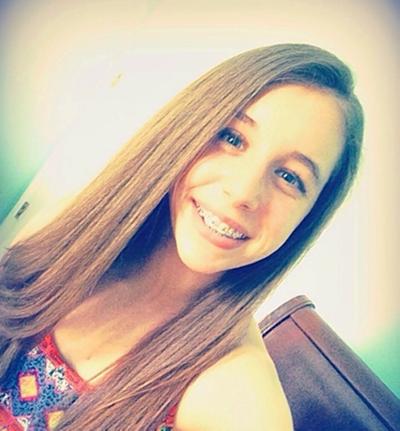 Millie Elia, a 14 year old cheerleader has been killed after plunging 60 feet during a family rappelling trip at Mt Cheaha State Park, Alabama this Easter weekend.
According to reports via foxal the eighth grade student had been rappelling on Pulpit Rockpark with her family and friend when she fell this Saturday at 4.40pm.
How or why the girl fell would not be revealed by the park by park superintendent, Tammy Power.
Katelyn Conrad plummets to her death while rappelling from Arizona cliff.
Pursuant to the Millie Elia's death, classmates and teachers at Oak Mountain Middle School mourned the student who was part of the Advanced Symphonic Band, the National Junior Honor Society and the Science Club. 
Taking to social media, a fellow cheerleader (@lexyayers) tweeted: 'Such a beautiful girl,'
'Such a sad loss. Please send lots of love and prayers to the Elia's. We love you, Millie.'
The girl would also say that added that prayers needed to go out to Millie's best friend because she had also been at the scene of the accident.
Added the cheerleader friend: 'Wish you were gonna be out there cheering with us,'
'We'll be cheering for you girl. You're awesome, Mill! Fly high!'
Offered Principal Larry Haynes via  WVTM: 'She was a very involved and well-liked student'
Adding: 'The students are making cards and passing out ribbons that were made in Millie's honor yesterday by a group of students and parents who gathered at Veterans Park.'
The school will be holding a private memorial for students, teachers and her family on Tuesday.
And then there were these comments on the web that made me wonder:
Rappelling is different from "playing on rocks and slipping". The rope work has specific safety equipment that is often redundant. Deaths like this are almost always human error in the setup and/or climber technique.
I've been hiking Cheaha since my kids were babies. There are many dangerous areas that inexperienced people should avoid. That being said even the most experienced can run into a tight spot, as I have twice. Please be aware and alert when attempting strenuous activity on the mountain.
Maybe don't indulge your kids every desire, especially when they're life threatening. Now your whole family is paying the price of losing someone they loved.
life is too precious to not experience  it… .sometimes experiencing things turns out tragic.. lots of women experience love as well.. and die for it from abuse.. does not that mean women should not love?
Images via instagram