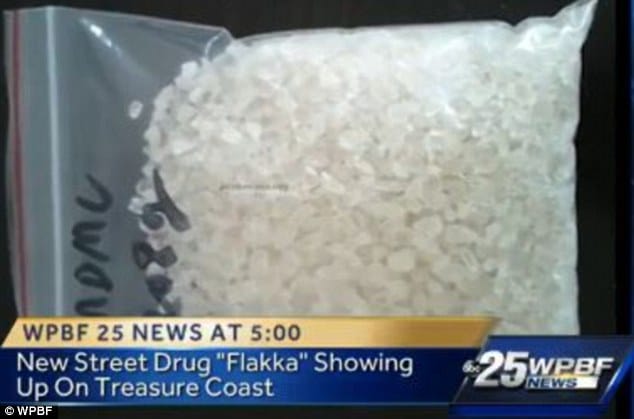 Flakka a new designer drug also dubbed the 'five dollar insanity drug' and more potent than crystal meth and bath salts is said to have become the new rampant synthetic drug of choice in Florida.
Made from the chemical alpha-PVP,  Flakka can be injected, snorted, smoked or swallowed as well as taken along with other substances including marijuana.
Bath salts said to leave you up to ten times more whacked than cocaine…
Bath Salts Are America's Newest Drug of Choice.
Welcome to shooting up bathing salts. 'Woman who shot up bathing salts loses her arm, shoulder and breasts.'
New drug 'cloud nine' said to behind zombie attacks.
According to a report via the Sun-Sentinel, the street coined drug, five dollar insanity drug (because a hit often cost less than $10) is a synthetic version of stimulant cathinone, the same type of chemical used to make bath salts.
Resembling a mix of crack cocaine and meth, the use of the drug emits a noticeably foul smell.
Offered St. Lucie County Sheriff's Office special investigations Sgt. Rob Pettit: 'It has a strong odor like a sweaty sock.
'It's pretty serious. 
'We're always trying to play catchup with the drug dealers as it is, and now here we are trying to get accustomed to finding yet another drug.'
Along with instances of psychosis or apparent superhuman strength, the drug also causes a feeling of euphoria and hallucinations. With a high lasting for a couple hours, users are left with a strong desire to use again.
Flakka has been involved in a number of incidents in recent weeks, including one where a man impaled himself white trying to scale a fence, CBS reported. 
Reiterated Jim Hall, an epidemiologist at the Center for Applied Research on Substance Use and Health Disparities at Nova Southeastern University: 'We're starting to see a rash of cases of a syndrome referred to as excited delirium.
'This is where the body goes into hyperthermia, generally a temperature of 105 degrees. 
'The individual becomes psychotic, they often rip off their clothes and run out into the street violently and have an adrenaline-like strength and police are called and it takes four or five officers to restrain them. 
'Then once they are restrained, if they don't receive immediate medical attention they can die.'
Told Lt. Dan Zsido of the Pinellas County Sheriff's Office: 'On a scale of one to 10, Flakka is a 12. It comes from a place where we don't know how it's being made, who's making it, and what's been added to it before it reaches the end user so it's very dangerous.'
The new designer drug is one of a number of cathinone-based drugs that are produced in China and sold online to small-time drug gangs in the U.S. with the potential for a very high mark up.
Reiterated Hall: 'The main issue with this whole category is that the user just doesn't know what they're taking or the strength of what they're taking, and literally they are the guinea pigs,' 'We're referring to these as the guinea pig drugs. Often the dealer might not even know what they're selling.'
Hall says designer drugs like flakka are not always pure, which means that both customer and dealer don't always know what's in the product. In 2013 there were a total of 126 reported deaths tied to synthetic cathinone in Florida.
There were more than 670 Flakka occurrences Florida in 2014, up from 85 in 2012 and zero in 2010, according to the Drug Enforcement Administration.
What do you think? Will you be trying flakka?