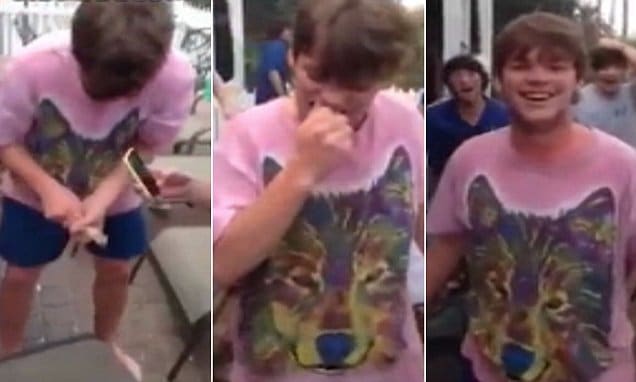 A college fraternity student has been filmed biting the head off of a live hamster during a spring break party.
The video which has since gone viral shows the visage of a drunk student pull the hamster out of a backpack whilst being jeered by onlookers.
From there a voice in the background states: 'Oh my f***ing God! No way!'
Whilst others can be heard jeering: : 'So good! So good!' 
Grinning the student brings the hamster to his face before he takes a bite, spitting part of the animal on the ground, (presumably its head) while hurling the rest of its body over a fence.
In turn the crowd erupts with laughter as our collective hero preens for phone cameras and girls around him.
Since disclosure of the video, animal rights group PETA has launched a manhunt to track down the man, who is thought to be a fraternity member at Florida State University.
Offered Stephanie Bell, PETA's Cruelty Casework Director, via the UK's dailymail who has reached out to university directors to identify the man and press charges: 'It is horrific. We don't know who this man is but we are working to track him down and prosecute,' 
'Animal abuse is a community concern. People who abuse animals rarely do so only once and almost never stop there,'
'The link between cruelty to animals and inter-personal violence is undeniable. Many of our nation's serial killers and most school shooters share a history of animal abuse.
'Often, humans and animals are abused at the same time. For example, the guy who kicks the family dog is likely abusing his spouse and children too. Cruelty to animals is always a red flag.' 
The video was uploaded to YouTube on Friday night under the name 'psycho drunk spring breaker bites head off of hamster'.
Within minutes, it was removed for violating the site's codes of conduct.
At present the identity of the purported student has yet to be revealed as authorities now seek his whereabouts.