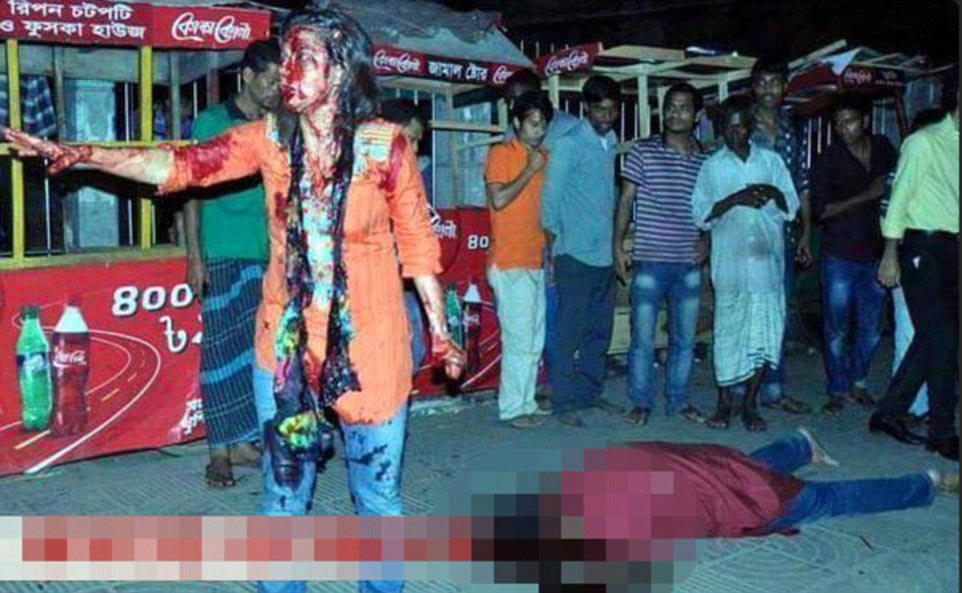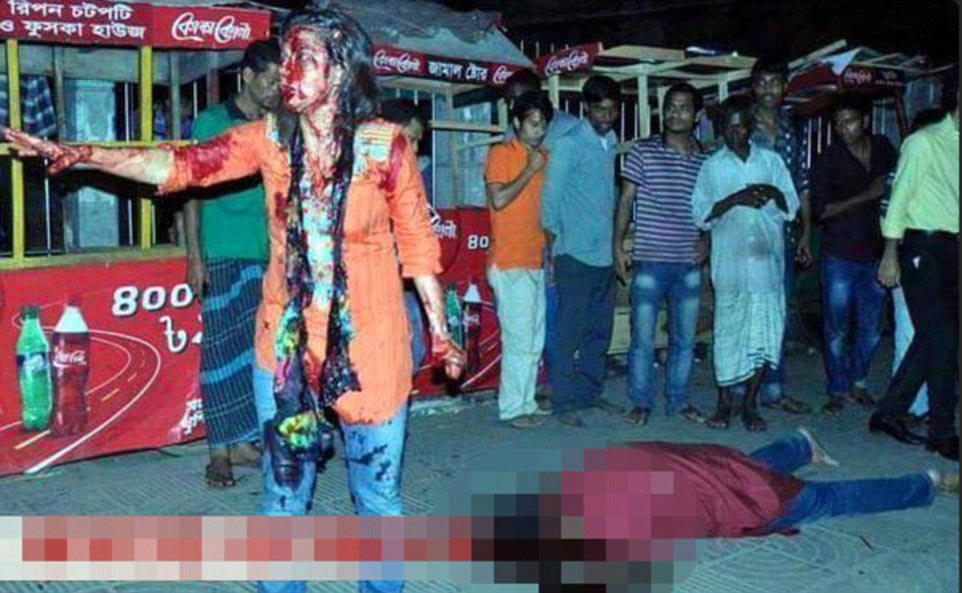 Prominent American atheist blogger Dr Avijit Roy has been slaughtered by Islamic extremists wielding machetes during a trip to his native Bangladesh.
Critically injured alongside him was the man's wife, Rafia Ahmed, 45 who incurred deep cuts to her head and a severed finger.
The blogger's death would come at the hands of obscure militant Islamic group, 'Ansar Bangla 7′ who purportedly took exception to the writings of the atheist blogger who was well known in his native Bangladesh and who actively campaigned against Islamist extremism.
A regular contributor in his native Bangladesh, the blogger was also the founder of popular blog, Mukto-Mona (Free-mind).
The group would also tell that the couple were singled out because the blogger is a US citizen. 
The blogger's death would come ironically after having been the target of death threats for many years, threats which over time the blogger may have discounted.
One of the more recent threats against the blogger came via Muslim fanatic, Farabi Shafiur Rahman who last year posted on facebook that the blogger would be killed as soon as he returned to the country.
Bearing some weight on why Dr Avijit Roy, the son of a prominent secularist and human rights activist, Ajay Roy may have come to be murdered is the fact that he was of a Hindu background – a religious minority in Bangladesh which which has been historically persecuted.
Roy's death would make him the second Bangladeshi atheist blogger to have been murdered in two years and the fourth writer to have been attacked since 2004.
The man's death comes as hardline Islamist groups have long demanded the public execution of atheist bloggers and sought new laws to combat writing critical of Islam.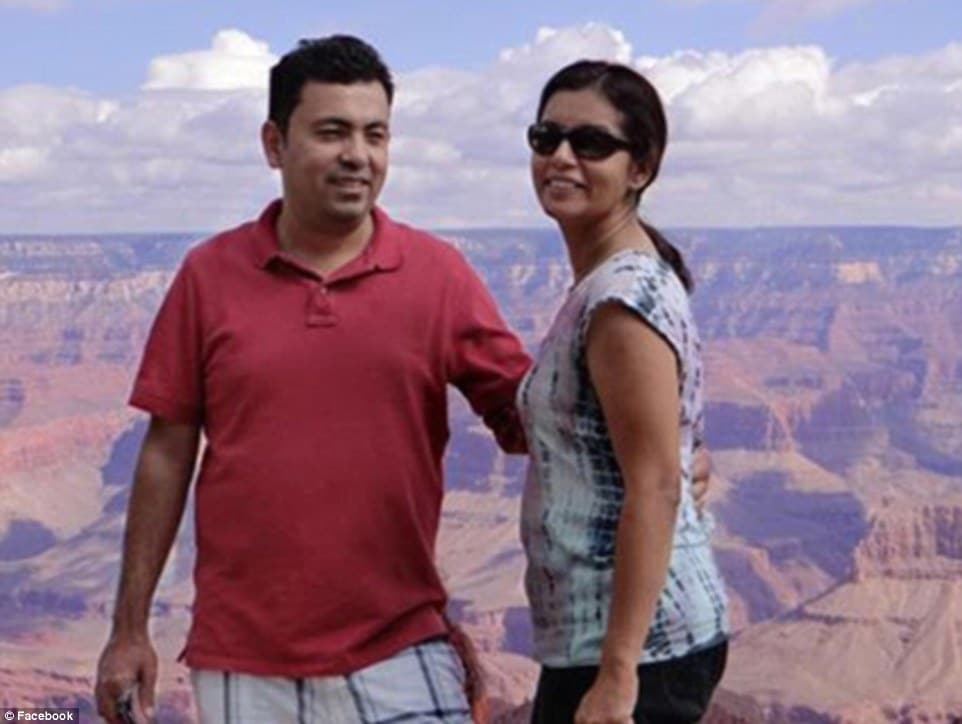 Police said at least two men, who are believed to have links to Dhaka University, attacked Roy around 8.45pm during a heavily guarded University book fair.
Witnesses would tell via Al-Jazeera that authorities and bystanders did little to help the couple as they were set on.
Police chiefs have since said they are baffled that a man could be murdered so close to the heavily-guarded area.
In the aftermath of the daring attack, extremists  took to social media praising the attack.
It would also be noted the account for Ansar Bangla 7 making a post which linked the killing to Roy's nationality – and American airstrikes on ISIS.
Told the post: 'The target was an American citizen.. 2 in 1. #America recently martyred 2 of our brothers in #Khurasan & #Shaam. #Revenge+#Punishment.' 
An autopsy report would describe the blogger's death as a result of incurring three deep gashes, which cut through his skull to the brain.
Doctors examining Roy's body said the attack had the hallmarks of professional killers, who acted with 'planning, skill and brutality'. 
Since the attack, police have told that there have been no arrests and that they still hadn't any leads, nevertheless they believe the killing is linked to the university.
Offered Police Chief Sirajul Islam: 'Those who had come to kill [Roy] with machetes were not outsiders. This is university-centric'.
'Several attackers took part in the attack and at least two assailants hit them directly,' Islam said, adding that two blood-stained cleavers were found after the attack. '
Shilby Noman, Dhaka's assistant police commissioner, said: 'Nothing of note has been revealed so far. 
'But we hope that we'll be able to arrest them and bring them to book so that this kind of crime does not take place again.'
Roy was often threatened over his writings, which appeared online, in newspapers and in several published books.
Police sources in Dhaka say that, despite the violent threats, he had never asked them for protection.
In the aftermath of the attack, hundreds of students and activists gathered in Dhaka to mourn the blogger's death and protest against the intimidation and murder of secular writers.
Imran Sarker, the head of the Bangladesh bloggers' association, said the protests would continue until those responsible were apprehended.
Adding: 'Avijit's killing once again proved that there is a culture of impunity in the country,'
'The government must arrest the killers in 24 hours or face non-stop protests.'