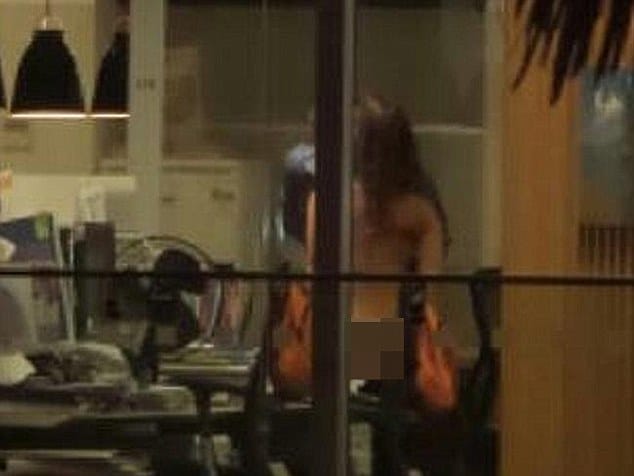 Making the rounds is video (see below) of two Christchurch, New Zealand office colleagues having a romp in the office who after purposefully deciding  forgetting to to turn off the lights were cheered on by drinkers at a busy pub across the street.
The see all happened this past Friday night in the offices of local insurance group Marsh Ltd where two fellow employees cast a curious spectacle as they got to intimately know each other in a solitary office building along Papanui Rd. Or so they thought…
Woman caught in Christchurch office sex video flies back to UK: 'I want to cut all ties.'
Christchurch office sex workers no longer working at Marsh. Were they fired?
Christchurch office sex worker husband identified. Sacked and refusing to talk to media
Christchurch office sex video: He's married, she's engaged and they didn't turn up to work
Unfortunately for the pair, their office antics/romance would end up becoming a world public spectacle after pub revelers across the road at  Carlton Bar and Eatery took delight in the ensuing activities, with one drinker deciding to tape the whole thing as the office lovers went on with things with the lights still on (isn't that the best way to make love kids?).
Naturally the whole thing would end up on Facebook and twitter the following morning. Presumably to the chagrin of the office employees who might have had to answer to bosses and other possible conflicting partners? Which they invariably did. Future reports would reveal that the man caught having sex was a manager at the company, married with children.
A source would later tell that the man's 'devastated' wife was no longer speaking to him and had been crying 'non-stop.'
Stuff.co.nz reported that the photos have attracted thousands of likes and hundreds of shares.
'The whole pub knew about it and was watching, while they were totally oblivious to it. And afterwards celebrating with wine,' one man posted.
Reflected one bar patron: 'They should have turned the lights out,' 
So absorbed had  patrons become that the band playing at the time had to stop playing while most of the bar watched out the windows.
Online media expert Mark McGuire would offer the following indisputable reflection: 'One of the challenges of social media is the inability to control things.'
Continuing: 'The pair were reckless' adding 'it would be tough for them to argue that they believed no-one would see them, as a cleaner or colleague could have walked in.'
'There is almost no border now between private and public because to publish is so easy,' 'It does make it harder to get away with something if your actions are made public in a way you can't deny.' 'It's something we are going to see more of.'
Since the incident having gone viral, Carlton owner James Murdoch said the bar had been in contact with Marsh Ltd.
'Obviously they're customers and we're working through it with them,' he said.
'The couple could still escape with a warning if a disciplinary inquiry finds that the encounter did not amount to serious misconduct,' James Murdoch would later reflect….
Marsh Ltd chief executive Grant Milne would offer 'that the company was taking the matter seriously,' as he considered the possible damage the pair's spectacle may have had on the company's reputation.
Reiterating: 'It's not the type of behavior we condone. It's very disappointing.'
At present the names of the man and woman involved in the Christchurch office romp have not been made public. Yet.