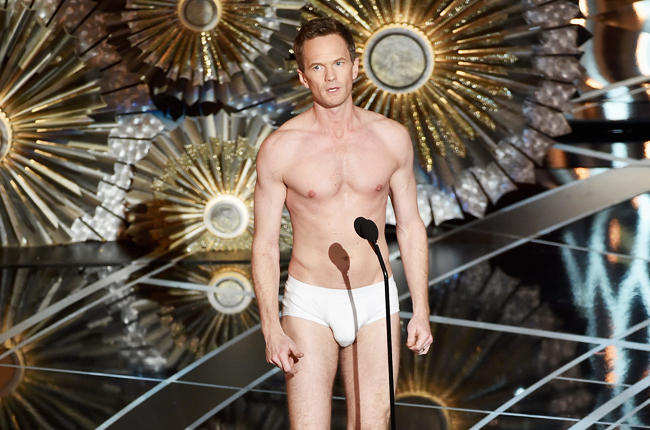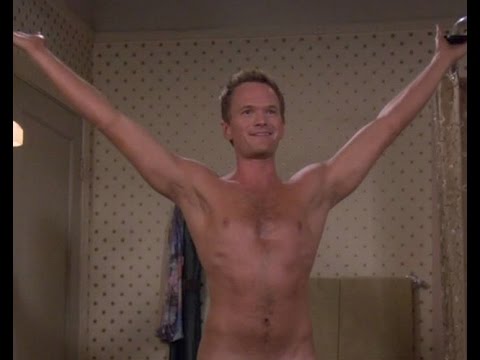 It seems Oscars 2015 presenter Neil Patrick Harris had himself a good old gallant time last night after the actor/comedian/host stripped down to his tighty whities in a homage to best award winning film Birman which saw its principle cast members also walking about in their underwear. Could we be on a new fashion trend?
Not missing a beat and surprising attendees whose lips became wet and moist was our collective hero, Neil Patrick Harris who nonchalantly dead pan strutted down the plank bare chested, chiseled (maybe one day kids you too)  and bare legged donning white underwear, ironed black socks, sparkly black shoes and a big 'who me did I just wake you up?' grin.
Re enacting the scene in which Michael Keaton gets locked outside a theater in Times Square wearing only his underwear, host Neil Patrick Harris took to matter of fact walking from his dressing room to the stage in briefs (with a fake bulge courtesy of Justin Bieber aka Calvin Klein misery ad campaign)  with an expression that said 'you may have come to honor Oscar winning actors tonight but if I can win my own scandalous award on the side that might do me some good in the pony stakes, here's my fake bulge and then some…'
Which one assumes it did and how.
And then there were these responses on twitter after that brought fond memories to my own wet lips…and surely yours too.
Alright now we're doin something. We needed @ActuallyNPH in his tighty whities to shake this bitch up.
I volunteer as whatever Neil Patrick Harris stuffs his underwear with
I'd like to thank the Academy for Neil Patrick Harris in his underwear. And my mom. World peace.
and the award for best supporting underwear goes too…… #Oscars2015 @ActuallyNPH
Neil went to the Justin Bieber school of stuffing underwear. #Oscars2015