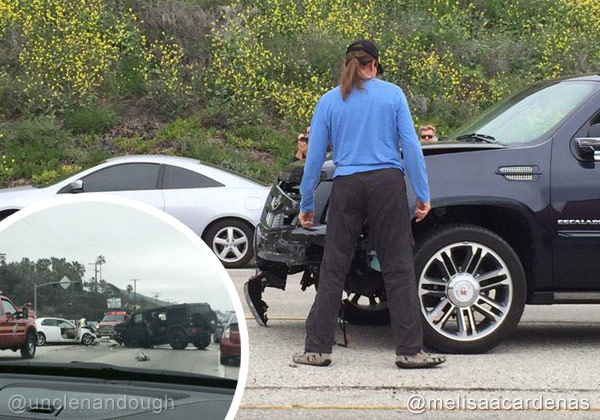 Questions are being asked this evening after reality star Bruce Jenner was involved in a car accident in which witnessed told was caused by Jenner after he rear ended another vehicle, resulting in the death of that motorist. An assertion that police officials have yet to validate. 
The Malibu multi car collision is said to have resulted along with the death of one individual, the injuring of eight others. The multi car collision reports TMZ would involve up to four vehicles. 
Jenner for his part would emerge from the pile up unscathed. Naturally. Or perhaps not?
Was Bruce Jenner texting? Cops to check mobile phone records.
Bruce Jenner: 'Yes I am transitioning as a woman. Will you watch my new reality show?'
Bruce Jenner: Is he finally coming out in 2015?
Bruce Jenner is not planning a sex change insists Kris Jenner. 'Shit is made up.'
World devastated as Kris and Bruce Jenner now head for certain divorce. Again.
The incident would come to pass after Jenner's vehicle reports the nypost 'rear ended a white Lexus driven by a woman.'
This in turn led to the woman's car spinning into oncoming traffic. The impact would kill the woman.
Questioned by cops, Bruce Jenner told he was being chased by five paparazzi vehicles.
Law officials speaking to the LA Times said although the photographers were there they did not cause the crash.
Witnesses would tell that at the time of the accident it appeared that Jenner was on his phone.
Administered a field sobriety test, results would be prove negative, intimating the reality star was sober when he was behind the wheel.
Jenner's blue Cadillac Escalade suffered damage to its front. A black Hummer was also damaged.
The accident happened shortly after noon.
Witness Keoni Picerno would tell that Jenner's Escalade was towing an off-road dune buggy at the time of impact.
Offered Picerno: 'He was up walking around, and he returned to his car once he realized the severity of the accident.'
Jenner was still at the scene at about 1:30 p.m. California time, said Picerno, a 44-year-old Honolulu resident.
The accident occurred on the Pacific Coast Highway near Corral Canyon Road, the Los Angeles County Sheriff's Department said.
A rescue helicopter picked up one victim at Pepperdine University, two miles east of the crash site.
Two of Jenner's children, Brody and Kendall, were pictured separately shortly after the accident getting into their cars looking anxious.
Bruce's private life has been much-discussed in recent weeks after reports from close friends and family have confirmed that he is in the midst of a sex change procedure. Prior to his charade in the Kardashian reality series, the reality star won an Olympic gold medal in 1976.