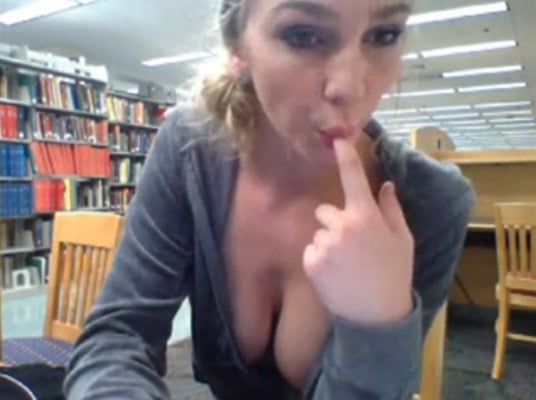 Kendra Sunderland, a former Oregon State student has been arrested after making an illicit video at a campus library.
Sunderland would become the talk of campus when she posted a video on an adult site that showed her stripping out of her top and touching herself for 31 minutes in the crowded Valley Library in Corvallis, Oregon.
Kendra Sunderland court appearance: 'I think it's normal to be crazy.'
Kendra Sunderland interview: 'At least I'm not working a crappy minimum wage job.'
Kendra Sunderland seeking business inquiries: 'Help me get rich'
Adult site volunteers to pay off Kendra Sunderland's fine. Will she accept?
New Kendra Sunderland pictures emerge: 'It's too awkward to return to school.'
Kendra Sunderland video and photos: So who is she?
The clip has since became a sensation on campus – passed around among students on social media and has reportedly been viewed more than 260,000 times in just a few days before the adult site took it down, KEZI-TV reports. 
The video shows our collection star getting it on solo whilst keeping an eye out for anyone who might pass, stroking herself, licking her fingers and giggling merrily away with the knowledge she's getting one over.
But what makes shit even more exciting (from Kendra's perspective) is as she's disrobing and self frolicking (is that an apt description Kendra?) one can make out that on the other side of the laptop that Kendra intermittently types on are other voyeurs who are exchanging messages with our collective hero along with watching her get it on.
Nevertheless authorities would catch up with Kendra Sunderland after Oregon State Police arrested the former Oregon State student on a charge of public indecency (do yuu suppose?) this past Tuesday after knowledge of the video finally made it to school authorities, but not before it was shared widely on the web.
During her arrest for public indecency, Kendra would be cited and released.
The video has since elicited a range of reactions (see screenshot below of trending hashtag @meowmeows18, presumably Kendra's twitter handle) with some students expressing dismayed at the infamy Sunderland brought to campus. Others were amused. Many, though, were surprised she was able to get away with filming in the crowded library for half an hour without being caught by anyone.
Offered student, Shelby Wilson: 'I feel like it's always packed. I don't know how anyone could get away with it,' 
University spokesman Steven Clark said monitors patrol the campus library – but they can't be everywhere at once. 
'Imagine six floors; 340,000 square feet. It's used by 30,000 people on average every week,' he told KEZI.
The 6-story library is open 24 hours a day and monitored by security guards.
Added Clark: 'This is not how we want the university to be perceived,'
'This is not what Oregon State is about.'
Or is it?
Currently, Kendra no longer attends OSU, having dropped out for reasons unknown after the video was made,  that said it's understood she was a student there when this incident took place.
If convicted, Kendra faces up to a year in jail and a $6,250 fine. A fine that she'll probably make back up on a casual internet afternoon…
See what you think…?