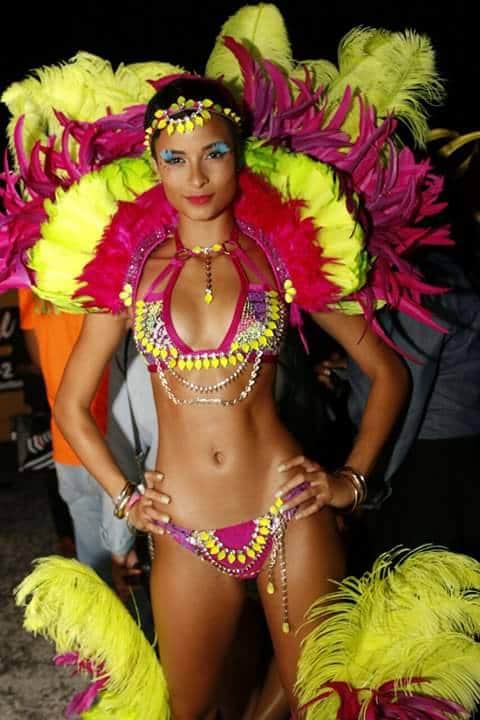 Although in the end Paulina Vega, Miss Columbia, 22 won the Miss Universe title in Miami last night many believe who should have really won the title was Kaci Fennell, Miss Jamaica.
In fact as soon as Vega was announced as the winner, instead of applause many in the audience actually booed as favorite to win, Miss Jamaica would only come in fifth place.
Pursuant to her ouster at the 63rd annual contest, Kaci Fennell's name began  trending on twitter under the hashtag #MissJamaicaShouldHaveWon.
Unlike Miss Vega, who for all intents and purpose comes off as a traditional beauty queen with her long sweeping hair and youthful innocence, Kaci Fennell gained a large following due to her striking beauty, confidence intelligence and unconventional style – wearing her hair in a Halle Berry-esque pixie cut instead of the traditional long pageant waves.
Controversy would mount as some wondered if Miss Jamaica was denied the title after she proudly called Usain Bolt, the world's fastest short-distance runner, and reggae-king Bob Marley her country's greatest contributions to the world.
Told the 22 year old outspoken stunner: 'I don't have long tresses like everyone else, I'm just representing myself and that's what beauty pageants are all about,'
'You don't have to look a certain way … and I feel like I represent that.' 
Her non-traditional answers along with her pixie cut and Caribbean confidence, likely contributed to her not placing higher in the final, according to her fans. Which is to wonder if Kaci was simply too ahead of her time and elk for Miss Universe which might have some catching up to do as to how it assesses real dazzlers and torchbearers of woman's independence.
Posted Kaci just under an hour ago on facebook in a sign of her class and good will: This has been a ridiculously amazing journey. The people I've met, the lessons I've learnt and the things that I have been able to achieve thus far has truly been a dream. As I get myself ready to head back home to mi likkle island I feel truly proud, blessed and at peace. Congratulations Miss Universe and all 88 girls, and thank you guys for making this, truly a once in a lifetime experience. Mi soon come! ‪#‎MissJamaica‬