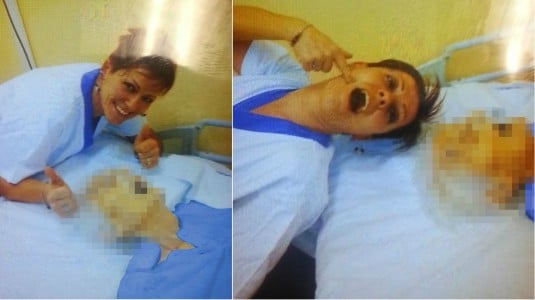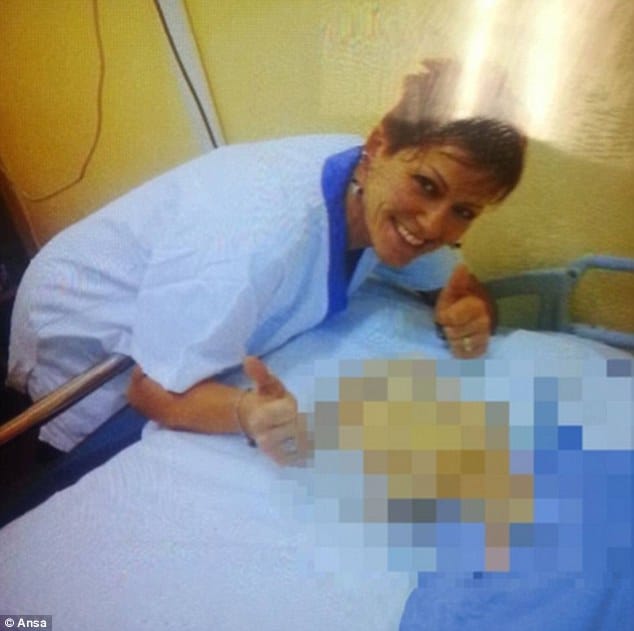 Italian nurse Daniele Poggiali, 42 since come to be known as the angel of death has told an Italian court that it was 'probably wrong' to take selfies with dead patients.
The admission comes after the woman was brought to account after her arrest in October of last year on suspicion of poisoning her patients with potassium at the Umberto I Hospital in Lugo, northern Italy.
Pics: Nurse Daniela Poggiali kills 38 patients. Takes selfies with corpses
Investigators have since estimated that there were 87 more deaths than average during a two-year period in which Poggiali worked in the hospital, Corriere della Sera reported on Thursday.
Incredulously in coming to her admission, the Angel of death nurse has attempted to pass blame of her appearing in selfies with dead patients with a fellow medic.
Told the nurse via her lawyer Stefano Dalla Valle: 'I was wrong and I recognize that,'
"It wasn't my idea but that of my colleague, who took the photos. Also, I never could have imagined they would be circulated. It was something private between me and her. Anyhow, it was a mistake.'
In one of the images, Poggliali can be seen grinning and giving thumbs up signs next to the body of an elderly woman.
In another she is leaning over a corpse with an index finger pointed like a pretend gun at her own cheek.
Discussing the high number of patient deaths, Poggiali said she was unable to explain but noted that she worked a lot of shifts.
Adding: 'I haven't killed anyone. Rather, I always lived to help others.'
Detectives believe Poggiali believed she was immune from detection after this series of deaths – but there were already strong suspicions that she was responsible.
She was moved off the nightshift onto the morning shift where doctors could keep an eye on her. But she allegedly struck again.
The prosecutor in the case claims she saw the extra scrutiny put on her as 'a kind of challenge'.
Told Alessandro Mancini via the UK's dailymail: 'We retain that she thought she was so clever, so cunning that she could kill in the day-time, right under everyone's noses. 
'She had a sense of power which made her feel capable of doing whatever she wanted even in the sense of taking someone's life. She felt omnipotent like a God. This was her mistake.'
On one occasion Poggiali had even felt safe enough to joke about her murder method with colleagues, it is claimed.
Faced with a patient who had a bad prognosis, she joked to a doctor: 'Two phials of potassium and it would all be resolved.'
Described by judges as a 'public danger' and denied bail, Daniela Poggiali will remain in prison until the start of the trial.
Curiously since her incarceration, Daniela Poggiali, Angel of Death has been inundated by love letters and offers of marriage in the very unlikely scenario she ever leave jail.